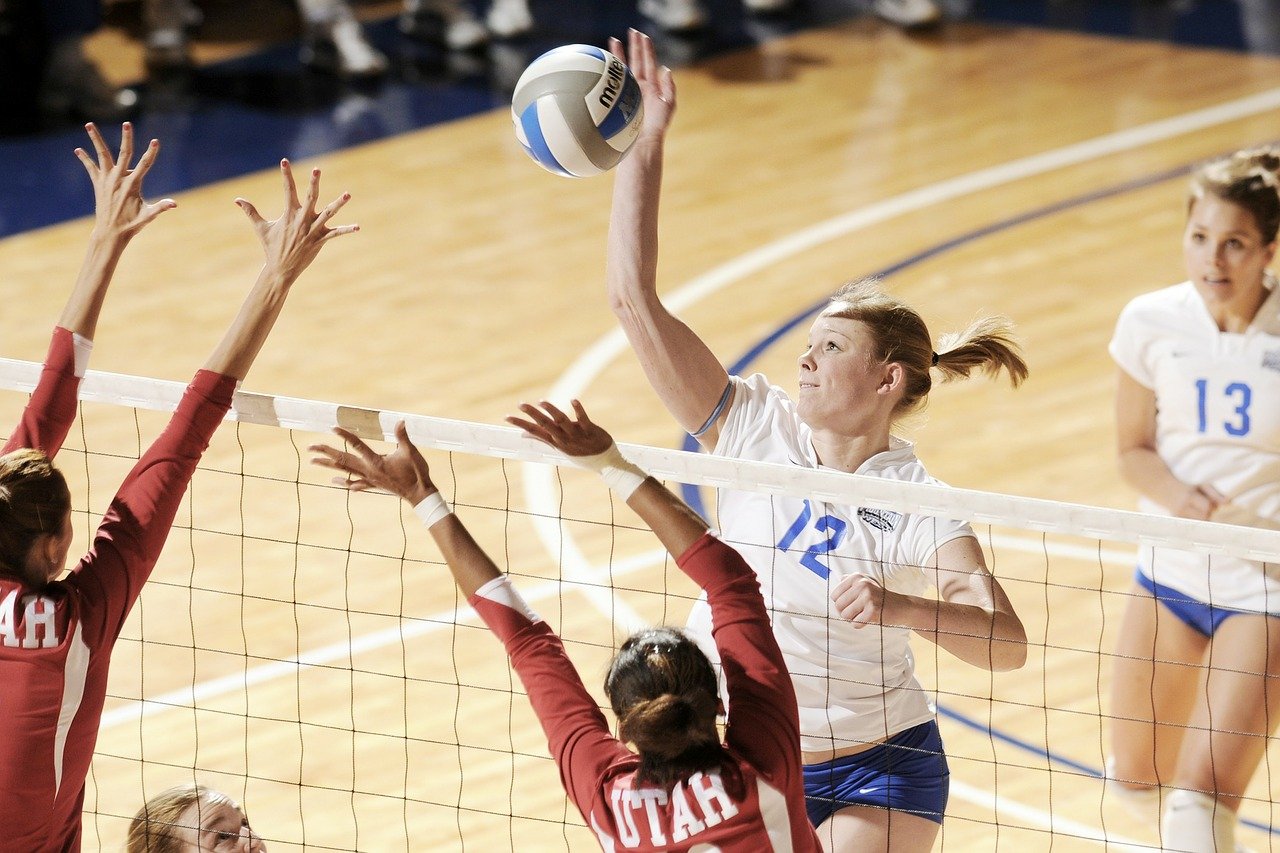 People have been playing volleyball since the 1890s[1] and competing in tournaments since the 1920s.[2]
Though initially designed for businessmen who wanted a game a bit slower-paced than basketball,[2] today's volleyball teams can be coed, boys- or girls-only, and played on the sand or an indoor court.
There are over 40 million regular players in the U.S. and over 800 million worldwide![3]
Regardless of the type of volleyball team, you'll probably want to find a funny and cool name that reflects your team's spirit.
Below, we list more than 70 volleyball team names appropriate for beach or intramural teams. If you want to create your own team name, we also share some tips below the list.
Notorious D.I.G.[4]

Serv-ivors[5]

Itsy Bitsy Spikers[6]

Net Ninjas[5]

You've Been Served[5]

Block Party[4]

The Volley Llamas[5]

Net Nation

Volley Girls

Sand Dollars

Tirade

Volley Road

Pop Up Blockers[5]

Sugar and Spike[5]

Passing Fancy[5]

Back Row Rebels

We Can Dig It

Spike-A-Holics

On the Attack

Got Served

Planet Volleywood[5]

Attack Line Legion

Decoy Derelicts

Floater Force

Jump Serve Society

2 Legit 2 Hit[5]

BlockBusters

Ace Attack

Spiked

Competition Slayers

No Excuses

Good Volley Ms. Molly[4]

The Luckiest

Unstoppable

Sweet Digs[4]

The Skeptics

Grounded

Rally Rebels

Dig Diablos

Slay Switch

Faultless

No Boundaries

Designated Attack

Jump!

Spiking Back

Unlimited

Elite Strategists

Diving In

Pancake Posse

Drop & Roll

Advantageous

In Tandem

Quick Hits

Unpredictable

Team Topspin

Believers

Guardians

Watchdogs

Blitz

Cascade

Blueprint

Action Plan

The Schemers

Stealth Maneuvers

Gambit Guild

Upper Hand

Net Advantage

Hit Listers

VolleyBrawlers

Tidal Waves

Vipers of Volley

Spikedelic

World Class Hitmen

Flight & Fight

Net Resources

Floaters Forte

Bump Quest
Volleyball Team Name Generator
How to Create a Great Volleyball Team Name
Keep the following tips in mind to create the perfect name for your volleyball team from scratch:
Decide on the type of name you want for your team. It's easier to create a unique team name once you decide if you want your name to be humorous, cool, dirty, clever, or motivational. Narrowing down your options to a specific mood, a certain number of words, or a theme makes it easier to brainstorm; you only need to find options that fit those parameters. You can use a one-word team name or create a short phrase.
Think about your team's strengths and motivation. Come up with a shortlist of words that correspond with your team's greatest strengths in volleyball. Take a poll of your team members to find out which of these words inspires them to do their best and incorporate it into your team name!
Get inspiration from your environment. While your team's status as a beach team or intramural team doesn't need to directly impact your name (many names are suitable for both), you can get inspiration from where your team plays. Think of the sights and sounds you experience while on the court. For example, if you play sand volleyball, you can use the name of an animal that lives near or in the water as your team's name and mascot.

Use a favorite pro team or player for inspiration. If your teammates have a favorite pro volleyball team or player, you can incorporate the name into your team name. You can use a first name, last name, a nickname, or even initials. When you use a pro team name as inspiration, find a way to change it so that your volleyball team name will be unique.