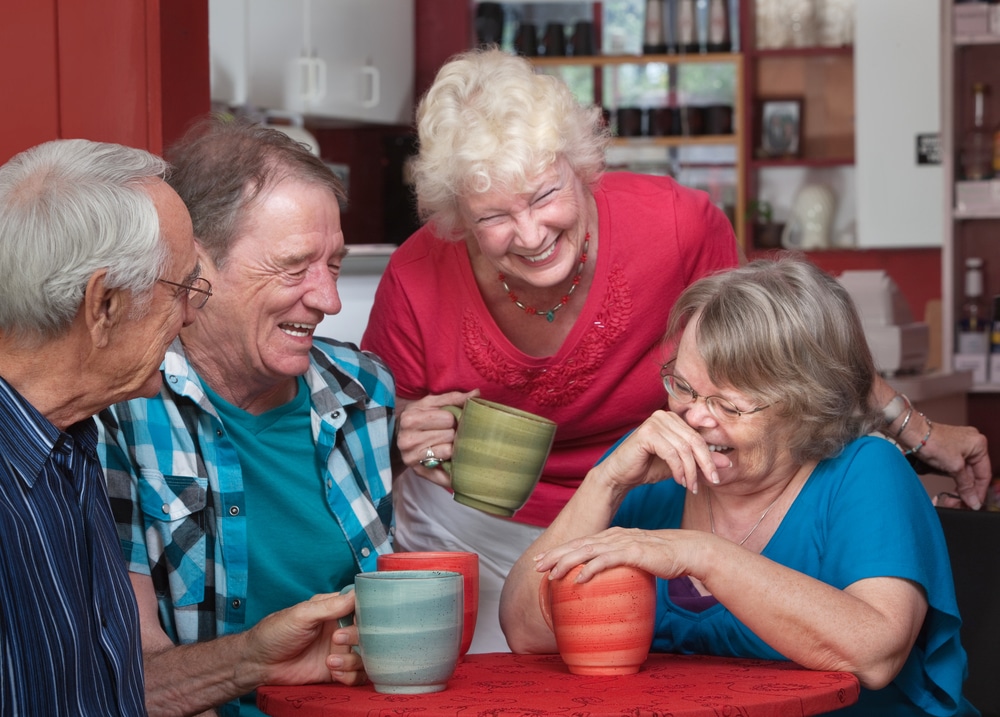 Only around 4% of people over the age of 65 live in nursing homes,[1] but senior groups are beneficial for those who continue to live independently, too.
There are over 11,000 senior centers in the country, and they serve over one million people each day,[1] showing a demand for senior-focused activities.
Senior citizen groups offer opportunities for friendships and fun outings. You can plan group exercises, walking clubs, gardening clubs, book clubs, continuing education classes, art classes, crafts, or local excursions[2] — all activities that will help keep the mind and body sharp!
We have more than 190 names for senior citizen groups below, from catchy to inspirational. Plus, scroll below the list for our tips on creating our own senior group name ideas!
Catchy Names
The following team names offer clever and catchy turns of phrase for high-spirited senior citizen groups:
Aged to Perfection

Elder Explorers

Sages of All Ages

Vintage Valuables

Geri-Actives[3]

Prime Timers

Senior Squad

Golden Hours

Roving Retirees

Merryatrics

Team Wisdom[3]

Carefree Jubilee

Never Too Old

Silver Bullets

The Classics

Silver Foxes

Ageless Inspirations

The Perennials

Social Senior Society

Older & Wiser

Silver Belles

Timeless Blessings

Second Season[4]

Teens Recycled

Still Feeling Spry

Sassy Seniors

The Happy Hearts Club

Spice of Life

Golden Gatherings

Evergreen Club[3]

Insightful Elders[4]

Timeless Originals

Senior Savvy

Best Years Club[3]

Golden Agers

Silver Linings Club

Golden Gurus

Ageless and Unstoppable

Joyful Longevity

Intrinsic Vitality
Inspiring Names
Consider one of these inspiring team names for a group that understands that some things get better with age:
Earned Wisdom

Young at Heart

Looking Forward

Still Going Strong

Good Lifers[5]

Abundance of Blessings

Special Occasions Society

Growing Young

Ageless Wonders[6]

Polished Silver

Golden Jubilee[7]

Aging Triumphantly

Elders With Insight

In It Together

Fueled by Hope

Ageless Ventures

The Sweet Life

We've Got Your Back

Chronologically Gifted

New Stages of Strength

Seizing Opportunity

Reaching Our Goals

Friends United

Forever Young

Encouraging Friends

Friends With Wisdom

Senior Power

Etchings of Experience

Aging Like Fine Wine

Embracing Our Current Season

Stepping Out Together

Enjoying The Sunrise

Ready for Anything

No Worries

Meaningful Exchanges

Life in Our Years

Laugh Every Day

In Unison

In the Moment

Joyful Endeavors

Upbeat Enthusiasm

The Sunshine Gang[6]

Sharing Our Lives

Wishing on Stars

Transcending the Everyday

Golden Jewels[6]

Age is Wisdom

Living Our Best Lives

Liberated by Age

Ageless Fellowship[6]

Always Grand

Endless Potential

Cheerful Friends

Connecting With Friends

Fun Bunch

Illuminated Hearts

Joy Inspired

Thankful Friends

Wisdom in Spades

Keeping Connected

Cherishing Happy Times

Our Best Years

Golden Years

Defeat Your Age

Fit & Feisty

A Spring in Our Step

Still Feelin' Fine

Always Laughing

The Best Is Yet

Adjusting Our Sails

Cheery Outlooks

Thinking Happy Thoughts

Better With Age

Finding Peace and Joy

Only Young Once

Having the Time of Our Lives

Following Dreams

Enjoying Retirement

Ready to Relax

The Caring Friends Group

Taking Our Time

Ready to Dance

Hello Good Friends!

We Go Together

Dessert First

Saying Yes to Fun

All Together Now

Things That Matter

Gifts of Wisdom

The Incredibles

Enthusiasm for Life

Inspirational Views

Lives Enhanced

Attitudes of Thankfulness
Timeless Names
A timeless team name can reflect your group's life experience and offer the group a sentimental tone:
Still Hip & Happening

Elder Statesmen

We Remember When

Back in the Day

Our Seasoned Circle

Lives Well Lived

We've Seen It All

Golden Oldies

Kids at Heart

One Day at a Time

Getting Together

Classic Club[3]

Forget Your Age

Elder Wisdom
Silly Names
For the senior group with a sense of humor, consider a silly and fun team name:
The Preparation H-ers

Old School Fools

Hilltoppers[3]

Over the Hill Club

Keenagers[3]

Not Aging -- Marinating

The Sage Brigade

Grumpy Old Men

Super Seniors[3]

Geezers on the Go

The Biddy Bunch

Golden Heirs[3]

Over What Hill?

The Retirement Village People

We Snap, Crackle, & Pop

Feisty Old Fools

Zesty Zeniors[3]

Bring the Wheelchair

Golden Mischief

Silver Surfers

Golden Age Antics

Easy Does It

Prime Time Pranksters

The Piddlers

The Old Codgers

The Geezer Gallery

Coffin Dodger

Jolly Elders[3]

Still With Us

Gathering Geezers

Old Folks United

The Racing Walkers

Not Our First Rodeo

The Arthritics

Early Bird Specials

Depending on Depends

Team Incontinence

Grumpy Groupies

Old & Breathless

Enjoying Life While We Can

Still Groovy

Off Our Rockers

Young Old Timers

Cut Us Some Slack!

Aged Avengers
Senior Citizen Group Name Generator
Tips for Creating a Great Senior Citizen Group Name
Senior groups take many forms; members head out for fun excursions or day trips, play games like Scrabble or Chess, or just meet to chat and share a meal.
A simple name that reflects your group's favorite activities can work well, but to create a more unique name like those in our list above, consider the following tips:
Consider the personalities in your group. Similar people tend to enjoy each other's company, so you might find that your group has a distinct personality. Are your group members sarcastic, mild-mannered, or bookish? Take that into account when creating your group name. Some groups will prefer sweet and nostalgic names, while others will like names that poke fun at growing old.

Use puns and wordplay. If your group isn't into sarcastic or crude humor, you can still incorporate humor into your name through puns and wordplay. Names like "Early Bird Specials" will make everyone chuckle without offending.
Keep it positive. The focus of most senior citizen groups is social interaction; a positive name, rather than one too serious or exclusive, will make your group seem fun and welcoming to potential members.
Don't ignore your group's age! Your age is something to be proud of, and the name of your group shouldn't ignore the years you've lived! This doesn't necessarily mean you have to choose a name with words like "old" or "aging" — you can also get inspiration from pop culture references that will only make sense to your age group.