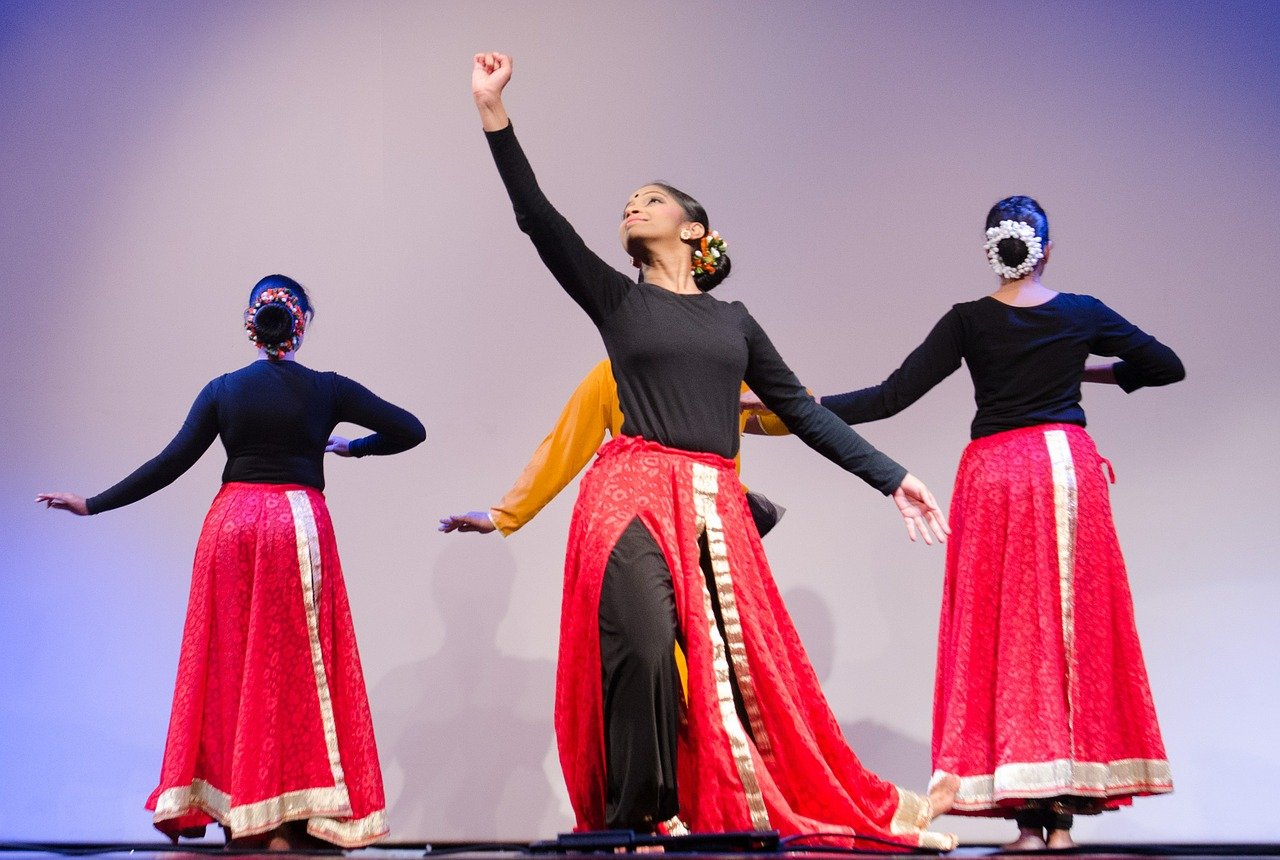 Dance has long been an essential part of Indian culture; excavations have even uncovered dancing figurines dating back to the Indus Valley Civilization.[1]
Popular classic dance forms vary by region, ranging from Kathak (a storytelling form of dance originating in Uttar Pradesh) to Odissi (one of the oldest surviving dance forms, which tells the stories of Hindu gods).[2]
Today, some dance groups even blend classical and traditional forms of dance with international and modern styles, such as hip-hop and Bollywood.[3]
Whether you're looking for options in Hindi, Tamil, Kannada, Malayalam, Sanskrit, Marathi, Gujarati, or Bengali, see our list of Indian dance group names (including meanings in English) below.

You can use either version to inspire your group name or scroll below the list to find out how to create a great dance group name.
Ajaya

invincible

Abhiyudita

elevated

Nritya Uddeshya

dance purpose

Agniprava

bright as fire

Nritya Hamari Kahani Kehta Hai

dancing tells our story

Abhidi

radiant

Rhythm[4]

Nritya Gavahi

dance testimony

Kalatmak Rang

artistic colors

Ashtapadi[4]

eight steps

Abhijat Varg Daste

elite squad

Ly Hara

rhythm beat

Ghoomata Rang

swirling colors

Prerna

inspiration

Ameya

limitless

Pravah[5]

flow

Badalti Ly

changing rhythm

Nritya Dil

dancing hearts

Utkarsh[5]

flourishing

Bharatiya Ly

Indian rhythm

Abhinaya

expression

Bhavanatmak Soundarya

emotive aesthetic

Kood Aur Jiv

jump and jive

Groove Brigade[4]

Pratikatmak Nartak

symbolic dancers

Prabhavit Nahin Vyakt

expressing not impressing

Sapna Bada Nritya Mushkil

dream big, dance hard

Khinchav Nritya

vibe dance

Abhyuday[5]

rise

Kavyakal Anukram

poetic time sequence

Andolan Samskriti

movement culture

Akash Nartakon

sky dancers

Masakali[6]

after the A. R. Rahman song from the Bollywood film "Delhi-6"

Dancing Story[4]

Abhibhava

powerful

Two Steps[4]

Sundar Chalen

graceful moves

Aage Badhana

proceeding forward

Madhur Tarangen

melodic waves

Preranadayak Kadam

inspiring steps

Gati Mein

in motion

Nritya Jeevan Hai

dance is life

Nritya Avadharanaen

dance concepts

Chakachaundh

dazzlers

Nritya Anuvad

dance translation

Nritya Bhakti

dance devotion

Ekata Shakti Hai

unity is strength

Khushi Kay Liye Nritya

dance to happiness

Rahasyavadi Chalen

mystic moves

Nritya Par Vijay Prapt Karen

conquer the dance

Vistrut Ishare

elaborate gestures

Taal Key Gati

pace of cadence

Chalon Ko Prabhavit Karna

influencing moves

Athulya

nothing compares

Pratikatmak Bhanvar

symbolic swirls

Pragatishil Chalen

progressive moves

Pooja Vyakt

expressing worship

Rachanatmak Isharon

creative gestures

Divya Hav-Bhav

divine gestures

Ly Mul

rhythm origin

Nritya Marg

dance passage

Masala Samuhik

spice collective

Rupaye Sey Bhari Jeb

pocket full of rupees

Bahumanya

honored by many

Spane Prajvalit

dreams ignited

Jijivisha

live long

Siddhanth Aur Abhyas

seasons of dance

Ly Prateek

rhythm symbols

Nritta

pure dance

Badhai

salutations

Jatil Yuddhabhyas

intricate maneuvers

Ly Mein Ekjut

united in rhythm

Pratikatmak Udgam

symbolic origin

Nidar Sher[7]

fearless tigers

Arthpurn Chalen

expressive moves

Nritya Samskriti Mul

dance culture origin

Nritya Anunay

dance persuasion

Ek Kadam Banao

make a move

Sanyukt Ly

united rhythm

Angika Crew[4]

art of body movements

Koi Niyam Nahin

no rules

Samay Par Kadam

steps in time

Nritya Ananda

dance bliss

Adamy

indomitable

Bollywood Phyoojan

Bollywood fusion

Dancing Minds[4]

Dance and Dazzle[4]

Nritya Kala Hai

dance is art

Nritya Vakyansh

dance phrase

Subhaga

good luck

Sthir Bhanvar

static swirls

Ghoomata Sadiyan

swirling saris

Seps Kaa Svad Lena

savor the steps

Abhijvala

blazing ahead

Ek Sath Ly Mein

together in rhythm

Utsahi Rachanaker

enthusiastic creators

Charam Chalen

excessive moves

Nritya Samuday

dance community

Sabhi Mein Nritya

dancing all in

Abhay

fearless

Asthirata

fluctuation

Abhayananda

delighting in fearlessness

Chalon Kaa Siddhanth

theory of moves

Nritya Kay Mousam

seasons of dance

Lahje Ko Darshati Hai

reflecting accents

Nritya Mukt

dancing free

Dhoort Chalen

artful moves

Atmabala

soul-force

Kalatmak Bhav

artistic expressions

Ek Prastav

one motion

Kaaljayi

timeless

Andolan Kay Sanketh

signs of movement

Ly Key Bhasha

language of rhythm

Nritya Jangli

dance wild

Sankalp[5]

determination

Soundarya Mulya

aesthetic value

Buniadi Tatv

basic elements

Rachanatmak Chalen

creative moves

Andolan Key Lehren

waves of movement

Pradarshanon Key Soochi Chalen

moves repertoire

Daba Isad Oorja

suppressed energy

Uddeshyapoorn Arajakata

purposeful chaos

Nritya Kay Raja

kings of dance

Samuhik Masala

collective spice

Vistrut Shraddhanjali

elaborate tributes

Hamari Sachchai Vyact Karna

expressing our truth

Tatkalic Chalen

improvised moves

Rangila

full of colors

Shuddh Rosh

pure fury

Vishva Nritya Manjil

world dance floor

Pratikatmak Chalen

symbolic moves

Sahasi Ladaku

brave fighters

Kavya Rachanayen

poetic collective

Hamare Dilon Ko Vyakt

expressing our hearts

Sanchalit

powered up

Pratyek Charan Kaa Ananda Len

enjoy each step

Shrestha

the best

Spirit Shakers[4]

Kalatmak Rosh

artistic fury

Sinemai Pizzaz

cinematic pizzazz

Tim Khushi

team happiness

Arthpurn Pooja

expressive worship

Tej

intensified

Ly Mein Parivartan

rhythm changes

Tej Avritti

fast frequency

Kalatmak Tarike

artistic ways

Aage Badhane Kaa Agrah

urge to move

Tepestri Nritya

tapestry dance

Alag-alag Talen

distinct moves

Shanti Samuhik

peace collective

Amurt Nritya

abstract dance

Nritya Kriya

dance action

Parishkrit

refined

Crystal Domain[4]

Prerit Mahsus Karna

feeling inspired

Hamari Katha

our narrative

Amurt Kala

abstract art

Paramatma Kay Liye Taras

yearning for divine

Nritya Pooja Hai

dance is worship

Ancient Groove Theory[4]

Vah Phaiktar

wow factor

Ly Uccharan

rhythm accent

Sthaniya Prabhav

local influences

Ly Aur Soundarya

rhythm and beauty

Aage Badhane Kay Liye Uksaya

provoked to move

Prabhavit

the influencers

Chalon Kaa Rangmanch

theatre of moves

Nritya Aur Natak

dance and drama

Yodhayein[7]

warriors

Rahasyavadi Gati

mystic tempo

Abhijaya

complete victory
Indian Dance Group Name Generator
How to Create a Great Indian Dance Group Name
Dance group names can take many different forms; they can be fun, inspiring, intimidating, or full of confidence. The best dance group names are short, catchy, and energetic.
You have a lot of freedom to create a unique and personal dance name for your group, but keep the following tips in mind when choosing your name:
Use active words. Incorporating terms like "move," "rhythm," or even "dance" itself, as we do in our list above, will give your group name an exciting and lively feel. This can motivate your group to put on energetic performances and let your audience know that they're in for a great show.
Get creative. There are few limits to the words and phrases you can use to create your dance group name. You can gather inspiration from popular culture, songs, films, styles of dance, and many other places. If you find a phrase you like, you can alter it or use wordplay to make it more unique — for example, using "Mystic Tempo" rather than "fast tempo."
Choose an inclusive name. Avoid using any offensive or vulgar terms in your group name, so you don't alienate potential members or fans of your dance group.