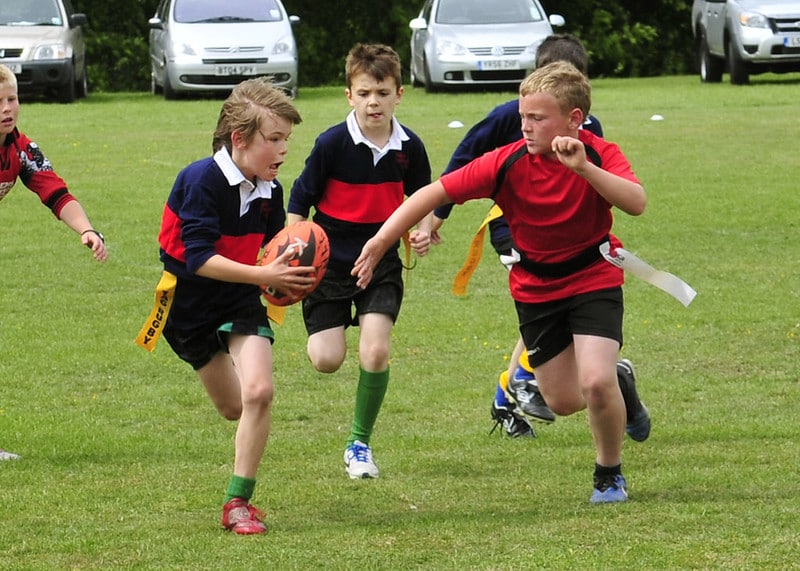 Oztag is a unique sport similar to touch football but with its own set of rules designed to encourage low levels of contact.[1]
It uses evasion, kicking, tagging, catching, and passing skills rather than tackling, making it a safe-to-play but still exciting and fast-paced sport.[2]
Oztag began as a training activity for rugby teams in the early 1990s but now has over 160,000 players and is a sport of its own, with national competitions and international associations at play.[3]
Low-contact doesn't mean that Oztag lacks a competitive spirit, so if you're playing, you'll need a great team name!
We have the list of Oztag or tag rugby team name ideas below.
You can also scroll past our list to find a name generator and tips for creating your own Oztag team name.
The Chasers[4]

Serial Taggers[5]

Yes Tags, No Tackles

Sin Bin Send-Off

Going for a Run

The Ragtags[5]

The Untagables[4]

Shoulder First Penalties

Gotta Tag 'em All[6]

Pokemon reference

Forward Passer Force

The Spy Who Tagged Me[6]

Winning Endeavors

Going for the Tags

First Steps Forward

The Ground Tappers

Crossing the Try Line

Tag Monsters[4]

Taggravated Assault[6]

The Dummy Half

Christina Taguilera[6]

Running for Gaps

Snakes Alive[7]

The Top Bloke Team

We Won't Tackle

Oztag Scene Squad

The Tag Collectors

Team 'Round-the-Corner

Rugby Ball Passers

Utilising All Skills

Ninja Taggers[4]

Advantage Rule Applies

Field Play Breakers

Tagnam Style[6]

a reference to Psy's hit song "Gangnam Style"

Sin Bin Squad

Natural Born Taggers[5]

No Try Penalties

True Blue Oztag Aussies

Tag Machines[4]

Passers and Attackers

Making Clean Breaks

Jump for a Penalty

Players in a Gap

The Tag Shouters

Prevailing Players

Tags & Belts

The Dominators

The Velcro Taggers

Tagged Again

House of the Flying Taggers[5]

Line Drop-Outs

From the Centre Line

The Maximum Eight

Seven Metres Back Defense

Tag Protectors

Diving to Score

The Five Attempts

Tag Police[4]

Tags or Flags

Tagliatelle[5]

Passers and Evaders

The Tag Rugby Ranks

Score Stoppers Squad

The Grass Cutters[7]

Rugby League Crew

Beware Attacking Players

Full Contact Outlaws

On Zero Count

Right on the Line

Stripes of Velcro

No Conversions

One Point Tries

Tagmanian Devils[6]

The Fourth Tags

Score Triers Club

Key Motivators

The Tag Chasers

Must Tag Sally[6]

a play on "Mustang Sally"

Getting Our Tag On

Bumping Into Penalties

Playing Our Part

Oztag Footy Force

United in Power

Fending Not Allowed

Arms Off the Tag

Drop Kick Restarts

Deliberate Changeovers

All Levels of Fun

Tag Heuer[6]

Tags on the Ground

Anyone Can Play!

Gaining Advantages

The Knock-On Network

Markers Matrix Defenders

The Opposite of Tackled

The Oztag Aussies

Keeping Eyes Up

Tagquila[5]

Tag Rugby Rippers

Quick Play Drills

Ball Carrier Brigade

Not at All Brutal

Tournament Winners

The Crikey Collective

Oztag Ridgey-Didges

True Blue Taggers

Straya Playas

The Fair Dinkum Force

Defo the Winners!

Oztag in the Arvo

Influential Dodgers

Lethal Taggers[5]

40 Minutes to Win

Five Tries to Tag

The Stripe Grabbers

All for One, Tag for All

Oztag Fever Force

Swarming the Field
Oztag Team Name Generator
How to Create Your Own Great Oztag Team Name
Similar to other recreational sports team names, there are very few restrictions as to the names you can choose for your Oztag team.
The official Oztag rulebook does not include any provisions for naming, so you can choose a name inspired by the sport, inspired by a movie or TV show you love, or just a generally fun phrase.
There are a few aspects of the players' code of conduct to remember choosing your name:
Maintain good sportsmanship. While this refers to treating your competitors with respect in the code of conduct, it should also extend to your team name. Don't use any offensive or threatening language.
Be cooperative. The code of conduct emphasizes cooperation with your coach, teammates, and competitors. While your competitors don't need to have a say in your team name, it is a good idea to get input from your teammates when finalizing your choice.
Choose a name that reflects the interests and vibe of your team members. Lighthearted and humorous names are usually crowd-pleasers.
It's best to choose a short and catchy team name, too — one that your team can remember with little effort and that your supporters can turn into chants!