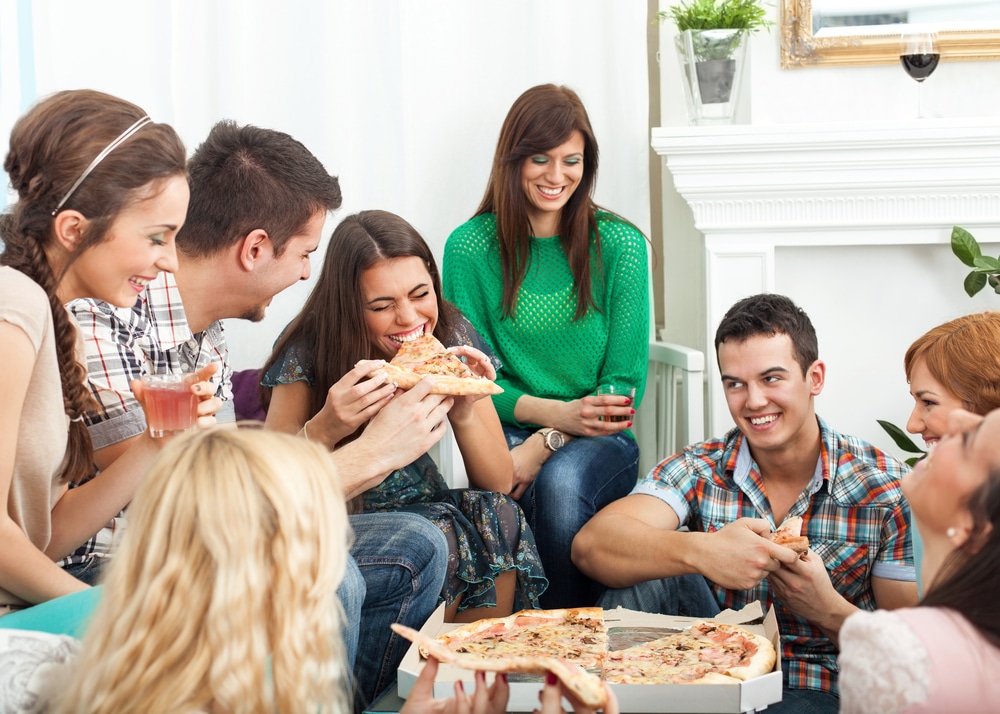 The number eight is a symbol of balance, stability, control, and support. In some cultures, it's considered a lucky number.[1]
Some famous groups of eight include the Eight Immortals of Chinese mythology,[2] the "Group of Eight" industrialized nations,[3] and Snow White and the Seven Dwarfs.[4]
An eight-member group is definitely large enough to deserve its own unique nickname.
Whether you're looking to nickname your friend group, set up a team for work, or name your group chat, we have ready-to-use group name ideas for eight-member friend groups or teams below.
You can also scroll past the list to see our name generator and tips for creating our own eight-member group name!
Fate of 8[5]

Eight Maids a Milking

reference to "12 Days of Christmas"

The Cranium[6]

eight bones that protect the brain

Infinity Squad

the infinity symbol looks like a sideways eight

The Octaholics

Eight Is Enough

Octo Posse

7 Ate 9

8D

a play on "1D," the nickname for the band One Direction

It's F8

Esoteric Eight

Party of 8

Crazy Eights

reference to the card game

The Octet[7]

Eight Across Borders[8]

for an international group

The Octave

reference to a sequence of eight notes

We Are Gr8

The Byte[9]

group of eight bits

Ocho Bros

D8ers

The G8

First-Rate 8[5]

Ain't 7, Ain't 9

a play on "7, 8, 9"

Double Quads

The Ivy League[6]

referencing the eight famous universities

Excellent Eight

The Octagon

Eight Club

The 8th Wonder of the World

Eight Great Mates[5]

Exotic Eight

Two Times Four

Eight Notes

reference to octaves, which are a series of eight notes

Efficient Eight

Octopus Legs

Eight Greats

Circle of Eight

Eight Block Heads[8]

Elegant Eight

Eight Earthlings

Eight Days a Week

reference to the Beatles song

The Octopi

F8

sounds like "fate"

Eighties Babes

Eastern Eights

Ocean's 8

reference to the movie of the same name

Sophistic8

Mystery 8

The 8 Ball

Eats for Eight

The Ogdoad[7]

a group of eight deities in Egyptian mythology

Octfriends[8]

Eccentric Eight

Electric Eight

The East Coast Eights

The Octad

Family of 8

Eight Alley Cats[8]

Octette[6]

Eloquent Eight

8 Musketeers

a play on The Three Musketeers

Eight Dynamos[8]

This Is 8

reference to the TV Show This Is Us

The Lucky Eights

Effervescent Eight

Eight Eggs[10]

Eighties Babies
Eight-Member Group Name Generator
How to Create a Good Eight-Member Group Name
We used the following tips when creating our list of eight-member group names, and you can also use them to inspire your own if you don't want to use one of the names on our list:
Find groups of eight in pop culture. Eight is quite a large number, so this won't be as easy as, say, a group of four — but you can find some eight-person groups in pop culture. Bands, movies, television shows, and books may include eight central characters or feature a group of eight people.
Use a word that sounds like "eight." You can see examples of this in our list with names like "It's F8" ("It's Fate") and "The G8" ("The Gate"). Eight rhymes with a surprisingly large number of words! If there's a word you like that includes -eat or -ate, just substitute that portion of the word with the numeral "8."
Use alliteration. Choose another word that starts with "E" and pair it with eight, such as our list's examples of "Eloquent Eight" and "Exotic Eight."