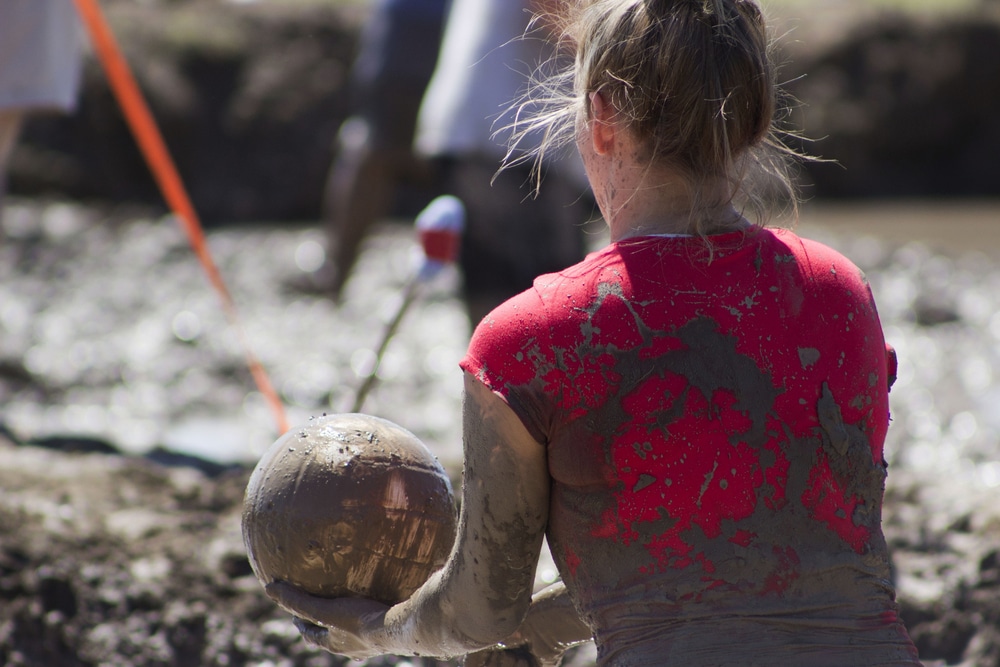 Volleyball's history began in about 1895 in Massachusetts. It was originally named "mintonette," which was changed to "volleyball" in the early 1900s.[1]
The game was played with a tennis net and took inspiration from handball, baseball, and basketball. The final name was chosen to better describe the back and forth volleying of the ball.[1]
During the 1920s, beach volleyball became popular. It was only a matter of time before mud volleyball took off in popularity, too![1]
Many communities have mud volleyball teams and tournaments. Mud volleyball has also become a popular sport for fundraising.[1]
Our mud volleyball team names feature a great range of choices appropriate for any mud volleyball team.
If you'd like to create your own unique mud volleyball team name, we also have some tips beneath the list.
The Mud Slingers

Mud Divers[2]

Splatter

Sludge Society

Silt Renegades

Slush Fund

The Mire Matrix

Flesh and Mud[3]

Into the Mire

The Mud Flaps

Mudslide

Mud and Thunder[3]

Mind Over Mud

There Will Be Mud[3]

True Mud[3]

Mudwise Warriors

Mud Maniacs

Mud Ties[3]

Mud Vessels[3]

Mud Pie Posse

The Mud Men

Mud Sliders[4]

Dirt Burglars[2]

Mud Brothers

The Muddy Crew

Mudskippers[4]

Dirt Devils[4]

We've Gone Mud!

Mud, Sweat, & Tears[4]

The Mud Minions

The Mud Buds

Mire on Fire

Mind Over Mudder[5]

Collective Sludge

Mud for All!

Mud Bug Brigade

That's Not Mud[4]

Show Me the Muddy[4]

Dirt Diggers[4]

Muddy Pirates[4]

Mud Dolls and Volleyballs[4]

Mud, Set, Spike![4]

Mud Up With That?[5]

Muddy Mamas[5]

Mission Unblockable[5]

Rub Some Dirt On It[5]

Skid Marks[5]

Notorious D.I.G.[5]

Dirty Half-Dozen[5]

Hits Don't Lie[5]

That's What She Set[5]

Earth Movers[6]

Knee Deep[6]

Mud Blockers[6]

Mud Kill[6]

Mud Pit Maggots[6]

Brown Nose'ers[6]

BrownTown[6]

Shockers[6]

Mud Dump[6]

The Great Eight[6]
For more related team name ideas, see our list of volleyball team names.
How to Create Your Own Mud Volleyball Team Names
Create your own mud volleyball team name using the following tips:
Find synonyms of mud. Some synonyms for "mud" like "sludge" and "silt" can make great team names. You can use a fun synonym as a single-word name or add an additional descriptive word, as we did for "Sludge Society" and "Silt Renegades."
Ask your team for suggestions. Getting the team involved in the naming process is a great motivator. You can ask each member to submit their choice and then put the final option to a team vote. If your team can't decide on one, see if you can combine the top contenders to create a new and unique name.
Take a popular, short phrase and tweak it into a muddy team name. Almost any short phrase can be changed just a bit to become a mud-related team name. For example, the phrase "into the fire" easily changes to "Into the Mire" for a cool mud-themed name.