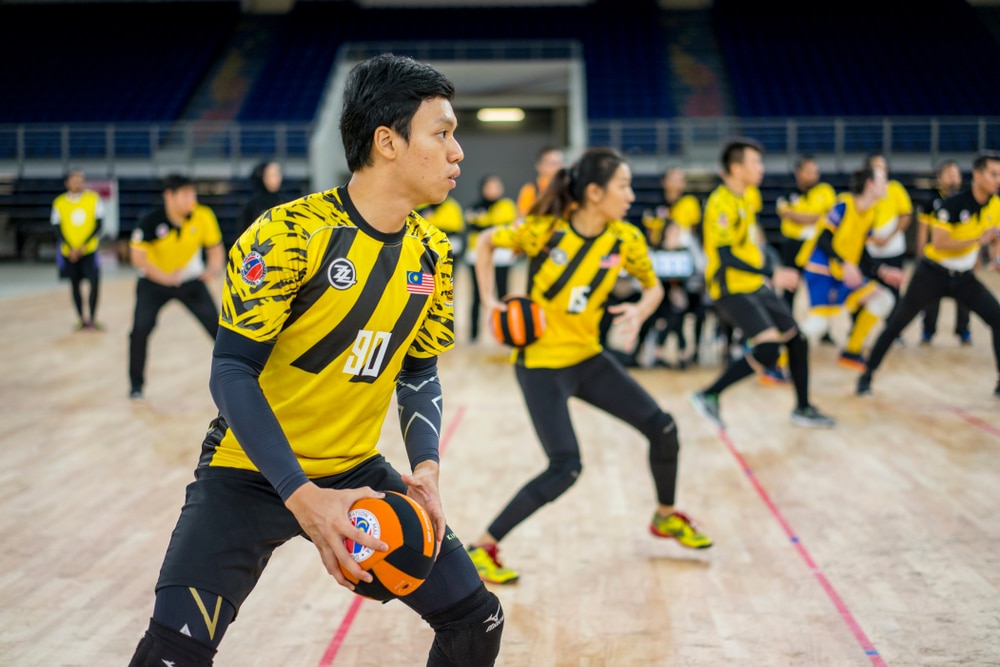 Just about everyone has played dodgeball at some point. It's a very common activity in physical education classes in the U.S. — usually a favorite activity of the students!
Despite its familiarity, many people are unaware of the history of dodgeball.
Its origins can be traced all the way back back to a Greek game called "ostrakinda,"[1] which involved two teams standing in line and tossing shells in the air to determine which side would chase the other.[2]
Dodgeball is a high-energy and pretty casual sport, so its team names are typically cool or funny.
Our list below features over 60 great dodgeball team names, including some directly inspired by the beloved 2004 movie "Dodgeball."
If you want to create a dodgeball team name of your own, see our tips beneath the list.
The Dodgefathers[3]

Untouchaballs[3]

Dive & Hide!

The Unruly Ones

Always Picked Last

Gym Class Heroes[3]

Madcap Maniacs

Patches Posse

"Dodgeball" movie reference

The Game of Throws[4]

Reckless

Daredevils

Lunatic Legion

Balls of Fury[3]

Deadliest Dodgers

We BALLieve!

Last Choice Warriors

Preposterous!

Dodgefathers Force

The Delinquents

By the Ball

Catchers Collective

Wrench Dodgers

"Dodgeball" movie reference

Taking Chances

La Fleur's Force

"Dodgeball" movie reference

Yellow-Bellied Losers

"Dodgeball" movie reference

Nonsensical Nation

Illogical Alliance

Harebrained Hooligans

Average Joe's Gym

"Dodgeball" movie reference

Throwbocop[3]

No Life Goals

"Dodgeball" movie reference

Skidmark Society

"Dodgeball" movie reference

The Five Ds

The Pain Patrol

Ball Evaders

Derelict Dodgers

Duck & Dive

Laser Blazers

"Dodgeball" movie reference

Psychological Ploys

"Dodgeball" movie reference

True Dodgeballers

Hurling Hoodlums

Rowdy Ruffians

Team of Thugs

Bruiser Battalion

Underdogs United

Grammar Jamboree

"Dodgeball" movie reference

The Globo Gymers

"Dodgeball" movie reference

Rogue Rascals

Scoundrel Squad

Brute Brigade

Typical Roughnecks

Ball Grabbers

Average Joe's Gentlemen

"Dodgeball" movie reference

The Purple Cobras

"Dodgeball" movie reference

Dodgers & Catchers

The Circle Crew

Rampage Rebels

Artful Dodgers Club

Influential Dodgers

The Dodgers Elite

Lame Duck Desperados

Dodging for Our Lives

Top Prospects Posse

Skillz That Killz

"Dodgeball" movie reference

DODGEsaurus Rex

Kamikaze Krew

The Morticians
Dodgeball Team Name Generator
How to Create an Awesome Dodgeball Team Name
When creating a dodgeball team name, you can get inspiration from anywhere.
There aren't any strict rules for your name, so choose a name that shows off your team's sense of humor, interests, or personalities.
Keep the following tips in mind to help you brainstorm a list of potential names:
Use a favorite word or quote. If your team has a favorite expression or quote, you may want to incorporate it into your dodgeball team name. You can use single descriptive words or short phrases for your team name. Take input from all of your team members, and get creative!
Get inspiration from entertainment. Movies, songs, and books are great places to find inspiration for your dodgeball team name. "Dodgeball" isn't the only movie that can inspire your team! It can be a sports movie, an action movie, or any other type; create name ideas from the characters, title, or scenario. If your team members have a motivational song, choose the title or a lyric for your team name.
Create an acronym with the names of your team members. To create an acronym with your team members' names, take the first initial from each person's name. Next, find a word for each initial to make up the acronym's phrase. You can choose any random word for each letter or one that specifically describes that member.