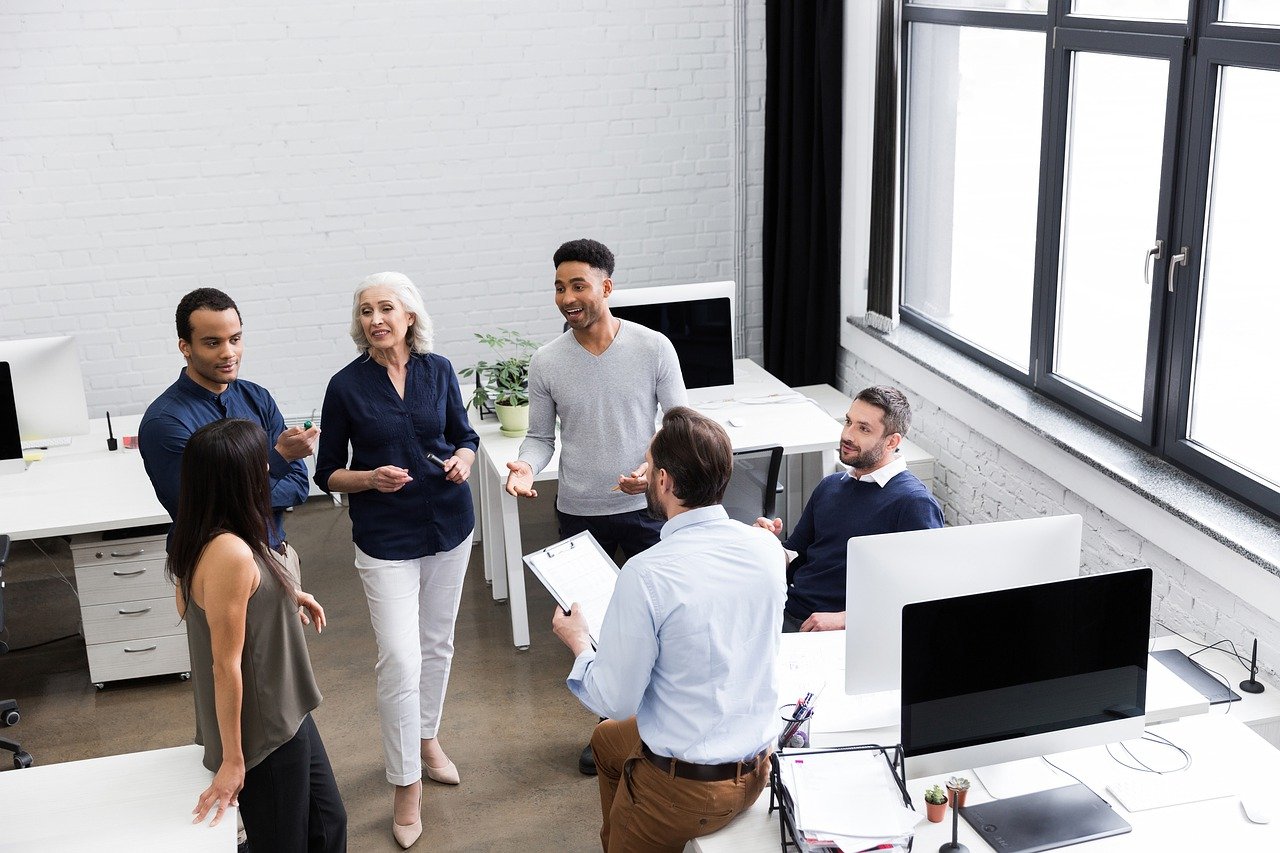 No matter which field you work in, chances are that teamwork is essential to some facet of your job.
Around 75% of employers consider teamwork to be very important to their business.[1][2]
A strong, collaborative culture can benefit employees, too. Over half of employees say that a sense of community and a common mission would encourage them to stay at a company.[1]
A staggering 99% say they prefer a work environment with truthful and effective discussions![1]
Whether you're forming a project group or want to give an interesting name to your everyday team/department, we have the list of work-appropriate group name suggestions below.
Scroll past the list for our team name generator and tips on creating your own team name for work.
Respect the Process

Optimized to Win

PayRollers

Added Value

Innovation Squad

Follow the Leader

Commission: Possible

The Dreammakers

Duty Cuties

Labor Force of Nature

The Magicians

The Three Profiteers

Vision Quest

Optimal Operators

Labor Force Tribe

Shipshape Patrol

Clever Endeavors

The Brain Trust

Business Casual

Who's the Boss?

The Achievements

Ingenious Geniuses

Worker Bees

Nerds of a Feather

a play on the idiom "birds of a feather will flock together"

Business as Unusual

No Loose Ends

2Legit2Quit

Vitamin 401K

Hash It Out

Toil and Trouble

Back to the Lab

Sell Mates

The "Will Do" Crew

Risky Business

The Target Markets

Pixel Pals

Bossypants

Buffering...

Full-Time Winners

Out of the Cubicle, Into the Fire

The Odd Jobs

It's Accrual World

Deficit Demolition Team

Let's Get Fiscal

a play on "Let's Get Physical" for accounting teams

Tax-manian Devils

Everything's Bigger in Taxes

a play on the saying, "Everything's bigger in Texas"

Call of Duty

reference to the popular video game series

The Wolfpack

B2-Bee Keepers

a play on B2B, or "business-to-business"

Caller Ballers

Call Control

Marketing Maniacs

Live Long and Market

Appetite for Analytics

The Mathletes

Death & Taxes

The Innovators

Mind the GAAP

short for "Generally Accepted Accounting Principles"

The Mighty Morphin Stock Exchangers

Three Balance Sheets to the Wind

Recruiting Rampage

Compensation Nation

For Deposit Only

Anger Management

Barely Managing

Bug Squashers

Reboot Rebels

B2-C You Later

a play on B2C, or "business-to-consumer"

Managers of Mayhem

Bull Market Bunch

Sultans of Sales

Keep Calm & Sell On

IT Phone Home

a play on the line from the movie E.T. — "E.T. phone home!"

Bandwidth of Brothers

reference to the series Band of Brothers

SaaStars

Hexspeak

Cyberspace Cadets

Star Tech

Beta Bots

Internet Explorers

Money Never Sleeps

The Creative Minds

GitHub Says What?

White Hats

Access Denied

Business as Usual

Slayer Instincts

Wii Work Hard

Dollars to Doughnuts
Work Team Name Generator
How to Create a Good Team Name for Work
Create your own team names for work using the following tips:
Consider how specific you want to be. Team names that only make sense to someone with particular work expertise or personal background may not work for your team. For example, naming your team "Wii Work Hard" might not be funny if your audience isn't familiar with video games; likewise, a name that draws on one specific element of marketing theory may be confusing to non-marketers in your company. General names usually work better unless your team/company specializes in one area. It can be awkward when a judge or your boss is reading your team name out loud, and you can tell they don't get the joke or pun.
Keep it office-appropriate. Stay away from funny team names that are racy or include any objectionable language. No matter how casual and open your work environment is, it's always a good idea to maintain a sense of professionalism, so you don't alienate any team members (or give others the wrong impression of your team).
Don't put others down. Everyone at your company is on the same team, so even if you're creating a group name for a competitive task (e.g., which team has the best pitch for a new product line), you shouldn't choose a mean-spirited name. Aim to uplift your own team without tearing down others. Additionally, using your team's name to mock or exclude someone of a different gender, race, nationality, sexual orientation, or gender identity can hurt others, cause division, and result in you and/or your team getting in trouble.