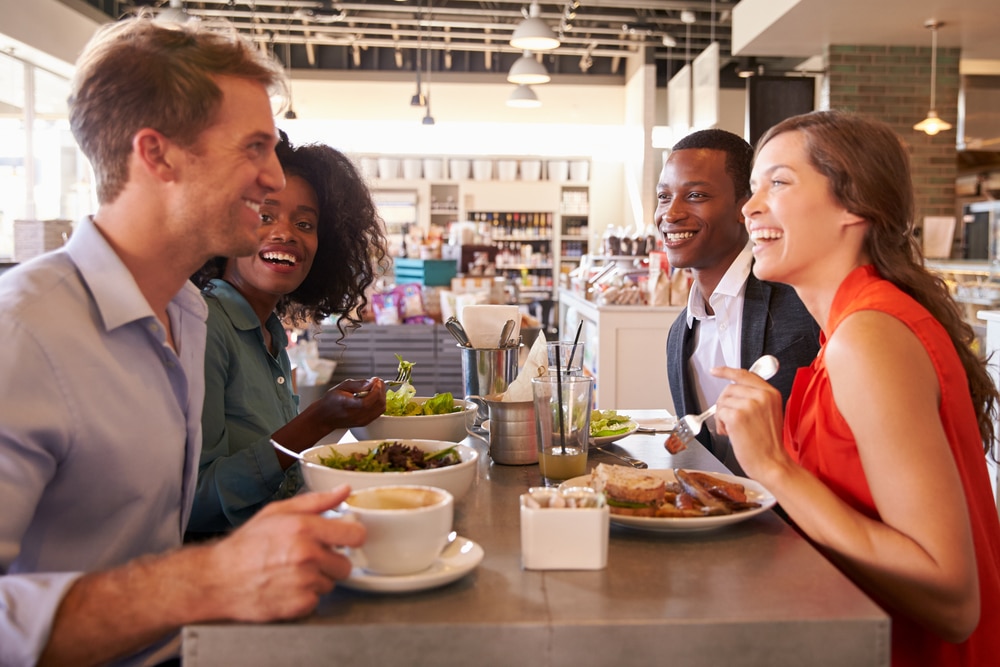 Skipping lunch might seem like a smart idea for your wallet, and eating at your desk might seem better for productivity.
However, research shows that taking a formal lunch break is good for creativity and can improve your cognitive capacity.[1]
Physically getting outside during your lunch break can even lead to breakthroughs in problem-solving.[2]
Lunch groups can be professional and devoted to learning, or they can be informal groups of friends or classmates.
Even if you're using the opportunity to "lunch and learn," the relaxed environment and social interaction will be a benefit to you.[3]
Below, we list more than 100 unique lunch group name ideas, whether you're sharing meals with your pals or designing a professional development event!
Plus, below our list, find tips for creating your own lunch group name.
Casual Lunch Group Names for Friends
The Good Grub Social Club[4]

The Ketchup Club

a play on "catch up"

The Brunch Bunch[5]

What's For Lunch?[6]

The Carbdashians[7]

a play on the Kardashians

Food For the Soul[4]

Let's Ketchup[7]

Hangry Gang

Let's Taco 'Bout It[6]

Friendchips and Guac[8]

Lunch Crew[6]

Nacho Problems[7]

Snack Attack[9]

What the Fork?[10]

Midday Munchies

Best Fries Forever[8]

The Table Talkers

All That and Dim Sum[8]

Eyes on the Fries[5]

a play on "eyes on the prize"

Souper Friends[8]

Grill and Chill[10]

Lettuce Talk[8]

Egg-cellent Crew[7]

The Snack Squad

Pizza Posse[5]

Lunchtime Warriors

The Foodies

Noontime Club[9]

A Pizza My Heart[7]

Everybody Eats[4]

Hunger Squad

Hungry Hearts

Midday Mavericks

The FFF Club[4]

stands for friends, food, and fun

Lunchtime Avengers

Lunchtime League

The PB To My J[8]

Oh Kale No[7]

Grate Friends[7]

The Takeaway Group[9]

Definitely Not Vegan[5]

Lunch Order Within[6]

The Nooners

Gourmet Gang

Sandwich Squad

Noon Noshers
Professional "Lunch and Learn" Alternatives
The Lunch Bunch[11]

Nourishing Greatness[11]

Chew on This[11]

Something To Chew On[11]

Brain Food[11]

Brown Bag Club[11]

Eat, Drink, and Be Educated[11]

Nibbles of Knowledge

Knowledge is Delicious[12]

Feeding Our Minds[9]

Data Bites[11]

A Lunchtime Change of Pace

The Learning Table[11]

Meet and Eat[11]

Facts and Snacks[11]

Not Another Lunch and Learn[11]

Serving Up Knowledge[11]

Learning Over Lunch[9]

Lunching on Strategies

Power Lunch[11]

Auditing Our Lunch

The Innovator's Lunch Club

Dine & Development[13]

Information Buffet[11]

Sandwiches and Strategies

Lunch and Collaborate

Food and Thought

The Skills Brigade & Buffet

Key Takeaways

a play on valuable information and takeaway food

Food for Thought[11]

The Learning Trough[11]

Expertise at Lunch

Nourishing Brains[9]

Informed, Fed, and Inspired

Sack Lunch Superstars[11]

The Lunchtime Learning Crew

Knowledge Buffet[9]

The Lunch Network

Enlightened Bite[13]

Brown Bag Takeaways

Knowledge Nuggets[11]

Food and Facts[11]

Brain Picnic[13]

Knowledge Nibbles[11]

Feed Your Mind[11]

Food for Thought Crew

Grub Club[11]

Feasting Our Minds

Eat, Learn, Grow[11]

Everyday Lunch Buddies

Knowledge Feast[11]

Exceptional Lunch League

Information Chowdown[11]

Bite-Sized Learning[11]

Noontime Knowledge[11]

Learning Luncheon[11]

Let's Do Lunch[11]

Tasty Tidbits[11]

Facts and Foods[9]

A Slice of Learning[12]

Edible Edification[11]

Leads and Lunches

The Lunchtime Morale Group

Teamwork Tasks for Lunch

Team Lunch Culture

Midday Mentorship

Noontime Think Tank

The Business Buffet

Midday Masterminds Workshop

Buffet of Knowledge

Executives & Eats
Lunch Group Name Generator
How to Create a Good Lunch Group Name
As you can see from our lists above, fun lunch group names and "Lunch and Learn" alternatives are numerous.
Creating a good name goes beyond finding words related to food — you can tailor your lunch group name to the field you work in, the interests of your friend group, or the topic of a particular lunch-and-learn session.
Of course, all of the names you consider should be appropriate for the environment, be it work, school, or a totally casual meeting between friends.
Even at work and school, that doesn't mean you should entirely avoid humor! If your lunch group is lively or your company has a more casual office culture, use puns and relatable jokes to create a fun group name.
The essential tips to keep in mind when naming your lunch group are:
Keep it simple. Short and catchy names will make your lunch group easy to market if you're hosting a lunch and learn session. Casual lunch groups will also appreciate fun and straightforward group names over options that are complex and wordy.
Keep it fun. No one wants their lunch break to be dull! Choosing a fun name will make your group more excited to meet up.
Keep it clean. Even if you're just meeting with friends, it's usually a good idea to avoid profanity or offensive language in your group name.