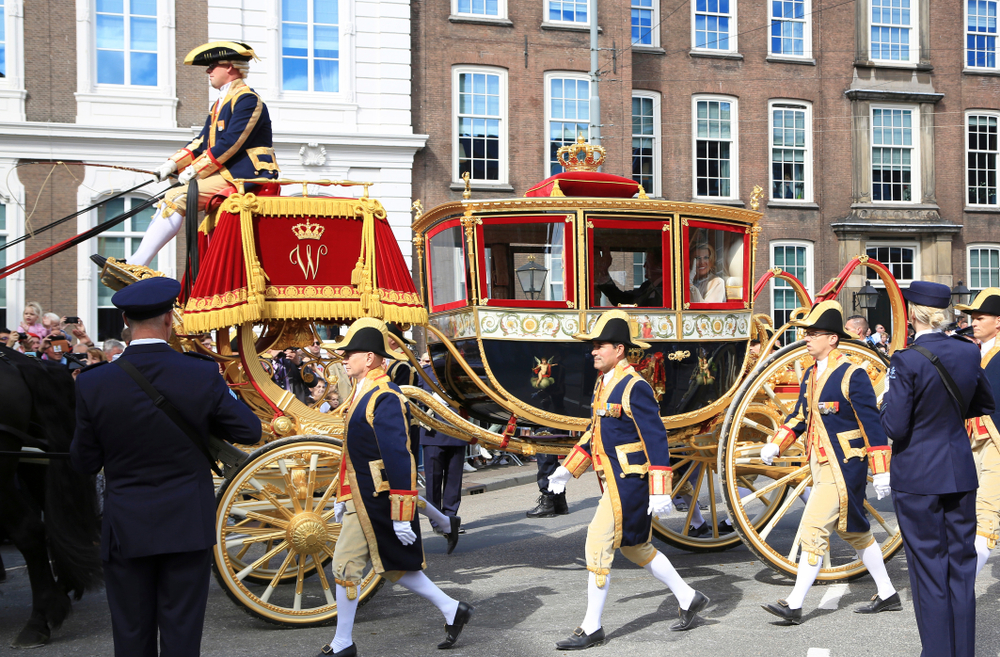 Being royalty comes with some pretty cool perks! You get to live in a palace, wear a crown, and be looked up to and adored by your people.
Britain's kings and queens even celebrate two birthdays each year.[1]
This tradition began centuries ago when George II wanted to avoid having his birthday celebration parade in November (his birth month) because of the cold weather.[1]
Since then, British royals have celebrated their birthday in June every year to ensure the parade occurs during good weather, in addition to the actual day of their birth.[2]
If you're part of a group looking for a team name worthy of royalty, you've come to the right place.
We have the list of 50+ royal team names, as well as ideas for creating your own.
Royal to the Game

as in "loyal to the game"

Heirs to the Throne

The Monarchs

Imperial Victors

Royal Flushers

The Aristocrats

Jumping Jacks

Royal Scepters

Monarch Butterflies

The Royal Family

Shining Stars

Blue Bloods

Sleeping Cuties

a play on "Sleeping Beauty"

Manly Monarchs

Buckingham Bros

as in Buckingham Palace

Knights in Shining Armour

Crown Jewels

Regal Eagles

Castle Champions

Beauty Queens

Imperial Majesties

Evil Queens

Queen Bees

Royal Pains

King Pins

Team Battle Royale

Royalty at Heart

Damsels in Distress

Lords of Winning

Dragon Slayers

King's Ransomers

[Queens/Kings] of the Game

Drama Queens

Coronation Wonders

Sovereign Saboteurs

Noblest of Champions

The Gold Tiaras

Prince Charmings

Princesses in Peril

Aristocratic Alphas

Disney Princesses

The Royal Blue Boys

Jesters of the Court

Castle Crashers

Palace Wanderers

Windsor Winners

as in the Windsor Castle

Daring Diadems

Fairy Princesses

The [Kings/Queens]

[Noblewomen/Noblemen]

All That Glitters

Bling [Kings/Queens]

[Number of Teammates] Lords a-Leaping

Throne Roomies

New Kings on the Block

a play on New Kids on the Block

Sir Lancelot's Lords and Ladies

King Arthur's Court

Glass Slippers

Throne Bearers
Royal Team Name Generator
How to Create Your Own Royal Team Names
Perhaps you prefer to create your own team name or simply transform an idea from the list above to suit your needs.
Here you'll find helpful tricks to make the process fun and easy:
Choose a favorite royal. Whether it's someone in history or a royal who's still living today, your team may want to choose a favorite to include in your team name. For example, if Cleopatra is your favorite, you might go with "Cleopatra's Rebels" or "Egyptian Warriors."
Deem yourself rulers of something. You might try getting the team together to decide on a theme. Then declare yourselves the rulers of whatever you choose. A team that decides on machinery might become "Kings of Machines," or a team that loves all things magic could be "Monarchs of Magic."
Consider what you'll be doing as a team. This could have an impact on your team name, too. If you're a sports team, combine royal-themed words with sports-related words to create something like "Homerun Heiresses." If you're a gamer, you might choose something related to your favorite game. If you'll be competing academically, consider a team name that matches your intellectual specialty.