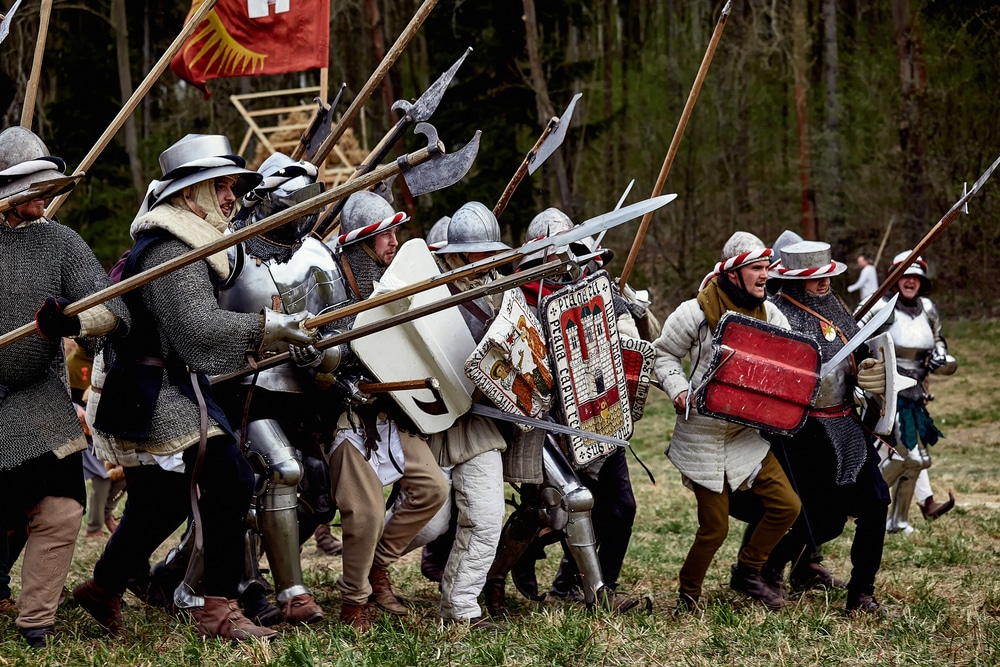 Medieval times, also known as The Middle Ages, covered many years beginning in about 400 CE and lasting until about 1485 CE.[1]
With such a wide timeframe, the era is typically split into the Early, High, and Late periods.[1]
Surnames are one product of Medieval times. Before about 1066 CE, people were known only by their first names.[1]
Football was also created during the Middle Ages. The rules of the game were few, and the number of players per team was unlimited. The game was banned in 1314 by King Edward II, and people then turned to archery for sport.[1]
Our list below features a range of medieval clan/guild names perfect for any Middle Ages clan or guild.
If you'd like to create your own clan or guild name, we offer some tips beneath the list.
Baron's Brigade

Revolutionary Command[2]

The Gentry

Rise of Abyss[2]

Sweltering Hooligans[2]

Gods of War[2]

Wrath of Royalty

United Brethren of Light[2]

Dark Knight

Solar Gladiators[2]

By the Sword[2]

Alchemy Assault[2]

Broken Wings[2]

Night Frost[2]

Mercenary Guild[2]

Dark Soldier[2]

Abrupt Vigor[2]

Constable's Crew

Soulless[2]

Blood Battle[2]

Escaped Bandit

Medieval Legacy

Double-Edged Killer

Means to End[2]

Annihilation[2]

Clan of Coats Swarm[2]

Rumblecrashers[2]

Reaper[2]

Masters of Immortality[2]

Bloodbath[2]

The Art of War[2]

Slayer's Society

Echo[2]

Myst[2]

Prime Punisher

Flesh Wound[2]

Peasant Posse

Redemption[2]

Hammers of Supremacy[2]

Wandering Force[2]

Bitter End[2]

Fresh Wound[2]

The Inner Machine[2]

Glitch[2]

Vassals United

Lethal Warfare[2]

Mayhem Lord

Squire Squad

Monster[2]

Feast[2]

Heavy Havoc[2]

Feast of Maggots[2]

Sweltering Domination[2]
Medieval Clan Name Generator
How to Create Your Own Medieval Clan/Guild Names
Create your own medieval clan/guild names using the following tips:
Look up facts about medieval times for inspiration. Finding your medieval clan/guild name could be as easy as creating a name like "The Lance Wielders" to reference the medieval sport of jousting. Medieval language may also reveal some great name options, such as "fealty," a medieval term for loyalty.
Take cues from your game. If your game has a particular character or location that would make an exciting name, find a way to incorporate it. Think about a single word or short phrase that might make a great clan/guild name. For example, if your game features a misty battlefield, you might like the name "Myst." If your characters wear heavy suits of armor in a location with hot temperatures, you could choose "Sweltering Domination." Get creative!
Check with the rules of the game you're playing to verify any naming restrictions. Before you spend time and effort finding a name you love, be sure your game doesn't have a specific character count to adhere to or any other guidelines.