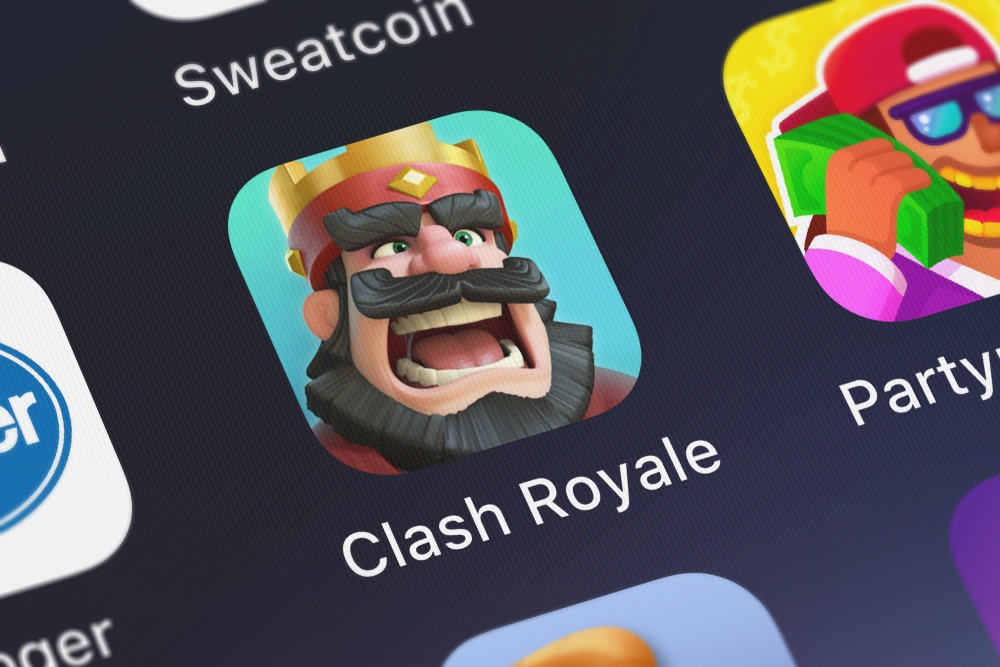 Clash Royale is a strategic game that combines card collecting, tower defense, and clan-based battles.[1]
The game hasn't been around as long as some, launching in 2016,[2] but it has nearly one million active players each day![3]
Clash Royale is similar to Clash of Clans, using the same universe and characters. Both games involve barbarians, giants, goblins, and wizards.
However, Clash Royale is a unique game with its own style, which demands its own unique clan names!
If you and your clan become skilled enough, you might even have a chance at victory in the Clash Royale Crown Championship — an open, global competition with over $1,000,000 in prizes![4]
Below, we feature more than 60 Clash Royale clan names, plus tips to help you create your own ideas.
Hit Men

Ignited

Symbol Of Chaos

Butchers

Mystic

Hog Riders

Sabotage

Regal Ranks

Mega Magic

Atomic

Goblin Guild

Rogue Rockets

Unlocked

Nonchalant

Hammer Hooligans

Sovereign

Spellcasters

Clobber

Crownz

The Rulers

Electro Elite

Archers Inc.

Tournament Terrors

Crown Collective

Royale Legends

Spear Society

StormForce

Crypt Keepers

Cannon Crew

Flaws

Shatter

Axe Alliance

Levelers

Prominence

Musketeers

Monarch Matrix

Gravestone

Lightning Nation

Rocket Rebels

Battle Scars

Enthroned

Monarchs

Sparklers

Critical

Ordained

Summit

Influence

Raze

Laidback

Gladiators

Zappers

Ravagers

Combatants

Sorcerous

Dueling Victors

Ice Inferno

Arch Time

Inferno Squad

Firestorm

Archaic

Sovereign Ones

Distorted

Dragon Desperados
How to Create a Good Clash Royale Clan Name
Create a cool Clash Royale clan name using the following tips:
Consider the specifics of the game. You can take an in-game weapon, location, or even character name and modify it to create your own unique clan name. Add an unusual or descriptive word to a word from the game or combine several words to create a new word.
Start with your name. One easy option is to name your Clash Royale clan after yourself! Use your first or last name, and add a word that describes your clan, like "Victors" or "Raiders." You can use words related to the game or choose a completely random description to identify your clan.
Get inspiration from other clan names. You can even get inspiration from Clash of Clans clan names since the world overlaps between the games. Looking at other clan names can help you generate ideas — either similar names, or total opposites that will really set your clan apart. Considering other clan names will ensure that you don't choose a name already in use. Keep in mind that your clan name should not be offensive or inappropriate, and use the opportunity to showcase your creativity!