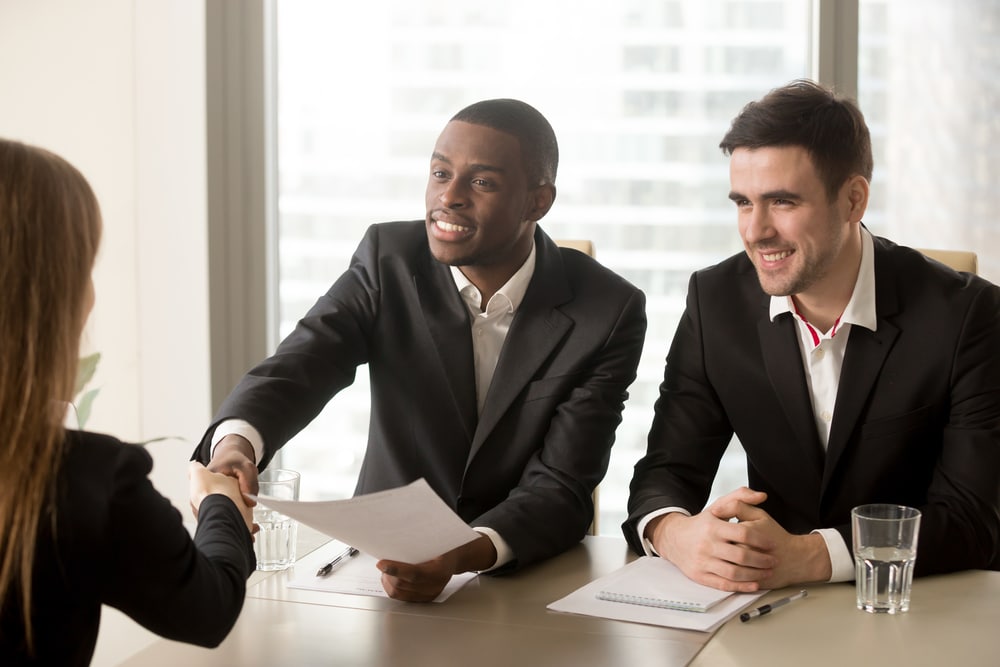 Job seekers may find that getting a job via a recruiter is a better option than job searching on their own.
With most job postings receiving hundreds of resumes, it's sometimes difficult to stand out among the competition. The sheer number of applicants makes it challenging even for those who are highly qualified.
Recruiters can help job seekers create the best possible resume and match the candidate's skills to an appropriate position.[1]
Keeping up with current trends in the job market is also key. A recruiter can advise employers of the trends that would best allow them to attract and retain the top talent.[2]
Our list features a range of general team names suitable for any recruitment team.
If you'd like to create your own unique recruitment team name, we have some tips below the list.
Hiring Hotshots

The Round-Up

Candidate Collective[3]

Circle of Excellence

Applicant Experts

Career Care[3]

Talent Hunters[3]

The Talent Searchers[3]

Chief Finders

Talent Connectors

Top Talent Troop

Simply the Best!

Bizhaven[3]

Perfect Prospectives

Potential Stars

Next Level Group[3]

Catered Career[3]

Exceeding Expectations

Starting Stars[3]

Irreplaceable

Always Ready

Contract Collective

The Select Society

Employee Experience[4]

Recruiterz[4]

The Scorekeepers[3]

The Capital Gains[3]

Total Solutions[3]

Human Nature[3]

Fast Talkers[3]

Paper Pushers[3]

Unlimited Bandwidth[3]

Top Tier[3]

A Different Breed[3]

Lifesavers Professionals[3]

Talent Pathways[3]

Every Step Support[3]

The Extreme Team[3]

Mind Crusaders[3]

W2 Ninjas[3]

Roadmap to Victory

Master Contacts

Employers Edge[3]

Clock In Easy[3]

The Buzz Squad[3]

Strategic Advisors[3]

Class to Career[3]

A League of Our Own[3]

Acts of Assessment

The Talent Wiz[3]

Career Moves[3]

Recruit Right[3]

Professional Placers[3]

Requisitioners

Right Here Resources[3]

Ready to Reach[3]

Follow the Leader[3]

On the Ready[3]

Down For the Account[3]

Actively Hunting

Professional Middlemen

Strategic Notifiers

Revenue Seekers

The Talent Scouts

Hiring Heroes

Recruitment Rangers

Talent Magnets

Candidate Catchers

Recruitment Renegades

The Talent Tree

Career Catapults

Hiring Wizards

Talent Wranglers
Recruitment Team Name Generator
How to Create Your Own Recruitment Team Names
Create your own recruitment team names using the following tips:
Think about the first impression. Sometimes people see a team name before they see the actual team. If you choose a positive and motivational name, you'll give a great first impression right from the start. Consider words or short phrases that bring excellence and professionalism to mind.
Create a name for a specific field or specialty. If you're recruiting for a particular type of job, you can incorporate terms from that field into your team name. For example, if you're a recruiter for machine operators, you could use a name like "Machine Op Matrix" for your team.
Have a contest for current team members. If you want to involve your team in the process, have each member submit a team name idea. You can put the final choice to a team vote or draw the winner from a hat. You may be able to combine several of the top choices if there's more than one great option.