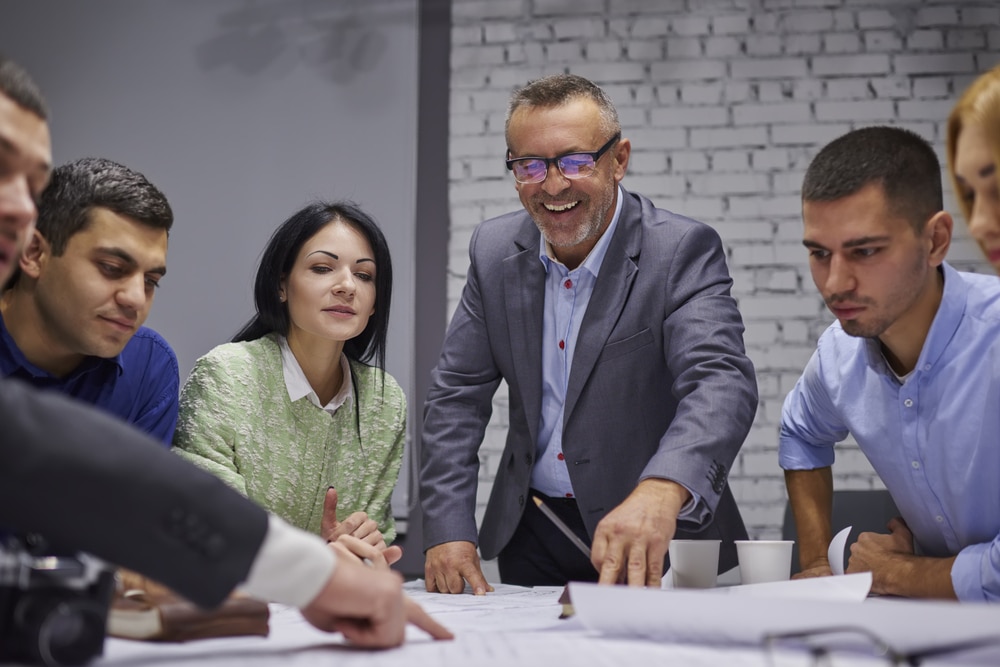 Managers serve five primary functions: planning, organizing, staffing, directing, and controlling.[1]
While one solo manager can handle all of these functions, management teams are often necessary to guide large organizations with several departments and internal teams.
Management teams work well in scenarios with a sense of urgency, measurable performance goals, and varied skill requirements.[2]
Our list of management team names features a range of office-appropriate options for everyone, from project managers to upper-level managers.
If you'd prefer to create your own management team name, we also share some tips to help you find the perfect option.
Moving on Up

Create & Innovate

Indispensable

United in Purpose

Bold Visions

Extended Influence

Say YES!

Negotiate & Motivate

Purpose Posse

Foundation of Trust

Up the Ladder

The Listeners

Extraordinary

Fresh Perspectives

Compatible Goals

Working Together

Record of Success

Rogue Reprimands

Autonomy Alliance

True Inspiration

Resonance

Situational Set

Strategy Source

The Boss Brigade

Professional Power

Empowered To Solve

Crew of Confidence

Results Rebels

Clear Expectations

The Goals Guild

Praise Patrol

Risk Embracers

Influence Illustrated

Effective Habits

Follow the Leader

Positive Concepts

Challenge Collective

Credible

Promoted!

Skill Set Society

Solid Foundation

Big Picture Bunch

Solutions Squad

Momentum Builders

Feedback Force

The Troubleshooters

Attributes Admired

Mentor Matrix

On the Same Page

Authority Figures

In Control

Visions Inspired

Standard Setters

Calculated Risks

Joint Collectives

Mutual Solutions

Overseers
Management Team Name Generator
How to Create Awesome Management Team Names
Create your own excellent management team name using the following tips:
Consider the specific goals of the team. You can create a management team name by choosing a word or short phrase that represents the goals or objectives of your team. For example, if you're running a project management team, you might want to integrate the specific project or your department's name into your team name.
Let your team choose the name. When working with a group, cooperation is of the utmost importance. Start your project off right by inviting team members to have a say in the name. Ask each person to submit one or two options, then put the final winner to a team vote. Choices may range from motivational words and phrases to funny names. Just be sure to advise your team to keep their ideas work-appropriate.
Create an acronym from the names of team members. You can easily create an acronym for your management team name by using the first letter of your team members' first names, last names, or nicknames. To complete the acronym, think of management-related terms to make up the acronym's phrase.