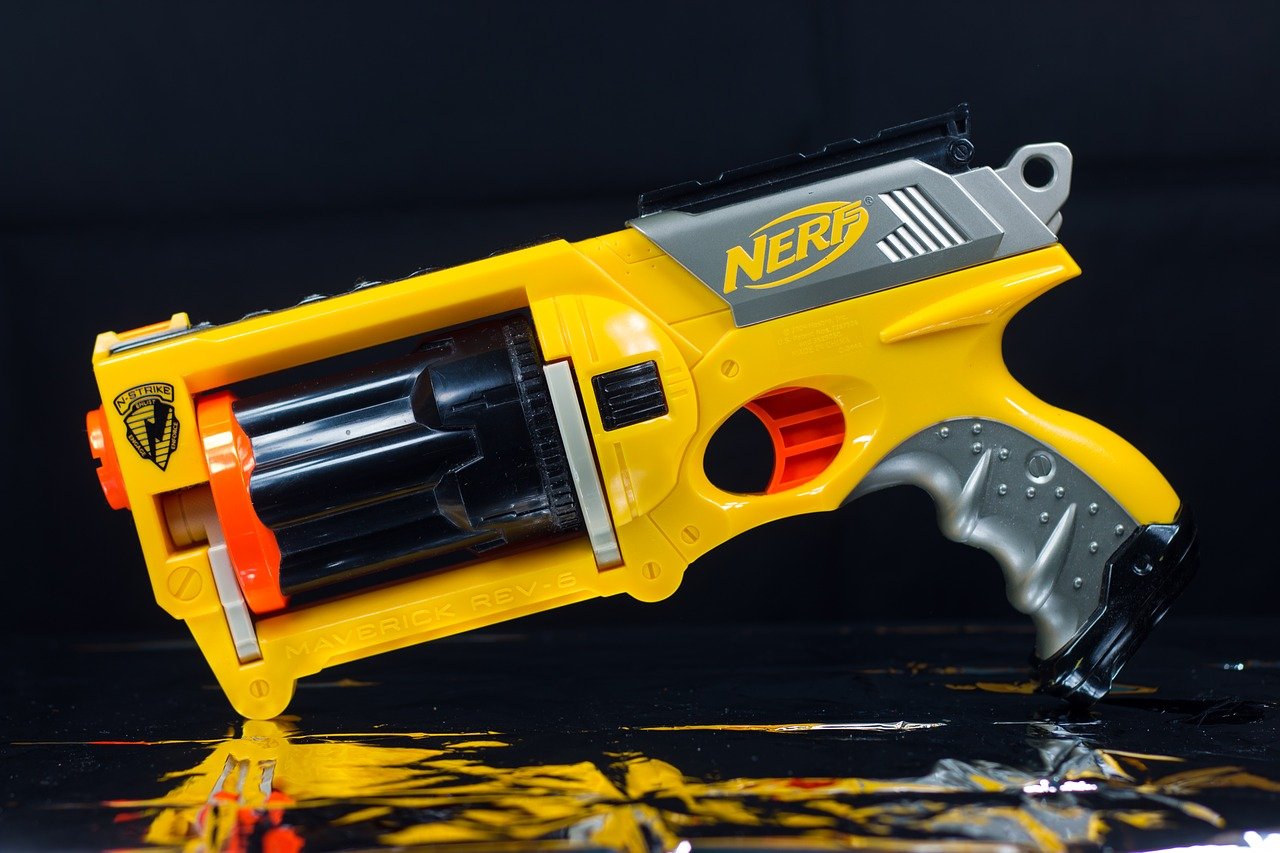 Did you know that Nerf has been around since 1969?
Originally debuting in a four-inch foam ball style that year,[1] Nerf has since expanded to include rockets, darts, stunt kits, water blasters, and more.[2]
Nerf Wars can include two or more players who battle it out individually or in teams.
Players establish their own rules, so your game can be as complicated or simple as you'd like it.[3]
Nerf War team names can project the attitude and grit of the team. Our list includes battle-related names that are appropriate for any age.
If you don't find the Nerf War team name you're looking for on our list, use our generator or see our tips for creating your own below.
The Foam Firers

100% Accuracy

Scruffy Nerf Herders

Nerf Domination

Water Torpedos

Skirmish Squad

Force Commitment

Near Nerfect

Causing Havoc

Blasters Brigade

Skirmish Society

Modified Blasters

The Clash

Hostile Heroes

Struggle & Clash

Unraveled

On the Edge

No Worse for Wear

Melee Matrix

In an Uproar

Hurly-Burly Club

Kerfuffle Kin

Complete Mayhem

Pandemonium

Wild Disarray

Chaos Crew

Madness Defined

Causing a Rumpus

Roughhouse Rebels

Din & Clatter

Raising a Furor

Free-for-All

Blasters Allowed

N-Force, Inc.

Out of Bounds

With Fortitude

Resilience Patrol

Team Tenacity

Fierce Spirits

Relentless

Determination Nation

Gumption Group

Winning Initiative

The Strategists

Strategic Maneuvers

Infantry Tactics

Masterminds

Complex Operations

Tactical Gambits

On the Brink

Absolute Authority

Aqua Masters

Foam Motivation

Foam of Fear

The Mega Blasters

Team Takedown

Full Scope
Nerf War Team Name Generator
How to Create a Nerf War Team Name
Nerf Wars can be very competitive, but more than anything they're fun and full of excitement.
The following tips will help you create a lively name for your Nerf War team:
Make a list of real "battle" terms. Although the Nerf War is not an actual war, the terms used to describe war and battles can apply to Nerf Wars. Once you create the list, you can choose the words or phrases that are relevant to your team. Pick words that will intimidate your enemies and make your team feel invincible!
Work together to create a name. Gather your team together and have everyone contribute words or phrases that resonate with them. Make a shorter list with any words that stand out as the favorites. From there, you can take a vote on the best word, build unique ideas around those words, or combine them to create an unusual and unique team name.
Think about words that convey the spirit of your Nerf team to your opposing players. If you are "going into battle" with an opposing team, you may want a strong, fierce name as opposed to a silly or cutesy name like The Fluffy Kittens. Alternatively, you could choose a name like The Fluffy Kittens just for fun, disarming the enemy with humor rather than fright!