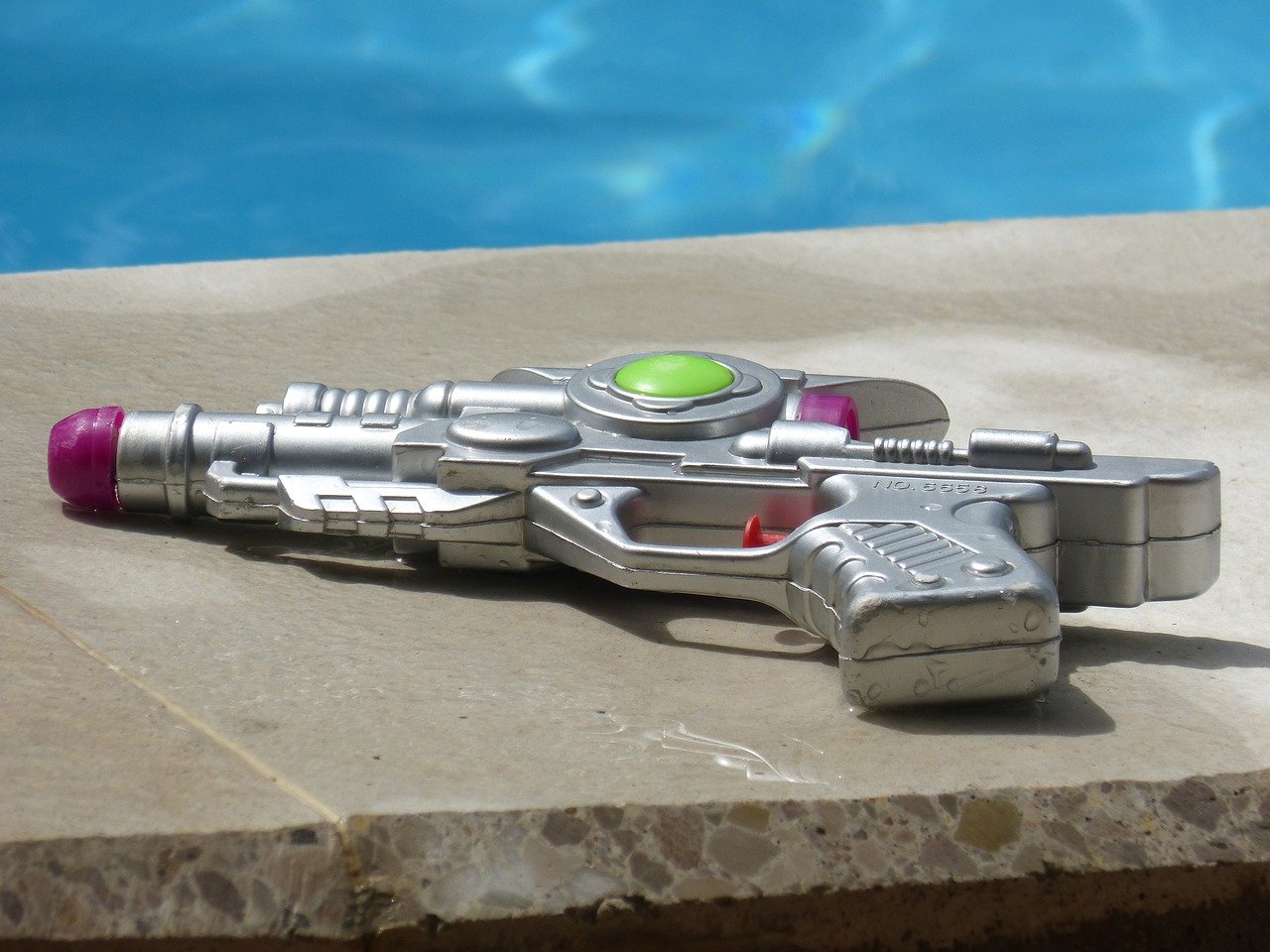 Water Wars involves splitting into teams (usually with six players) and attempting to take out other players by squirting them with water.
The purpose? To have some fun at the end of the school year… and win a pot of money.[1]
The competition can be large and intense, with some games including around 100 teams or more.[2]
One year in Michigan, a suburban high school had a pot worth $4,000![1]
Water Wars is a highly competitive and strategic game. It can be dangerous, tense… and a lot of fun!
Your team names a great name to reflect its stealth and skills. Below, we list our water wars team name ideas.
Scroll below the list to find our team name generator and tips on creating your own Water Wars team name.
Mission to Soak

Wave Runners[3]

Water Trackers[4]

Talk Squirty to Me[3]

Kanye Wets[5]

Moving Through Water

Red, Wet, and Blue[3]

a play on the colors of the U.S. flag

Water Launch

Silent Hunters

Armed and Dangerous

Free-For-All Force

Battlefield-Psyched

It's Getting Intense

Serious Water Throwers

Great Water Squad[6]

Blowing Off Steam

Wave Riders[6]

In a Street Water War

Dangerous Waters

Stealth Soakers

Big Blasters

It's All Fair Game

Hurricane[5]

Riptide Currents

The Tsunami League

Water Repellents[5]

City Trackers

Hydroholics[5]

Steady Assassins

Poised to Win

High-Velocity League

Forever Stealth

Six Feet Tall & Waterproof

Up for a Blast

Tsunami[5]

Super Soakers Squad

Water Blast Defenders

Retaliation Is Now

Bull's-Eye Brigade

Opponents Going Down

We Declare War!

Soak and Destroy

Designated Ranks

Alice in Water Land[5]

Water Defense Force

Naturally Hydrophobic

water repellant

Useful Strategies

Showdown-Ready

Primed for a Throwdown

Six Versus Six

Water Strikers[5]

To the Next Level

Playing for the Pool

Always in Pursuit

Moving Target Matrix

Don't Let Your Guard Down

Ready to Face Off

Direct Chaos

Hiding in Wait

[School Color] Wave

Escaping the Soak

Team Turbo Power

The Game Changers

In the Soak Zone

Squad of Soakers

Downpour Avoiders

The Soak Shunners

Drenching Duelers

The Soaker Assassins

The Soakfest Seige

On the Run

Abject Paranoia

Water Assassins Network

Tidal Flow Force

Wombats[4]

Barracuda Brigade

Down Burst Convergence

the leading edge of a storm

Active Squall Line

a band of thunderstorms

In the Updraft

fueling a storm

With Flash Flood Force

Sea Dogs[4]

Hungry Piranhas

Water Mania Matrix

Marauders[6]

Refill Station Rebels

The Bracket Advancers

Niagra Falls[5]

Elaborate Paranoia

Saturating Fighters[6]

Circumvent the Danger

Wata Quick Blast

Catapulting the Blast

Outwitting the Enemy

The Opponent Evaders

Winning the Pool

Over-Zealous Ambushing

Fleeing With Zeal

The Senior Soakers

Seismic Sea Waves

Water Warfare Chaos

Fending For Ourselves

Surefire Soakers

The Hydrophobic Effect

water repellent

Cosmic Liquidators

No Refills Necessary

Rapid-Fire Waters

Soak Zone Commanders

To the Next Round

Armed and Intrepid

fearless

Next Level

Big Pool Winners

Tracking Them Down

Ready to Survive

On the Qui Vive

on the lookout

Armed With Good Aim

The Hydro Power Group

A Controlled Riot

Confronting the Enemy

Hidden Scouters

Don't Get Wet!

Epic Trackers Group

The Mystery Waters

Banded Vigilantes

On the Alert

Always on Our Toes

The Water Force[5]

Ready for a Duel

Alert, On Guard, & Watchful

Stealth and Predatory

The Water-Resistant Types

Seeking H2O Justice
Water Wars Team Name Generator
How to Create a Good Water Wars Team Name
If you'd prefer to create your own Water Wars team name, keep the following tips in mind, which we used when creating our list:
Use water-related puns and phrases. Since the whole game revolves around drenching other players, the easiest way to come up with a Water Wars team name is to use water itself as your inspiration. Puns like "water you doing" or "aqua la vista" and terms like "waterproof" or "water-resistant" can become great team names.
Don't be afraid to brag. It's okay to be smug when creating your team name — after all, Water Wars is a competition, and you probably want your competitors to know that they're in for a fight! Choose a name that says you're a great fighter, great at hiding, or incredibly sneaky.
Make it silly! Water Wars can become very intense, but in the end, it's all in good fun. If you aren't the super competitive type or would rather disarm your enemies with your sense of humor than scare them, choose a silly name that tells people you're in it for the fun, not the glory.