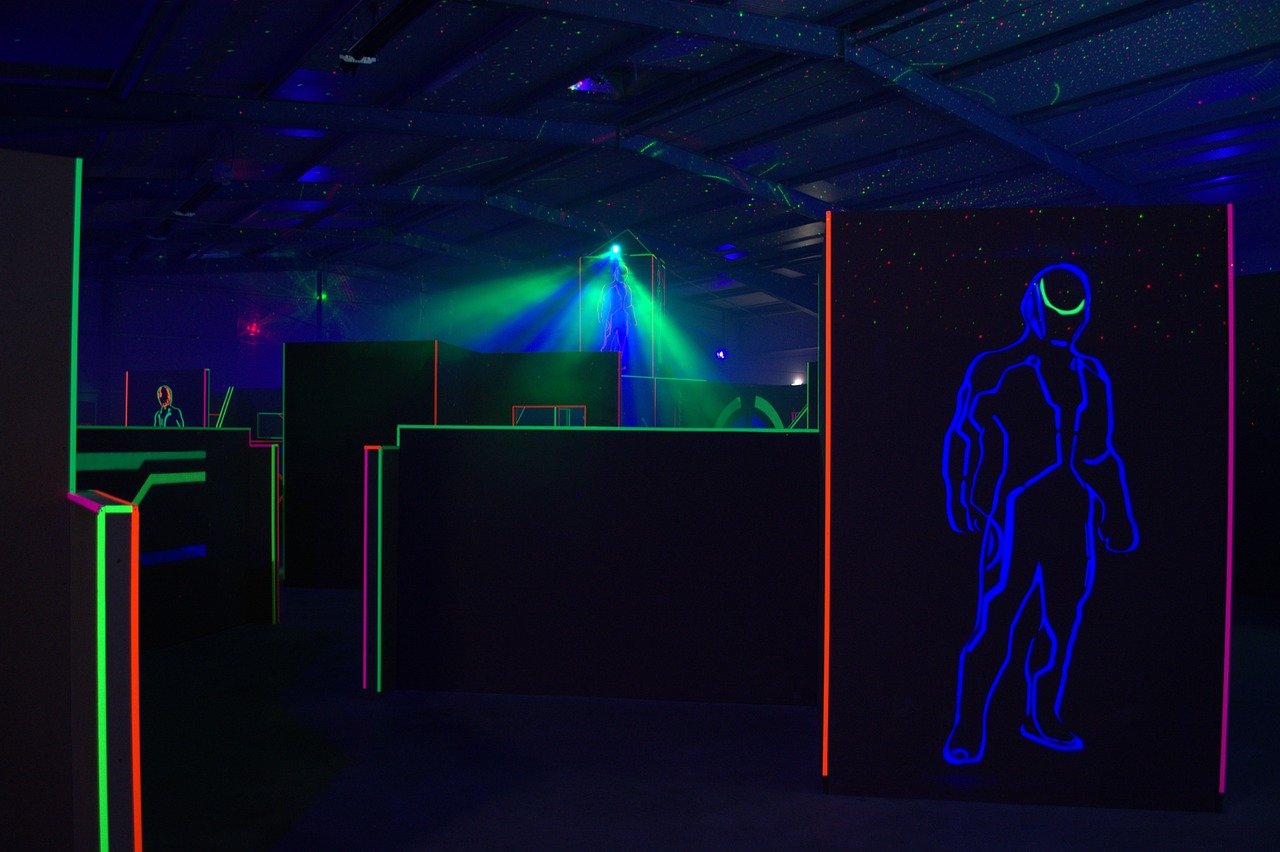 Laser tag was originally inspired by "Star Wars," invented by a fan in 1977 after watching "Episode IV."
The technology behind laser tag was actually developed by the U.S. military for combat simulation, but they began allowing others to use it for commercial purposes around 1979.[1]
It took more than five years for the first laser tag center to open — Dallas, Texas' Photon, opening in 1984.[1]
In the decades since, the popularity of laser tag has only continued to grow, and there are now nearly 1,000 laser tag arenas across the U.S.[2]
Laser tag team names can range from funny to battle-oriented depending on how serious your team is about the game and what you're competing to win.
We have various laser tag names listed below, but if you don't find one you like, scroll to use our team name generator and find tips for creating your own.
Lights Out[3]

Typically Invisible

The Core System

The Night Lights[4]

In a Frenzy

Ray Dodgers

Power Bolts[4]

Master Blasters[4]

Tag Hunters[4]

Battlefield Brigade

Laser Invasion

Never Surrender

Evolution

Maneuver Magic

Crazy Lasers

Combat Commandos

Bunch of Dinks

Tagging Tactics

Considerable Friction

Knack for Tagging

Devious Strategies

Rise Against

Laser Legends

The Force Is With Us

Intergalactic Zappers[5]

In Disharmony

You're It!

Terminators

The Beam Battalion

With Expertise

Arena Alliance

The Grey Matters[5]

Wavelength Warriors

LED-linquents[3]

Sharp Marks

Hostile Combat

Tripping the Light Fantastic[4]

Laser Masters

We'll Tag That[3]

Black Light Brigade

In the Shadows

With Animosity

The Laser Zone

Tag Talent

Skirmish Society

Fun Vibes

Just Zap It!

Sensors Abound

Winning Moves

The Sharps[5]

Without Deception

Infrared Union

Tag It Up

Laser Up

Going to Battle

Failing Upwards[3]

Zappers & Strikers

Fun Quest

Laser Bounce[4]

The Laser Fest

Aggressive Forces

Strife Within

Abrasive Energy

Laser Wranglers

Waging War

Making a Stand

Meant to Weaken
Laser Tag Team Name Generator
How to Create Your Own Laser Tag Team Name
Laser tag is an action-centric, fast-paced game. Finding the perfect name for your team can motivate everyone to defeat the opposition!
If none of the ideas on our list above work for you, create your own laser tag team name with the following tips:
Use laser tag terms. Laser tag is not a game with unlimited pages of rules and terminology, but it does have several, such as "dink" (the confirmation sound) or "respawn" (returning to the game after being tagged). You can use these to inspire your team name if you'd prefer a name that directly relates to the game.
Use battle-related words. Many laser players view the game competitively and seriously — and it requires some of the same skills you'd use if fighting an actual battle. Look up words related to fighting for a team name that reflects your respect for the more intense elements of the game.
Use puns and in-jokes. If you'd like a laser tag name that reflects your team's sense of humor, combine the above tips with some corniness and come up with some puns related to laser tag, battle, or competition. You can also use inside jokes that you have with your team for inspiration.
Get random. Nothing says that your team name must relate directly to laser tag or battle, so use your creativity and come up with some seemingly-random options that fit your team perfectly. Brainstorm with your team to find common interests or phrases that you all like so you can have a unique team name that everyone likes.