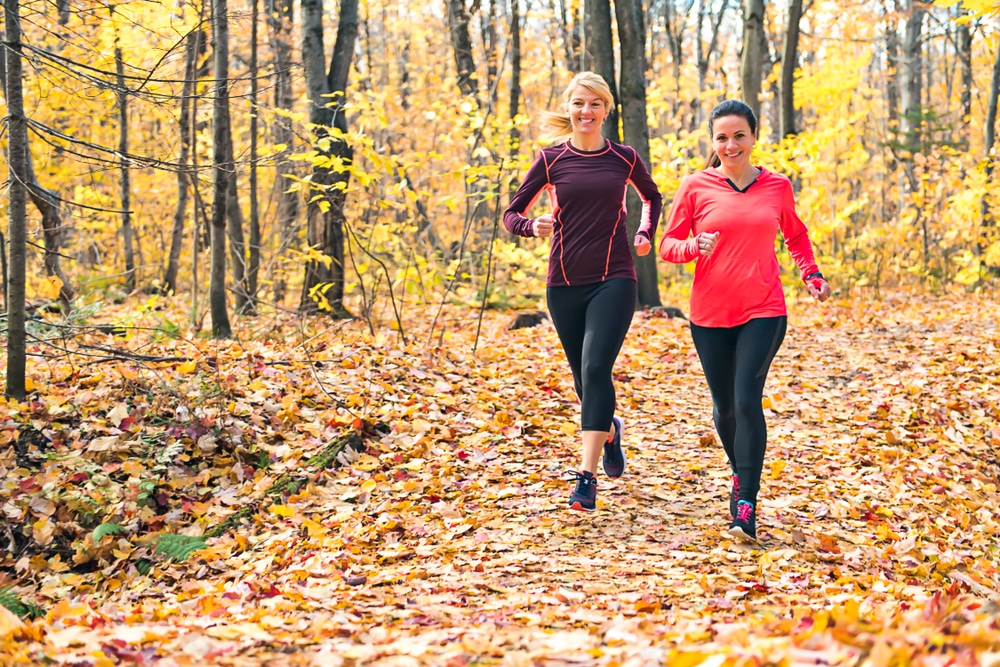 Many people consider fall their favorite time of year.
Did you know that there's a distinct scent produced by falling leaves that's only noticeable during autumn? Our brains correlate this "fall scent" with cooler weather and all of the other things we love about the season![1]
There's also a superstition that says catching a falling leaf is good luck.[1] Perhaps you'll get lucky and catch one while taking a jog outdoors for your fall fitness challenge. If not, you'll still be getting fit!
We offer a range of fall-themed fitness challenge group names for you to choose from below. If you'd rather create a unique name on your own, we also offer some tips beneath the list to help you brainstorm.
The Fall Legends

Corn Maze Runners

The Cornstalks

The Cider League

Crunchy Leaves Crew[2]

Autumn Allstars

Pumpkin Spice Squad

Team Sweater Weather

Falling Leaves

Pumpkin Posse

Cinnamon Collective

The Smashing Pumpkins[2]

The Fall Guys

Harvest Hooligans[3]

Nutmeg Network

Active Autumn Club

Be-leaf In Yourself[2]

Pumpkin Patch Picks

The Gourd Guild

FALL In Love With Fitness

Team GrateFALL

play on "grateful"

Bonfire Bunch

Harvest Moon Network

Fit-tober Fest

FALL Into Fitness

Pine Cone Clan

Scarecrow Society

Fitness for Fall

No Tricks, No Treats

Gourd Crushers

The Frost Force

U-Pick Fitness

inspired by u-pick fruit farms

Leaf Pile Jumpers

Rogue Rakes

Autumn Association

Picks of the Patch[3]

Golden Leaves

Pumpkin Spice Girls

Fall Colors

Spicing It Up

Losing Leaves

The Harvest Wishes

Gourd Times Only[2]

The Wind Swirls

Rakin' In Fitness

A New Leaf

Scarves & Sprints

Free Fallin'[2]

Feeling Oak-ay[2]
How to Create Your Own Fall Fitness Challenge Names
Create your own fall fitness challenge name using the following tips:
Name your group after your favorite fall-themed word or phrase. Fall evokes certain fuzzy feelings for many, and you can extend that happiness by naming your group after a warm fall phrase or word. You may want to involve the whole group in the process by letting each member submit a group name choice, then putting the final name to a group vote.
Get inspiration from movies and books. If you have a favorite movie or book with a fall theme, use it to develop a creative and unique name for your fall fitness group. For example, if you love the movie Dead Poets Society (set in the autumn of 1959), you could name your group "The Deadlift Poets."
Use the month of your challenge as part of the name. If your challenge specifically runs in October or November, for example, your challenge name could be "October Ghostrunners" (inspired by Halloween) or "MOVEmber" (a play on "move" and "November").
Create an acronym out of the word fall. For example, you might try "Fabulous Athletic Ladies League" (FALL) if you're a group of women completing a fitness challenge. Depending on the type of group you're naming, the options will be almost endless. Get creative!