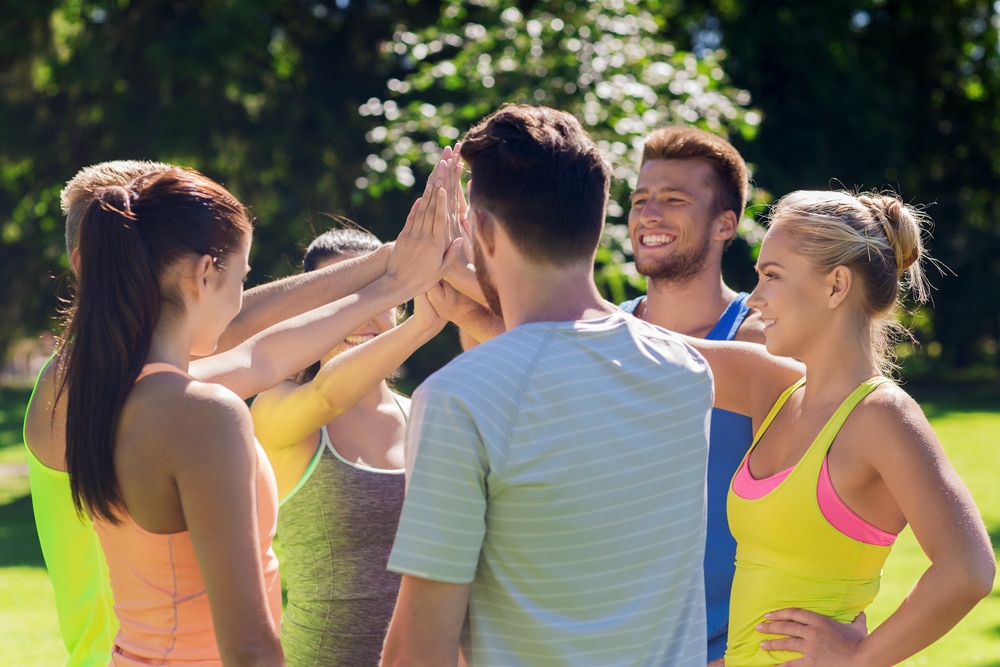 In history, fitness has been important to humans for practical reasons — those in good health were better and hunting and gathering, and therefore more likely to survive.
We don't have to work as hard to find food today, but regular physical activity outside of hunting and gathering has been encouraged since ancient times, such as in the teachings of Confucius.[1]
Regular exercise has a lot of benefits that make it worth pursuing! It can lower your blood pressure and cholesterol, elevate your metabolism, increase your brain activity, improve your sleep, and help you achieve better mental health.[2][3]
Working out with an accountability partner or team is a great way to keep your fitness goals on track — and choosing a great name can help turn your group into a close, supportive community.
Find our fitness team name ideas below, or scroll further for our tips on how to create your own unique group name.
The Bod Squad

Fit 'er Done[4]

a play on "Git 'er Done"

Infused With Positivity

Getting Back on Track

Destination Fit

Under Construction

Flow Fitness[5]

The Metabolics[5]

Bound & Determined

Fitness Trek

Stronger Than Yesterday[6]

Surrounded With Encouragement

Fitness Priorities

Don't Hold Back

End Goals

Accountable Life

To the Next Level

Stretch Yourself

No Weigh

Strength Squad[5]

Health Expedition

Healthy Habits

Going For It

Less Than U

Working for Success

Phone a Friend

Shape Shifters

Sweat Sistas

Body Blast

Strong and Ready

Weight Warriors

Roadrunners[5]

for a running/jogging group

Best Intentions

Taking Action

Winning Losers[7]

Measuring Progress

2 Fast 2 Furious[8]

for a running team

Rewards or Consequences

Goal Crushers

Cheering Section

Sore Today, Strong Tomorrow

The Unstoppables[9]

Only Look Ahead

Better, Faster, Stronger[6]

Challenged, Pushed, and Motivated

Catching Excellence

Mission Slimpossible[4]

a play on "mission impossible"

Keep Thinking Fit

One More Mile

Flexed[5]

Together We Can!

Mind Over Matter[8]

Endless Repetitions

Unflinching Fitness

Team Downsizing

Daily Burn[5]

A Common Vision

Relentless[6]

The Positive Attitudes

Fit Forward[7]

Teamwork Wins

Always Optimistic

No More Excuses

Indomitable Wills

Sweating for Success

The Meltaways[5]

Keeping Up

Motivation Habit

Energy & Persistence

Cellulite Assassins[4]

Quit Talking, Begin Doing

Body Toners[8]

Changing Perspectives

Burning Lipids[4]

Going the Distance

Take Action, Create Success

Femme Fit-ales[4]

a play on "femme fatales"

Changing Choices

Achieve Your Dreams

Consider the Possibilities

Head Over Meals[4]

Leading by Example

Workout Wonders[5]

Being Stronger

Less Than Yesterday

Lifelong Journey

Believing You Can

Team Beast Mode[6]

Committed Intentions

Disappearing Dames[4]

Feeling the Burn

Unshakeable

Ladies Who Crunch[9]

Reaching Our Goals

Sharing Goals

Peak Performance[5]

Invincible

Unlimited Determination

Friendly Competition

The Slimsons[5]

a play on "The Simpsons"

Ready for Fitness

Bringing Sexy Back

Choose to Lose[5]

New Week, New Goals

Carb Blockers

Vibrant Levels

Be a Priority

Team Skinny Jeans

Badunkadunk Busters[5]

Less Than More

Fitness Frame of Mind

Wishing is Not Enough

Flab Fighters[8]

Reaching for Rewards

Thriving

Brave and Determined

Muffin Abductors[5]

Team Lionhearted

Fitness Focused

Born to Lose[4]

One Workout at a Time

Eyes on the Prize

Driving Our Success

Gaining Fitness Clarity

Legs Miserable[5]

a play on "Les Miserables"

Believe You Can

Team Tenacity

Iron Pumpers

Directed Accomplishments

Skim & Slim

Taking Control

Dwindling Divas[4]

Downsizers

Purpose Connection

Results or Reasons

The Time is Now

No Limits

Lean & Mean

All or Nothing Attitude

Fitness Outreach

Slim 'n' Trim

Continually Striving

Run Track Minds[4]

a play on "one-track minds"

Needing a Boost

Dropping It Now

Goals and Perspectives

Path of Ambition

Winning Habits

Opportunity in Difficulties

The Waist Watchers[4]

Embrace the Process

Give Your Utmost

Culture of Integrity

Aligning Toward the Goal

Taking the First Step

No Excess Baggage

Ready for Boot Camp

Lightening Up

Staying Accountable

Keeping Promises

Together We Achieve

Channel Energy Into Action

Health Is Wealth

Capable of More

Teams Achieve Dreams

Liberated by Accountability

Two Are Better Than One

Conquer the Resistance

Muscle and Hustle

Keep Climbing

No Struggle, No Progress

Escape the Mundane

Perpetual Encouragement

This Compelling Purpose

No Opposition Allowed

Epic Adventures

Confidently Crushing Challenges

Staying Power

Action Before Motivation

Finding the Flow

Getting Over the Humps

Waist Management

Supportive Routines

Gym Class Heroes[5]

Building Momentum

Strength of Will

Ambition and Endurance

Broad Chest Brigade

Solid Commitment

Brute Force[5]

Fitness Fortitude

Remarkable Resilience

Intrinsic Motivation

Create Willpower

Hustle

Keeping Resolutions

Fit & Healthy

Collaborative Contributions

Don't Accept Defeat

One Step Ahead

Fit Squad

Wellness Warriors

Active Achievers

Muscle Mavericks

Health Heroes

Muscle Masters

Sweat Society

Health Hustlers

The Fit Friends

Lean Mean Team

Cardio Crew
Fitness Team Name Generator
How to Create a Good Fitness Team Name
The name of your fitness group should be fun, catchy, and inspiring.
Think of it not only as a name but as a motto for your group — something that you and your partners can repeat any time you need a reminder to keep up the hard work and achieve your goals.
There is no formula for creating a good workout group name; the best option for your group will be the one that each of your team members finds motivating.
Keep the following tips in mind when creating your name:
Know your group. Snarky group names can be funny — but only if you and your groupmates share the same sarcastic sense of humor. Keep in mind that fitness can be a sensitive topic; you might find a name hilarious, while one of your partners will find it offensive. Be sure to consider the feelings and perspectives of your groupmates before settling on a name.
Stay positive. In general, you should choose a positive name for your workout group. Some people might find motivation through self-criticism, but focusing too much on what you want to change rather than the progress you've made can be demoralizing. It's best to pick a name that will remind your partners that they're making positive changes and keep them focused on the end goal.
Consider your goals. Do you want to lose weight, build strength, or just generally improve your health? You can use your goal(s) to inspire your group name, as seen in our list with names like "Health Is Wealth" or "Less Than Yesterday." If you and your teammates have different goals, you'll want to choose a more general name, so no one feels excluded.
Get inspiration from your favorite activities. Does your group love jogging, taking step classes, or kickboxing? Or, perhaps you meet once a week for a group bike ride or yoga class. If your group is formed around a specific type of workout, consider using the activity itself in your group name. (For example, a yoga group might use "Finding the Flow," a reference to the sequence of postures you use during a yoga class.) This will also make for an easy reminder if you do a variety of workouts or classes outside of your group.