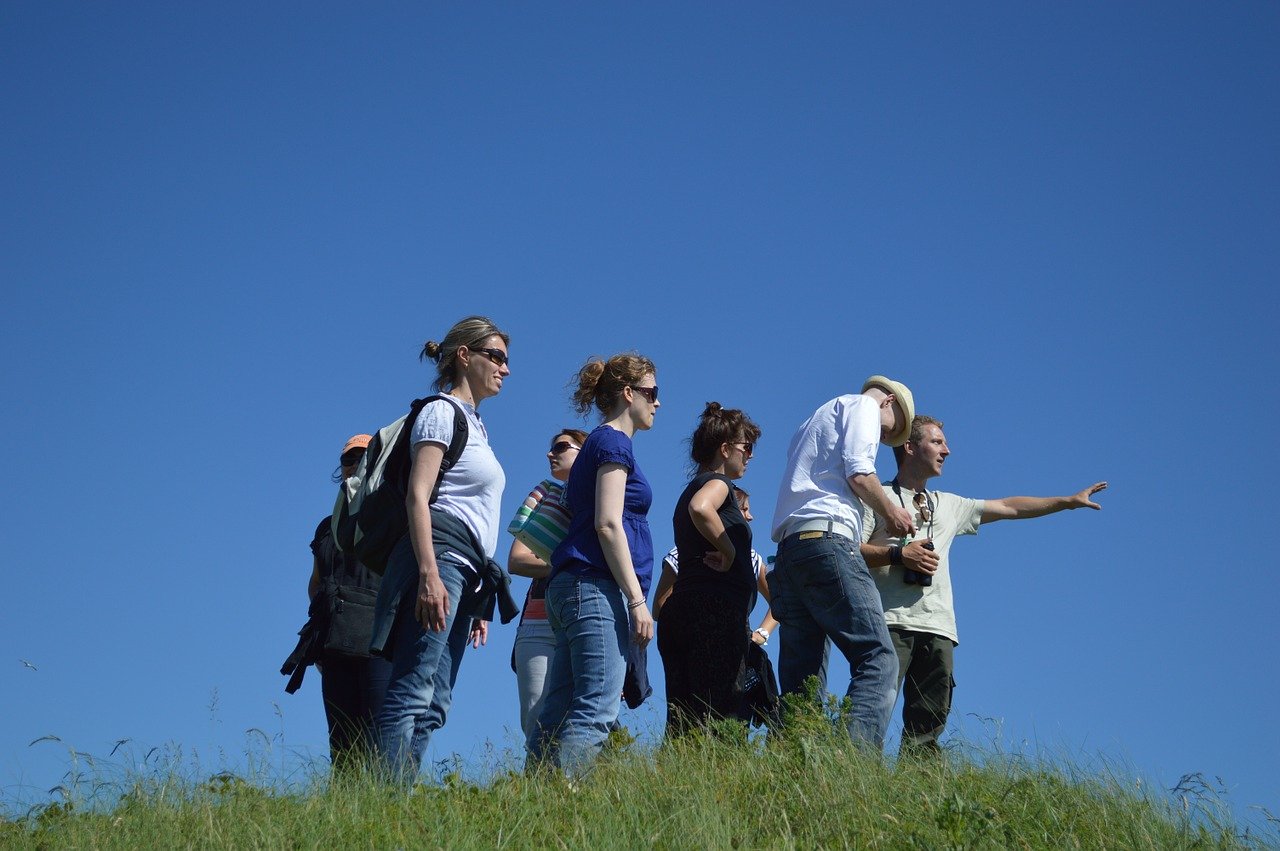 Walking is a great way to stay active. As little as ten minutes per day can have a positive impact on your health![1]
It can help reduce body fat, lower your blood pressure, improve your joint health, and reduce anxiety.[1][2]
Walking groups and teams offer the opportunity to get some fresh air, make friends with similar interests and goals, and improve your mental and physical well-being.[3]
The perfect walking team name takes a step in the right direction to motive your group to hit those daily step goals!
Below, we have more than 70 ready-to-use name suggestions for your walking group. If you don't find the perfect name on our list, we also have tips to help you create your own below.
Tread Alliance

Blister Sisters[4]

Just Tramping Around

Slow Patrol[4]

Red Hot Chili Steppers[5]

The Holy Walkamolies[5]

Shake, Rattle, & Stroll[4]

All in Stride

Walking Warriors

Walking Rules!

The Step Squad

Footfall Force

Stride Right

Pick Up the Pace

Step Retracers

Traipse & Trek

Worst Pace Scenario[5]

The Striders[5]

School of Walk[6]

Power Walkers

Walking Wonders[4]

All About That Pace[5]

Keeping the Pace

Baby Steps[6]

The Daily Sabbaticals

Walkaholics[5]

Walking Around the Clock

a play on "rocking around the clock"

Walkmen[5]

Treading Lightly

Counting the Miles

Walking Talkies[5]

The March Matrix

Forward March!

Taking a Hike

Proceed on Foot

Pace Posse

Great Strides

Stepping Forward

Walk This Way

The Tread Trend

Ramble Rebels

Hoofing It

Amble Alliance

Just Ambling Along

Taking a Stroll

The Chili Steppers

a play on "chili peppers"

Getting Some Air

Moseying on Up

Saunter Society

Walking on Air

Midnight Walkers

Walkin' the Line

Traipsing All Over

Team Shuffle

Dragging Our Feet

On the Promenade

Boardwalk Battalion

The Rogue Roamers

Made for Walking

Walk of Life

Walking on Sunshine

Never Walking Alone

The Rhythm Walkers

Yes, Indeed We're Walkin'!

Movement Is Life

Walk It Out

Just a Single Step

Step It Up

Within Walking Distance

Down the Road

Walking the Talk
Walking Team Name Generator
How to Create Your Own Walking Team Name
Create your own walking team name with the following tips:
Take our lead. We created our list by researching all sorts of common quotes about walking and altering them to suit a group. If you know of other sayings, lyrics, or book/movie titles that include words related to walking or steps, use a play on one to create a fun team name.
Make it personal. Your name should be as unique as your team, so you may want to include words or phrases that are significant to your group members personally. Together with your group, create a list of words that motivate you and find something that the entire group can agree on.
Combine team member names or other traits. Create a one-of-a-kind word by taking a few letters from each team member's name and combining them. You can also use other things like your birthdates or birth years, the city where you live, or even your personal step goals to create a unique name.
Keep it light-hearted and motivational. When you hear or think of your walking team name, it should trigger positive feelings and motivate you and your team to keep going! Even if you use humor in your name, keep the tone positive, so no one in your group feels discouraged.