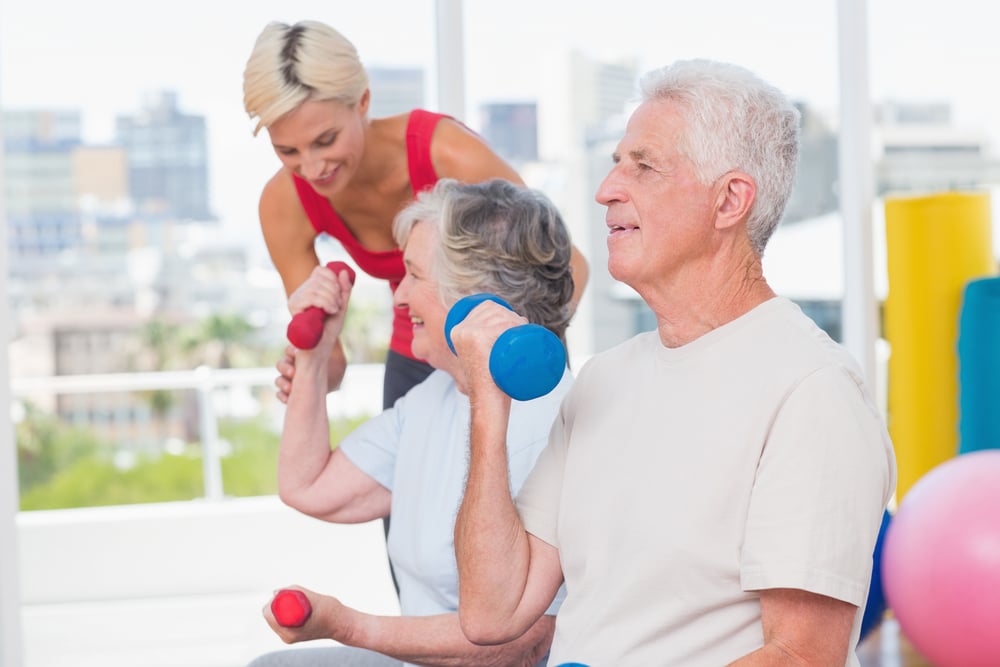 Keeping fit with regular physical activity is necessary for good health at every age. It's especially important as we get older — it helps combat the effects of aging.[1]
The more we move, the better off we'll be! Naturally, our physical abilities may decrease as we age, but we should still be as active as our bodies will allow.
The CDC recommends at least 150 minutes of moderate aerobic activity per week for seniors.[1]
Keep in mind that it's always best to consult your doctor about your fitness level and routine.
The list below features a range of senior fitness class names appropriate for seniors of all fitness levels. If you'd like to create your own senior fitness class name, we offer some tips below the list.
Active Aging

SeniorFit

Motion Matrix

Prime Time Fitness

Step Up!

Fitness is Golden

Fitness Foundations

Silver Strategies

Silver Strength

Forever Young

Young at Heart[2]

Golden Gymnasts

Pick Up the Pace

All in Stride

Ageless Movement

Energize

Senior Power[2]

Range of Movement

The Fitness Aces

The Pacesetters

Motivated

Retired Exercisers

Pep in Our Step

Perpetual Motion

In Motion

Healthy for Life[2]

Active Alliance

Keep Moving!

Enlivened

Fit For Life

Fitness Time

Up Tempo

Elder Endurance

Silver Sneakers[2]

Sweat Patrol

Strive

Impact

Classically Fit

Old-Timers In Training

In the Game

Propel

Graceful Aging[2]

At the Core

Vibrant Moves

Forward Motion

Make a Move

Fired Up!

Action Association

The Golden Girls

Kick Starters

Fit With Flair

The Zest Club

Spark Society

On Your Feet

The Fit Advantage

The Body Builders

Movement

Active Renewal

Take 5

The Sweat Squad

Shape Shifters

Fit & Trim

Fit Over Fifty

Vitality!

EdlerFit

Wise Moves

Ageless Athletics

Senior Wellness Club

Elder Energy
Senior Fitness Class Name Generator
How to Create Your Own Senior Fitness Class Names
Create your own senior fitness class names using the following tips:
Think of your favorite motivational words and short phrases. A fitness class for seniors doesn't have to feature the word "senior" in the class name. There's an infinite range of motivational and positive names to choose from once you consider all of the options. Get creative!
Go directly to the source for inspiration and guidance. There's no better way to find out the sorts of fitness class names seniors prefer than to ask them directly. You can have the fitness group contribute their choice of class name options or simply ask the seniors in your life for phrases that they find motivational.
Use popular songs, books, and movies for inspiration. You can use current-day options or come up with some ideas from the past that seniors would know. For example, you might name a ladies' fitness class "The Golden Girls" after the classic TV show.
Be positive. Studies have shown that seniors respond better to positive words like "healthy" and "graceful" than names that are too punny or snarky, like "Eldercise."[3] Think of what name you'd like to see as a participant in the class and be sure not to choose anything that sounds like it makes fun of aging.