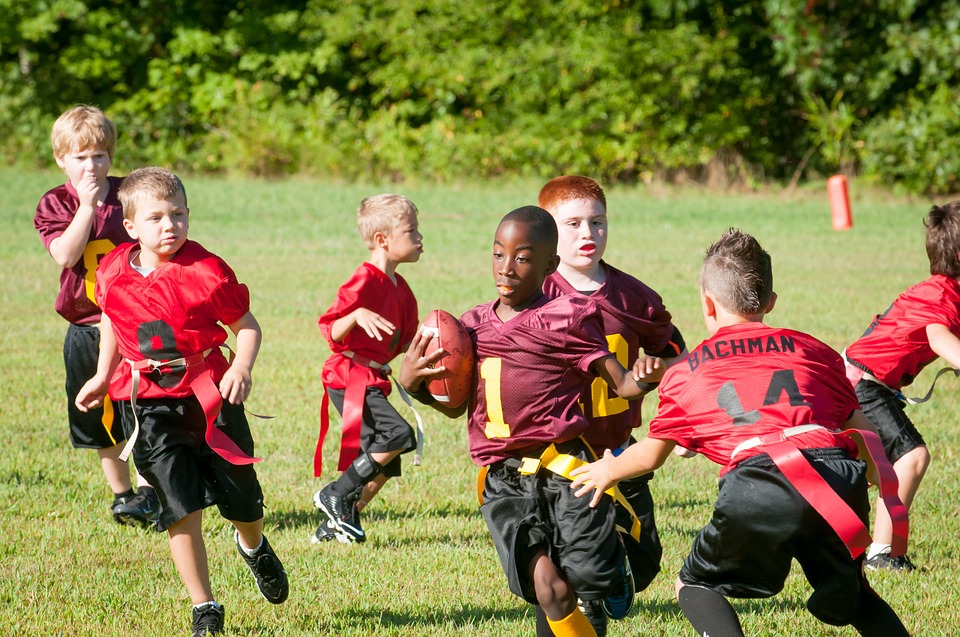 The U.S. military is thought to have created flag football during World War II when soldiers were looking for games to pass their downtime without being injured.[1]
After the soldiers returned home at the war's end, local flag football leagues emerged, and the sport is now played by students and adults nationwide!
While flag football is its own sport with unique rules and plays, it's a form of American football, which originally evolved from rugby.[1]
It's unique in that the goal is to pull opponents' flags off rather than tackle them.[1]
Flag football team names can be competitive, motivational, and funny. Our list features 49 great options.
If you want to create your own unique flag football team name, see our tips below the list.
Primetime[2]

Those Guys[2]

Misdirection[2]

2Legit 2Quit[2]

Vanquishers

Flag Force

The Underdogs[2]

Flying Squirrels[2]

Public Enemy[2]

Dream Killers[2]

Worst to First[2]

Out of Retirement[2]

Step Above Leftovers[2]

The Has Beens[2]

Smash Crew[2]

Unicorn Apocalypse[2]

Mud Dawgs[2]

Shockwave[2]

Triumph

Unknown Talent[2]

Expendables[2]

No Fly Zone[2]

Wasted Talent[2]

The Average Joes[2]

Undisputed[2]

Ruckus[2]

Turf Rebels

The Turf Troop

Flag Zone Heroes

Air Farce[3]

Nemesis[2]

Sore Losers[2]

Axis of Ignorance[3]

Cranium Krusherz[3]

Fumble This[3]

Loose Ends[3]

No Punt Intended[3]

Pylon Pythons[3]

Stunned Punts[3]

The Monstars[3]

Oldest Team Ever[2]

Not Guilty[2]

Last Place[2]

Beast Mode[2]

Pray 4 Rain[2]

AARP Allstars[2]

Main Event[2]

Balliticians[2]

Ugly But Effective[2]
How to Create a Great Flag Football Team Name
Create a great flag football team name using the following tips:
Use professional teams for inspiration. Put all of your favorite pro football team names in a hat and pick one. Use just part of the pro team's name to come up with a unique name for your team. For example, if the team you chose has an animal in the name, you can use that animal in your team's name but add a different descriptive word to it.
Choose one word to describe your team. Think of one word that best describes your flag football team collectively. If you have trouble coming up with words to consider, be sure to look up the synonyms of the original words you're thinking of, and soon you will have a long list of great choices.
Think of words and phrases that have nothing to do with flag football. Sometimes unrelated words and phrases make great team names. If there's a meaningful word or phrase that isn't about flag football, but your team likes it or uses it often, find a way to create a flag football team name with it.