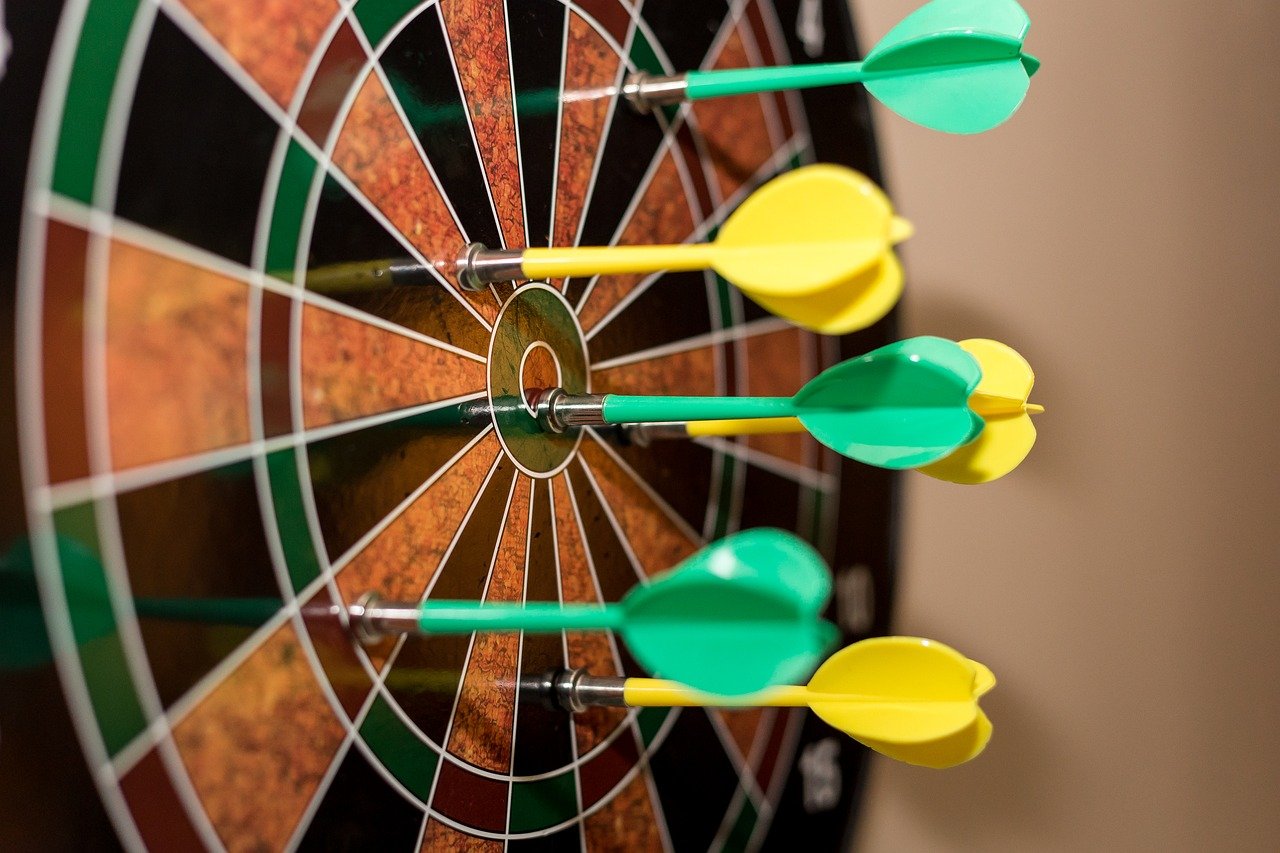 The game of darts predates the 20th century and is thought to have been inspired by archery.
After all, a dartboard looks like a miniature archery target, and the game is sometimes even called "arrows" instead.[1]
At one time, the game was actually outlawed in England! The government considered it a game of chance and risk, which made it bad for the public in their eyes.
A pub owner had to call his best customer into court in 1908 to demonstrate the game and prove that it's a game of skill. He won the case, and the game has been legal in England since.[2]
Darts team names can run the gamut from league-appropriate team names to casual and funny competition names.
Our list contains options for dart teams of all skill levels. Below the list, we also have a team name generator and tips for creating your own dart team name.
Projectile Dysfunction[3]

Feet at Fault

New Sheriff in Town

Chairmen of the Board[4]

Razzle Dazzle Darters[4]

The Archers

Making a Splash

Fall Out Boys

The Knurlers

Smells Like Bulls Hit[4]

The Dartsiders[4]

Target Practice

Taking Flight

The Darting Party[4]

Pie Posse

Buttered Popcorn

The Bull-Shooters[5]

Better at Pool[4]

Rogue on Route 66

Raging Bullseye[3]

Rocking Round The Clock

Downtown Darters[5]

Dart Bags[4]

Three Darts to the Wind[3]

The Dart of War[6]

Hurling Darters[4]

Whitewash Warriors

Darty Deeds[6]

Throws of Despair[7]

Zoomers[4]

Dart Daddies[4]

Darty Secrets[7]

Monger Matrix

Darts of Hazzard[4]

Oh Dart[4]

Shanghai Society

Bulls On Parade[6]

Winning Advantage

The Dartsperts[4]

The Triple Ringers

Off the Wire

Broken Arrows[7]

Widdies & Wingers

Accidental Scuds

Fives Force

Team Tin Hats

Spider Squad

Bulls Eye Brigade

To the Dart Side

Pointer Sisters

We're Dartaholics

Dart Siders Society

Darts of Despair

Keep Darting On

Darty Bandit Brigade

Dart Hurlers

The Point Is Moot

Darts 'R Us

On the Dart Side

The Starving Dartists

Bullseye Beer Bunch

Darting Dazzlers

The Flights

Dart Vader Tactics

Points, Barrels, & Shafts

Darts of Chaos

Cork Board Band

The Knurled Barrels

Lightening-Fast Force

The Pro Series

Maestros

The Diamond Pros

Condors

Arrow Allstars

Dinky-Doo Derelicts

On Route 66

The Big Fish
Dart Team Name Generator
How to Create a Dart Team Name
Create a great dart team name with the following tips:
Think about dart-related words. Although there isn't a lot of terminology related to dart-throwing due to its simple equipment and rules, you may find one that sparks your team's interest. You can also take a dart-related word and change the spelling or combine it with other words to make it unique. Something as simple as substituting the word "dart" into a common phrase can make a fun team name.
Take suggestions from the whole team. Get everyone together for a team name brainstorm session. With everyone's input, you'll have a wider range of options to choose from and will be more likely to find the perfect name.
Incorporate names or numbers. Create a team name with a personal touch by using a combination of your team members' names, favorite numbers, or other meaningful words or phrases.