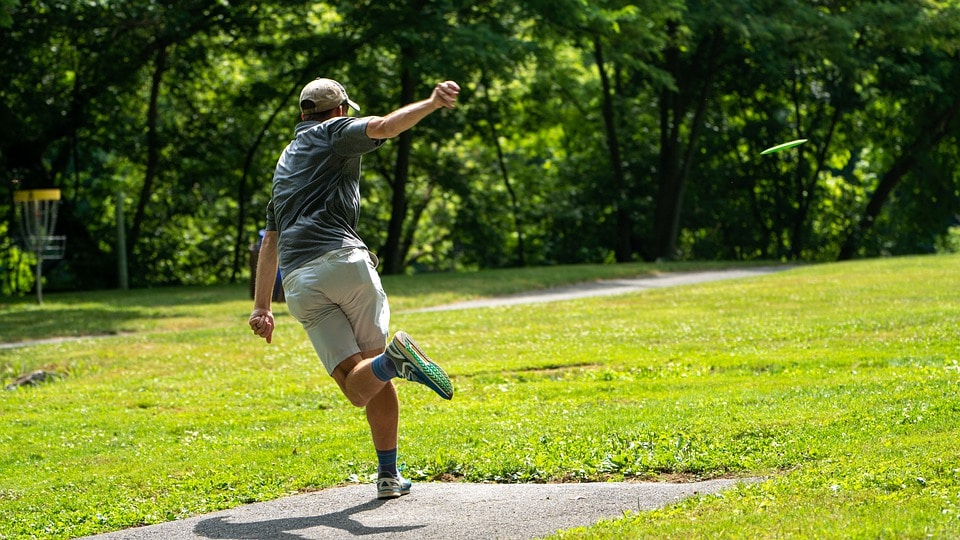 Disc golf offers a fun, inexpensive, active hobby similar to regular golf.
The difference is that unlike regular golf, which uses a ball and clubs, disc golf players use Frisbees![1]
The sport has been around since the 1970s. Both the Frisbee and the Disc Golf Pole Hole were invented by the same man — "Steady" Ed Headrick, known as the father of disc golf.[2]
The popularity of disc golf has boomed in the past few years! There are now more than 13,000 courses worldwide.[3]
A great disc golf team name can provide a light-hearted moniker for your disc golf group.
Our list includes a variety of options, or see our tips below to create a disc golf team name of your own.
Floppy Discs[4]

Disc-O-Mania[4]

Airbenders[4]

The Dirty Birdies

DiscQualified[4]

Disc Devils[4]

Sub Par Posse

ReDISCulous!

Just a Fling[5]

DISCettes

Fight or Flight

Disc-y Business[5]

The Worm Burners

The Disc Derelicts

Just Putt Up

Disc Qualified[6]

Back 9 Bandits[4]

Putt Up & Drive[4]

The Bogey Brothers

Game of Throws[7]

Par None[8]

Hammer Time[4]

Disc Dodgers[9]

Flying Saucers[4]

Bird Up[9]

Thumb and Thumber[7]

Talk Birdie to Me[6]

Good Disc Karma

Big DiscGrace[4]

The Flying Saucers

Plastic Junkies[7]

Disc Jockey Diablos

Five Flinger Discount[5]

Disc-O Fever[5]

Lord of the Flings[5]

Sidearm Slingers[5]

No Obstacles

Out of Bounds

Escape Shot Heroes

The Frisbeans[5]

Ultimaniacs[5]

The JusDISC League

Epic Potential

Frizzing Whizbees[5]

The Floaters[5]

Discrete DISCriminators[5]

Air Bounce Aces

Disc Skillz

The Dirty Aces

Putt City Crew

Albatross Inc.
Disc Golf Team Name Generator
How to Create a Great Disc Golf Team Name
Create a great disc golf team name using the following tips:
Take suggestions from your group. It's always fun to involve the whole team in the naming process. You can take a suggestion from each team member and then put the final choice to a vote.
Combine several options into one great team name. If you have several favorite options and you just can't decide which to use, find a creative way to combine them to come up with a totally unique name.
Use each team member's first initial to create an acronym. You can have each member come up with a word using their first initial, then put together an acronym with all of the initials/words.
Create a name based on your team's strengths or weaknesses. Think of a list of words that accurately describe your teammates and choose the one that's most fitting for your group.