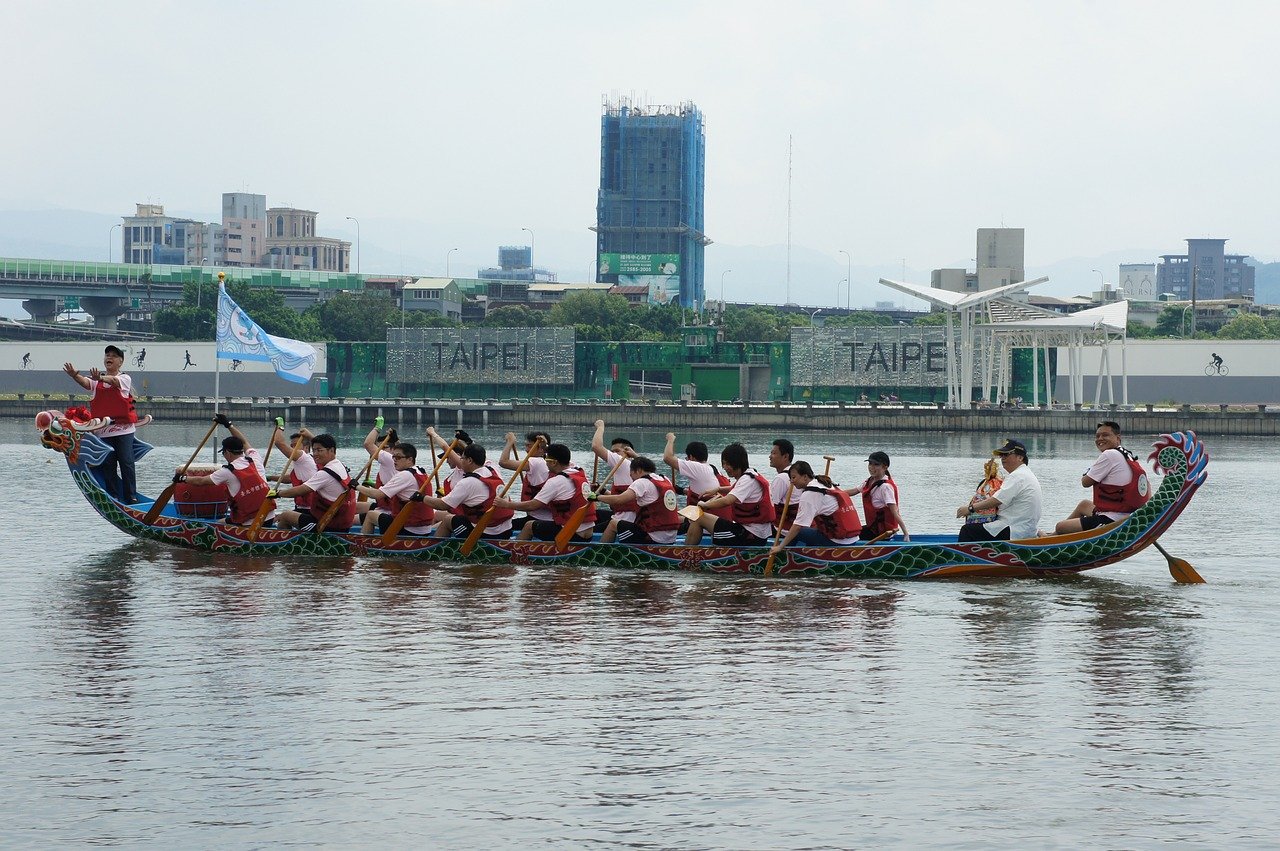 The history of dragon boat racing dates back at least 2,500 years. It can trace its origins to a folk ritual among fishermen designed to encourage rainfall and celebrate the rice planting season.[1]
While dragon boat racing traces its origins to ancient China, the sport has grown in popularity worldwide.
Races are held across the globe with participants from a wide variety of backgrounds. Some of the race locations include New York and Chicago.[2]
Dragon boat racing takes hard work and skill but is also an opportunity to have fun with friends on the water.
Choose one of our 40+ funny dragon boat team names below, or scroll past the list for tips to help you create your own ideas!
Blazing Paddles[3]

The Fire Alarms[4]

Where Are My Dragons?![5]

"Game of Thrones" reference

Hope We Float[3]

Winging It

22 Horsepower[6]

Toothless[7]

"How to Train Your Dragon" reference

Ship Outta Luck[3]

Hydrophobic Dragons[5]

Fire Meets Water[5]

SurviveOars[8]

Oar We There Yet?[5]

Sync or Swim[9]

Dragonflies[8]

Dragon Tails[5]

Catch 22[6]

NSYNC

Dragoncatchers[6]

Blades of Glory[6]

The Talon Show[4]

a play on "talent show"

Fire Breathing Blowfish[9]

Mad Paddlers[6]

Swamplillies[6]

Spitting Fire[10]

Puff's Magic Dragons

reference to Peter Paul & Mary's "Puff the Magic Dragon"

Wasabi Tide[9]

Dragon-Slaying Dragons

Soggy Bottom Buoys[3]

Dragon Train[11]

Smaug[7]

"The Hobbit" reference

All Fired Up![12]

Pond Scum[3]

Drogon's Feral Mind

"Game of Thrones" reference

REO Speed Dragon[11]

a play on REO Speedwagon

Puff Dragons[5]

Breath Weapon[12]

Imagine Dragons

Dragon Fruit[11]

Team Drogon[7]

"Game of Thrones" reference

Paddles of Fury[9]

Mothers of Dragons

"Game of Thrones" reference

Dragon Fish[13]

The Four-Legged Scaly Birds

Rowbust Racing[8]

Angry Unicorns[9]

Swiss Charred[4]

Giant Fire-Breathing Lizards

Smoke on the Water[5]

Winged Fossils
How to Create Your Own Dragon Boat Team Names
Use the following tips to brainstorm your own individualized dragon boat team names:
Use dragon puns. Look up or create puns using the word "dragon" for a team name that might be a bit cheesy but is almost sure to make your team (and others) laugh!
Get inspiration from your favorite dragons in popular culture. Dragons are familiar characters in fantasy films, books, and comics. If you have a favorite dragon from popular culture, use some aspect of that dragon's story or personality to inform your team name. For example, if you love Game of Thrones, you could use something like "Drogon's Feral Mind."
Brainstorm strange descriptions of dragons. Use common traits of dragons — such as fire-breathing, tails, and wings — to come up with funny descriptions for your team name. For example, you could describe dragons as "Winged Fossils," "Four-Legged Scaly Birds," or "Giant Fire-Breathing Lizards." The more nonsensical the description, the funnier your team name will be!