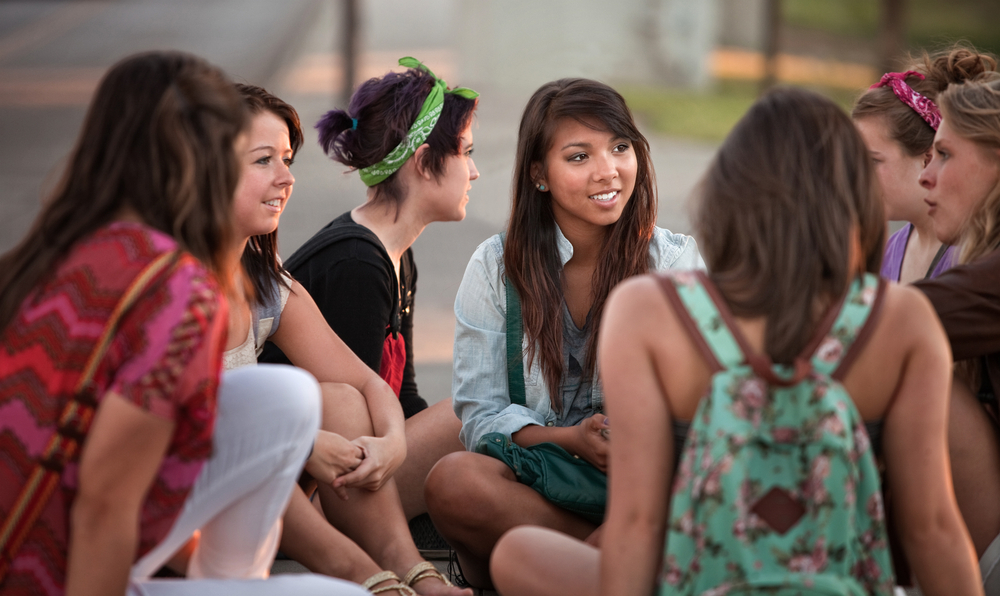 With more distractions than ever and busier schedules (especially for teens), youth ministry can play a crucial role in inspiring stronger faith in children and teens. It also engages parents to build stronger and more devoted families. [1]
Youth ministries today typically include around 60 teens and 12 adult leaders.[2] You might want to choose one name to represent the entire group or break the ministry into smaller, individualized groups under each leader.
Either way, youth group names are meant to "fire up" the group's members in their faith and create a vibe that will encourage others to join in the fun.
These names can be inspirational, powerful, or just plain catchy.
We have more than 70 ready-to-use youth group names below — plus, if you want to create your own youth group name, we provide tips after the list.
A.R.M.Y.[3]

short for "anointed reigning mighty youth"

B.L.A.S.T.[3]

short for "building lives around sound truths"

Heirs of Salvation[4]

3D Youth[3]

short for "dedicated, determined, and driven"

Altered at the Altar

Metamorphosis

Soul Fuel[5]

Aspire[3]

Uplift[6]

In His Image

EDGE[3]

short for "every day God encounter"

N.O.W.

short for "no opportunities wasted"

Rescuers

The Voyagers

Steadfast & Spirited

Journey On

Next Generation

Warriors

3:16 Squad

Souled Out[4]

Revolutionized

Righteous Hearts[4]

Truth Quest

To the Max

Pure Fire[5]

Full Faith, Inc.

Hopeful Hearts

Awakening

Revival Society

Positive Charge[4]

Breakthrough[4]

Arise[3]

Praise Mash-Up

F.R.O.G.

short for "fully relying on God"

W.I.S.E.

short for "wear smiles, ignite souls, serve, and encourage"

3:16 Teens[3]

B.A.S.I.C.

short for "become a soldier in Christ"

Pardoned Posse

Soul Fire[3]

H.O.P.E.

short for "holding onto promises expectations"

Ignition

Renewed

ALTARations

Reflections

Team Trek

Above All

No More Chains!

P.R.A.Y.

short for "pray, repent, ask, yield"

LightHouse[3]

B.R.E.A.D.

short for "bible reveals every answer directly"

Fresh Approach

Generating Fun

Bold Battalion

Defeaters

Still Growing

Forgiven

Intentional

Conversion Connection

Leading the Way

Lifelong Journey

Soul Expedition

On Assignment

Faith Surrender

Humble Light[4]

Odyssey Oasis

The Foundry[4]

Gathering In

The Stalwarts

Unfaltering Force

Through & Through

Remedy[3]

Standing Amazed

Comfort Zone
Youth Group Name Generator
How to Create a Fun Youth Group Name
Youth group is meant to be a fun and casual way for young people to connect with like-minded peers and engage with their faith.
Create a cool youth group name all your own using the following tips:
Decide on an image. Your group name will create a mental image for those in your group and others around the group, such as potential new members. Be sure the name you choose accurately reflects the group's tone, purpose, and welcoming nature.
Choose motivational words and phrases. Youth groups are all about having fun while growing in faith, teaching others about faith, and keeping motivated. Choose positive words and phrases that will leave your group members feeling inspired.
Have a naming contest. Youth group members may want to be involved with the creation of the group's name. Having a brainstorming session with the entire group will allow everyone to suggest options that are meaningful to them. It'll also allow the group leader some insight into the group members and how to best lead and motivate the group. Put the final choices to a group vote for fairness and to find a name that perfectly reflects the group.