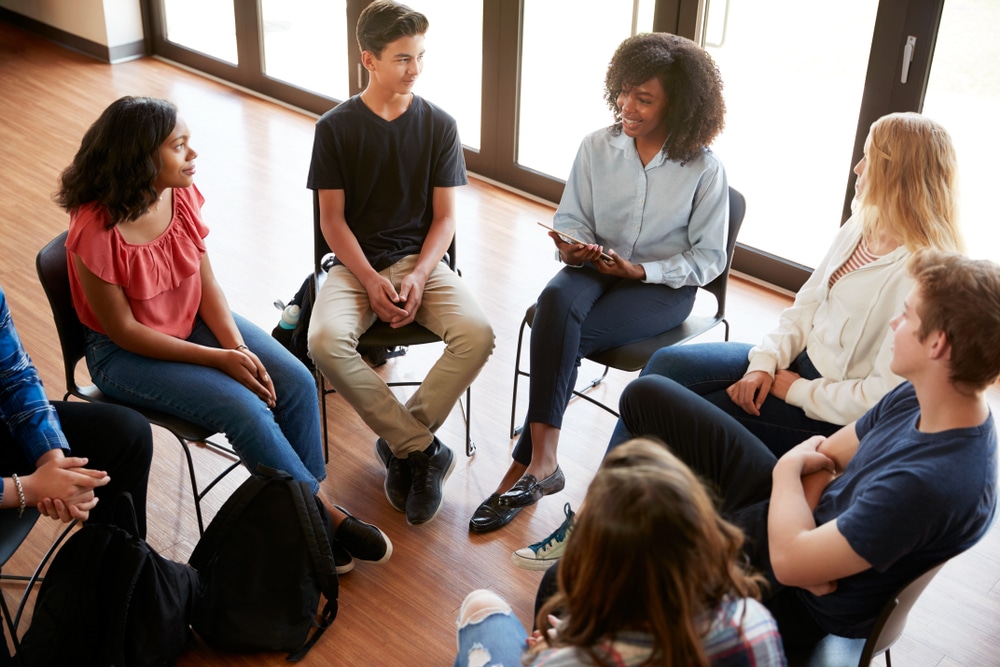 Sunday school is a time for worshipers of all ages to learn and grow in their faith.
Some of the benefits of Sunday school programs are that they target Biblical learning to a specific age group and that they provide more structure than studying Scriptures on your own.[1]
At some churches, as many as 85% of worship attendees also attend Sunday school,[2] building a strong sense of community, personal connections, and encouragement.[3]
If you're creating or redesigning a class and need a great name, see our list of class names by age group below or scroll below the list for tips on how to create your own neat class name!
Adults
Even adults are continually learning and growing!
Adult Sunday school class names should be positive and welcoming, both to those who have grown up in the faith and those who are new to it.
See our ideas below, and find more in our list of church group names for adults.
An Anchor in the Storm

Living Proof

Our Lighthouse

Continuous Joy

Holiness is Calling[4]

Grace Has Found Us[4]

Core Foundation

Awaiting His Guidance[4]

Agape Hearts

Journey With Jesus

Answering the Call

Reflections of Peace

Gleaners[5]

Beacons of Light

Living in His Light

Joy Revelation

Renewed Each Day

A Purposeful Walk

New Every Morning

Purposeful

Significant Faith

Profound Worship

Revelations of Hope

Embracing Worship

Abundant Life Group

The Bible Bunch

The Good Book Gang

Building Hope

Refreshed

Redeemed and Reconciled

Steadfast and Devoted

Filled With Praise

Drawing Close

Building Our Faith

Filled With Joy

Life Parables

Living Way Legacy

Fervent Joy

Gathering With Praise

Insight[5]

Committed to Worship

Trust Renewed

Jesus Seekers

Driven to Praise

New Creations[5]

Scripture Seekers

His Flock[4]

Journey of Insight

Fervent Jubilee

Significant Joy

Hearts Reformed

Glory Days

Filled With Peace

To Glorify Him

Collective Truth Seekers[4]

Anticipating Glory

Enlighten Us

Rekindled

Sacred Journey

Seekers[5]

Gathered in Mercy[4]

Journey to Glory

Soul Guardians

Our Soul Refuge

Commitment to Praise

Impacting Our World

Devoted Prayer Warriors

Daily Praise Journey

Core Worship

Agape Collective

Heirs of Salvation[4]

Tethered in Faith

Solid Faithfulness

The Faithful

Verse Ventures

Scripture Savvy

Jesus Is Enough
Teens
Sunday school classes for teens begin to tackle more complex topics and help teens find their place in the faith and their world.
Our class names for teens reflect a more contemplative class environment than a children's class. We also provide hopeful names that can inspire teens to devote themselves to their faith.
Light Seekers

Young Worshipers

Team 3:16

Faith Quest

Truth in Unity

Faith Seekers

Three18[6]

Peter 3:18

FM[6]

Follow Me

Trailblazers

Zealous Faith

Ignited

Faith Foundation

Glorify and Grow

Discovering the Word

Jolted

The God Squad

Rock Solid Faith

Standing on Truth

Empowered

Propelled

Victory Resounds

Faith Generation

Lost & Found[6]

L.G.L.P.[6]

Love God Love People

Devoted Disciples

Souls Unswerving

Fired Up

Inquiring Minds

The Followers

Defending Our Faith

Bold for Jesus

Sincere Faith

Rock Solid

Live Wires[7]

Transformed

Standing Firm

Immovable

Souls Ignited

Our Purpose

Shield of Faith

Command Keepers

Walking Wise

Kingdom Oasis

Path to Praise

Solid Praise

Profound Purpose

Faithline

Life Lessons

Freedom in Faith

On the Move[6]

Soul Fire

Undiluted Worship

Being Bold

Unconditional Faith

Souls Ablaze

Life Purpose

Kingdom Trek[8]

Pathfinders

Embracing Hope

Vision of Honor

Youth With Heart

Voyage Through Fire

World Changers

Bold Generation

Thriving in the Light

Radical Refuge

Praise Epidemic

Faith Force

Scripture Squad

Bible Bootcamp

Finding Our Way

Faith & Friendship
Kids
Children's Sunday school classes provide social connections and learning activities that form a child's religious foundation.
Our name suggestions will let the kids at your church know that they can expect to have fun while they learn!
Kidventure[9]

Little Fishers

Crowned Kids[10]

Good News Crew

B.L.A.S.T.[11]

Believe, Learn, and Seek Truth

A.R.K.[11]

Amazing Redeemed Kids

Praise Playground

Roundtable Fellowship[7]

Jumping for Jesus

God's Little Wonders[10]

Adventures With Jesus

Bible Adventures

K.O.T.R.[12]

Kids on the Rock

Bible Builders

VictoryKids[10]

Kid's Connections

Little Hearts of Faith

Bible Buccaneers

Reigndrops[10]

C.I.A.[12]

Christians in Action

Sparks

Gospel Adventurers

Precious in His Sight

These Little Lights

Kid's Club

Little Angels

Praise Garden

Children's Church

Learning for Jesus

Starting Point

J.A.M.[12]

Jesus and Me

Bible Club

Footsteps[8]

Gospel Connection

Growing With Jesus

Gospel Safari

Sunday Superheroes

Construction Zone[12]

Little Blessings

Voyagers

First Steps in Faith[13]

Gospel Odyssey

First Steps With Christ

Jesus Loves Us

Kingdom Kids[10]

Letting Our Light Shine

Bridge to Jesus

We've Got Joy!

Reaching Up

Praise Company

Joy in Our Hearts

Little Learners

Faith Flight

Sparks of Faith

Kind Helpers

King's Kids

Happy and We Know It!

Gospel Squad

We Love Jesus!

Bible Buddies

Sharing God's Story

Eyes on Jesus

Reaching for Jesus

Following Jesus

The Jesus Squad

Team Jesus

Worship Quest

First Steps

Yes! to Jesus

Joyful Noises

Children of Praise

Worship Trek

Shine, Shine, Shine

Bible Basics

Adventures in Worship

Praise and Prayers

The Crosswalkers

God's Little Lambs
Sunday School Class Name Generator
How to Create a Great Sunday School Class Name
Taking inspiration from the Bible and other texts you'll be studying can help inspire your Sunday school class name, but as seen in our list above, class names should also be memorable and inspirational.
The best Sunday school class names will make people look forward to joining the group and taking part in weekly meetings.
Additionally, keep the following tips in mind:
Use exciting and inspiring words. For kids, words like "adventure" are great — they can help a child become excited about learning and feel like they're going on a quest each week. For teens and adults, words like "hope," "honor," "refuge," and "peace" can affirm the group members' faith and help them see their class as a weekly retreat rather than an obligation.
Keep the name short and catchy. This will make it easy for group members to remember — and easier to say when making plans for the class or inviting potential new members.
Keep it simple… but not too simple. Names that include too much "insider" jargon can be intimidating for members that are new to the faith, so keep it simple. Names that are too simple, though, like "Women's Study Group," are unmemorable and may make it more challenging to attract new members. Try to strike a balance between the two.
Consider who is taking the class. As you can see in our list above, it's essential to consider the age group that will be participating in the Sunday school class. A name that's appropriate for an adult class might not make much sense to elementary-aged children or other young learners.