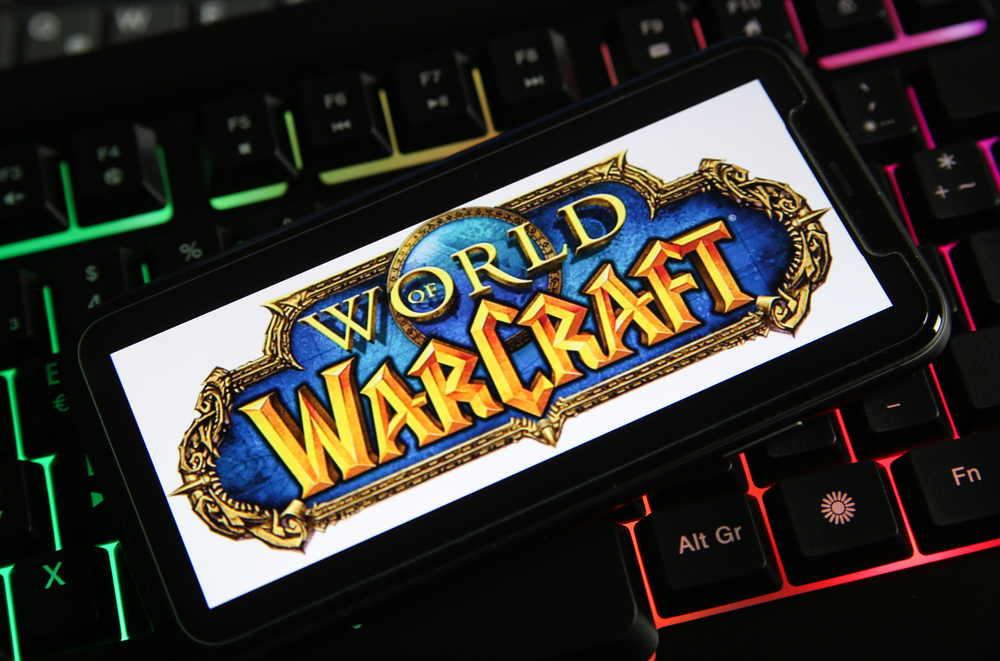 World of Warcraft (WoW) has been around since 2004[1] but shows no signs of slowing down.
It's the most popular MMORPG worldwide[2] and continues to grow and adapt, regularly introducing new features[3] that keep longtime and new players coming back.
Even famous names like Aubrey Plaza, Mila Kunis, Felicia Day, and Vin Diesel are known to be fans of this long-running game![4]
WoW guild names usually reflect themes related to battle and fantasy, just like the game itself.
Choose one of the nearly 60 guild names from our list, or if you want to create your own WoW guild name, we offer some tips beneath the list.
Druids in Training

The Local Menaces

Faction of Frenzy

Stormwind Warriors

Timewalkers

Azeroth Zone

Within Reach

Keystone Kin

Rival Conquerors

The Skullcrushers

Unflinching Gaze

Heat Wave Allies

Night Elf Elite

Silver Dragons

Coercion Time

Reformed at Last

Eradicators

The Spell Casters

Shadowland Expansion

Selfish Pursuits

Distorted

Exile or Excursion

Blood Lords

Time of Tribulation

Shattered Scepters

The Dragon Eclipse

Door To Invasion

Fury of Crimson

Rabid Defenders

Flaming Meteors

Light Legacy

Ambient Firelight

Rage for Vengeance

Vindicated

Wielding Warlocks

Eerie Messengers

Abominable Threats

Bloodthirsty Pilgrims

Fragmented Forces

Triumph Tribe

Wandering in Madness

Commonplace Miracles

Azuremyst Alliance

The Wayward Souls

Duty To Protect

Warped World

Mindful Reverie

The Shaman Source

Hooligans & Hunters

Warlocks & Warriors

Vision Quest

Knights of Death

Spellbound

Cannibal Trolls

Enchanted Ghosts

Allies in Chaos

Fort of Druids

Ancestral War Lords

Common Comrades
WoW Guild Name Generator
How to Create a Great WoW Guild Name
World of Warcraft's fantastical universe offers plenty of inspiration for guild names. Still, with such a huge amount of active users playing the game, it can be difficult to find something truly unique!
Create a totally original WoW guild name using the following tips:
Study the game — even the most obscure elements. The WoW website is chock full of terms and phrases that would make excellent WoW guild names. Having debuted more than 10 years ago and with many expansions under its belt, the Warcraft franchise is a rich resource to be mined for inspiration. Look at the news, forums, and stories on the website and keep an eye out for any word or phrase that interests you. Once you find several, you can use them as they are or perhaps combine several words to create your unique team name.
Put words to work. Open up a physical dictionary or visit an online dictionary for the widest range of inspiration. Just opening up a dictionary to a random page (or selecting a random letter on a website) might uncover the perfect WoW guild name. Unexpected possibilities await when you leave the choice partially to chance! Just keep on looking until you find the perfect word or phrase.
Get inspiration from battle and war. Once you look up the word "battle" or "war," you'll have a steppingstone to an unlimited amount of choices. Browse related terminology, looking for a unique phrase or definition that you like. Perhaps it's a type of battle formation or a historical event — whatever the case, you'll end up with a cool name that's appropriate for this role-playing game. You can also find synonyms for the words like "war," "battle," "fight," or "combat" to use in your guild name.