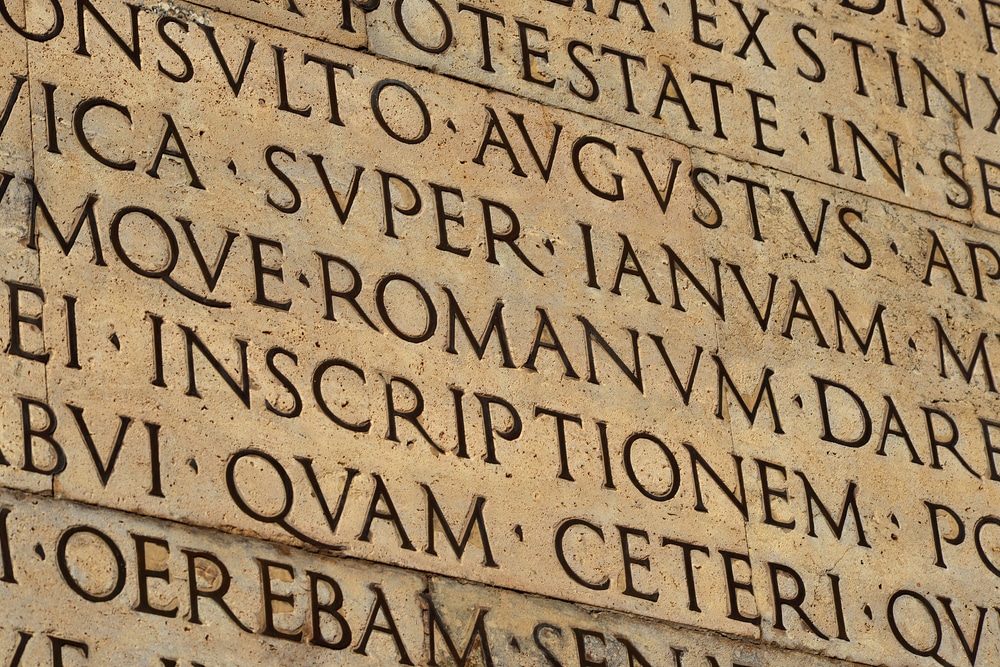 The Latin language can be traced all the way back to 75 B.C. It's one of the oldest languages in the world, yet few people today are fluent in Latin.
Historically, only scholars and highly-educated people knew enough Latin to use it conversationally or in literature. Perhaps this is why literature from ancient times written in Latin is known as some of the best worldwide.[1]
Through time, the Latin language has evolved. It was first written from right to left but is now written left to right, just like English.
Many English words have Latin roots or Latin influence. Latin is used in today's world to name newly-discovered species of plants and animals. Many historic buildings in the U.S. also feature quotes in Latin, and it's commonly used in the field of Law.[1]
Our list features Latin words and phrases (with definitions) appropriate for any guild or team.
If you're interested in creating your own unique Latin guild or team name, we also share some tips below the list to help you find the perfect word or phrase.
Excelsior

ever upward

Ad Infinitum

forever

Trucido

slaughter

Malo Animo

with evil intent

Divinus

sacred

Deus Ex Machina

unexpected power

Ex Nihilo

out of nothing

Semper Fortis

always brave

Semper Fidelis

always faithful

Nocens

wicked

Carpe Diem

seize the day

Supernus

superior

Mactabilis

lethal

Invicta

unconquered

Fortes Bellatores

courageous warriors

Ultra

beyond

Quid Pro Quo

something for something

Libra

balance

Alpha

first

Bona Fide

with good faith

Ego

I

Magus

magical

Gaudium In Veritate

joy in truth

Alibi

elsewhere

Sola Fide

by faith alone

In Limine

on the threshold

Subitus

unexpected

Semper Doctrina

always learning

Deo Volente

God willing

Absconditus

hidden

Malus Peior Pessimus

wicked

Occulto

secretly

Feram Cordi Esse

wild at heart

Hostes Hostium

the enemy

Pulchra et Decora

beautiful and graceful

Status Quo

existing state

Justitia Omnibus

justice for all

Accendo

illuminated

Territo

intimidation

Divide Et Impera

divide and rule

De Novo

anew

Et Cetera

and so on

Verbatim

word-for-word

Vice Versa

opposite

Trepide

in confusion

Terra Firma

firm ground

Veto

forbid
How to Create Your Own Latin Guild/Team Names
Create your own Latin guild or team names using the following tips:
Check out lists of Latin-to-English dictionaries for inspiration. Even if you aren't fluent in Latin, you can browse through lists of Latin terms with English definitions to find options that fit your team. Look for words or phrases that reflect your team's spirit and personality.
Gather your group's favorite Latin words and phrases. Perhaps you've taken a Latin language class or are familiar with certain Latin words or phrases. If not, use a dictionary, as noted in our first tip. Compile a list of favorites from each team/guild member and discuss your options or take a vote to find the perfect fit. Double-check the meanings of these Latin terms to be sure that they reflect your team well.
Abide by the rules. Before you create a Latin guild or team name, research the rules of the game or activity in which your group is participating. Be sure to adhere to any character limits or other restrictions in place.