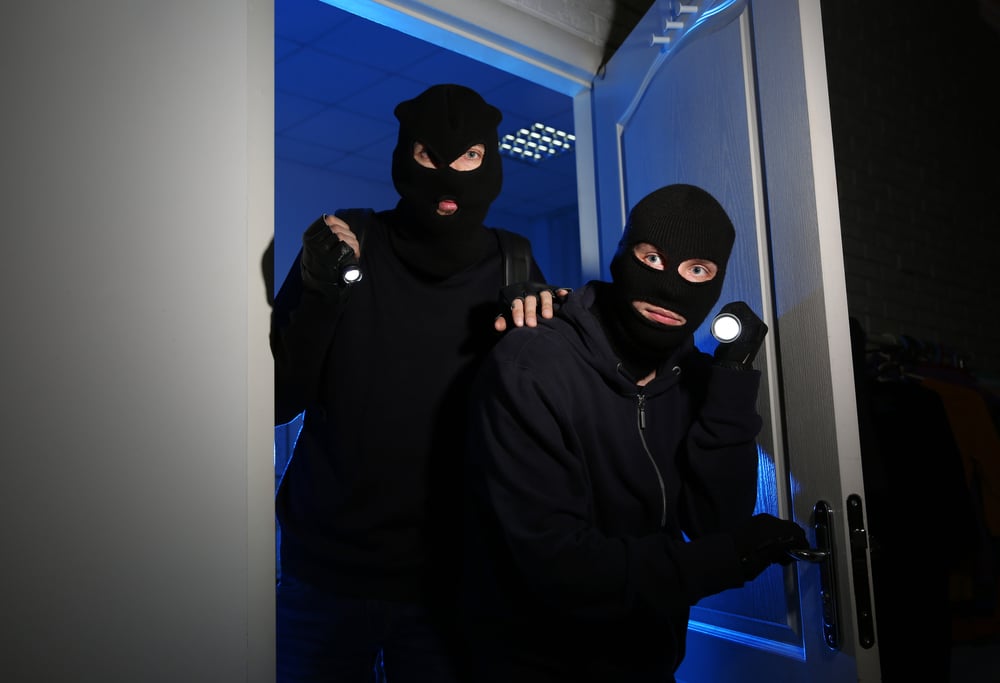 From the Wild West antics of Jesse James and his gang to Bill Mason, who stole an Olympic gold medal from swimmer Johnny Weissmuller, thieves have carried out robberies throughout history.[1]
Some robbers focused their attention on banks and other businesses, while others targeted people of known affluence.[1]
Did you know that someone once stole the famous painting Mona Lisa? Vincenzo Perrugia, in disguise as a security officer, was able to pull this off.[1]
The famous bank-robbing duo of Bonnie and Clyde are typically also at the top of the list for famous thieves.[1]
Our list features a range of options for your thieves guild name. If you're interested in creating a unique thieves guild name of your own, we also have some helpful tips below the list.
Heavy Lifters

Muggers Anonymous

The Cat Thieves

Trickster Circle

Undetectable

Legendary

Defiant Champions[2]

Kleptomaniacs Inc.

Pirate Patrol

Larceny Legends

Silence of Shadows[2]

Sleight of Hand

Pickpocket Posse

Loot Grabbers

The Klepto Krew

Pilferers United

Stealth Swindlers

Hijack Heroes

Mosstrooper Matrix

Ocean's [insert your favorite number]

inspired by the "Ocean's 11" film series

Ma Barker's Bunch

Dillinger's Derelicts

Scheme Society

Obscure Nightmare[2]

Notorious Ambitions

Klepto Charisma

Outlaw Network

Tradition of the Nefarious[2]

Manipulative Deceit

Cleverly Executed

Deception

Villains of the Claw[2]

The Barcode Squad[2]

Bane of the Night[2]

Demons of the Joyous[2]

Bronzemight[2]

Drumsmiths[2]

Tears of Faith[2]

Dishonest Vigor[2]

Mystery of Serenity[2]

Omega End[2]

Bold Domination[2]

Stewards of the Feeble[2]

Swarm of the Serene[2]

Messengers of the Lynx[2]

Squad of the Dragon[2]

Ill Illusions[2]

Swift Heisters

Highwaymen

Midnight Prowlers

Desperados
How to Create Your Own Thieves Guild Names
Create your own thieves guild names using the following tips:
Use famous thieves as inspiration. Look up stories about famous thieves, and you'll likely find a treasure trove of thieves guild names options. We used this tip to create Ma Barker's Bunch and Dillinger's Derelicts. Look for lesser-known stories to create a more unique guild name.
Look up words that are associated with thieves and thievery. Think about words that are typically used to describe theft, such as deceit. From just that one word, you could create several names, such as "Web of Deceit" or "Deceitful Derelicts." You can also check out synonyms to find a host of other possibilities like Duplicity, Money Business, and Stratagem. Get creative!
Be sure to check for naming rules and guidelines. Before you spend time creating the perfect thieves guild name, see if the game you're playing has any restrictions for the number of characters your guild name can be or what it can include. Some games have very specific rules for naming. Create a name that's acceptable and appropriate for your game.