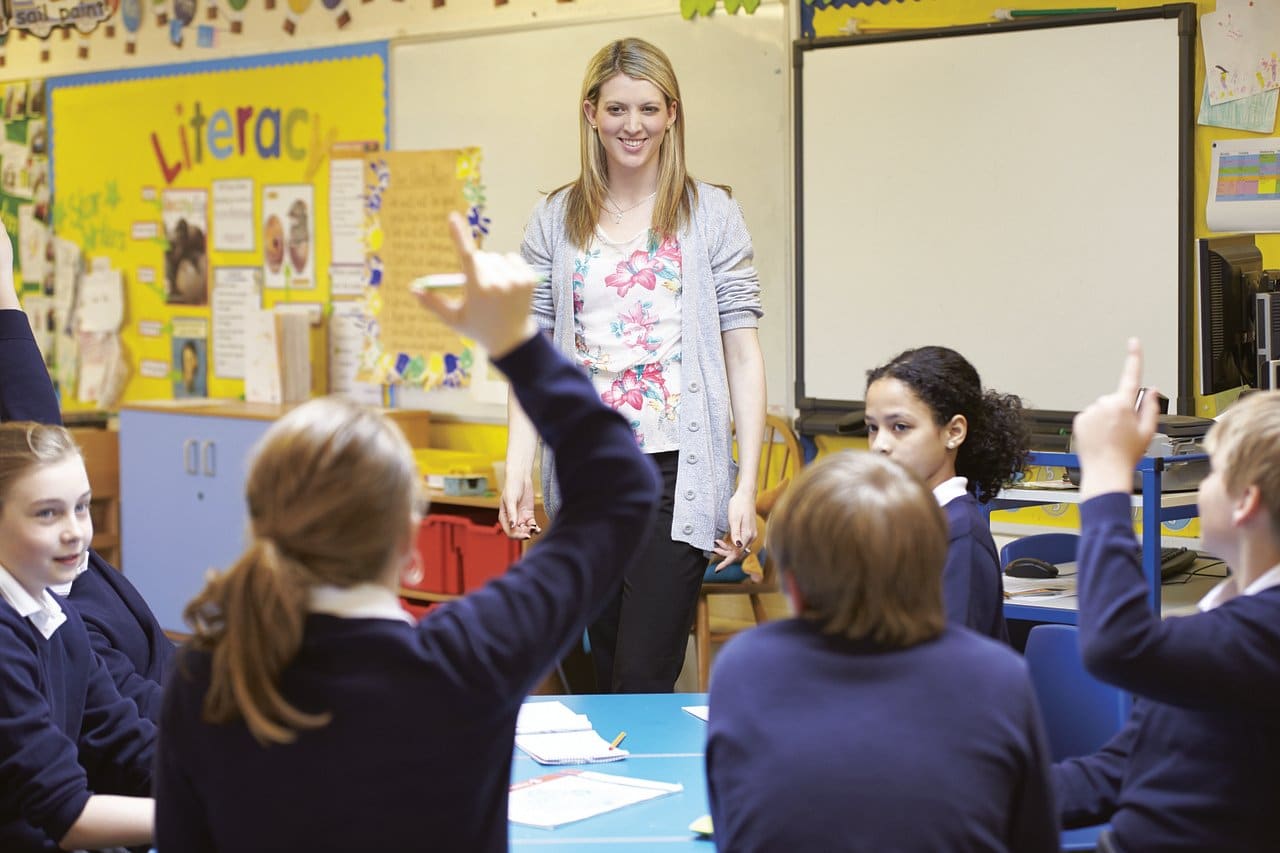 Good teachers can be very influential in the lives of their students.
Studies show that while parents are still the most important part of their child's education, teachers are a close second and make a large difference in their students' lives and futures.[1]
Teachers have not only an impact on their students' day-to-day academic achievement, but also their post-high school studies, careers, salaries, retirement savings, and overall well-being.[2][1]
Whether your teacher team is engaging in professional development activities, working to better your school, or coming together as a group to provide instruction, choosing a great name can help foster a sense of camaraderie among the group.
Below, we have the list of name suggestions for teaching teams. We include appropriate options for teachers of any age group — elementary, middle school, or high school.
Scroll below the list for a name generator our tips on creating your own unique team names!
In the Education Zone

In Theory and Practice

Knowledge Sought & Shared

Teaching From Textbooks

Student Support Squad

Positively Passionate Educators

The Pedagogy Methodology

Leaving Lasting Impressions

Convergent Thinkers Club

The Mind-Builders

Scholar Squad

Little Learners' Leaders

Schoolhouse Rockers

Smartest Cookies

The Thinking Caps

Pedagogy Posse

Knowledge Acquisition Club

Literacy Strategies Squad

The Inclusive Zone

Thinking, Pairing, & Sharing

Just Thinking Aloud

Creating Transformative Change

All About Themes

Active Learning League

The Learning Facilitators

Peer-To-Peer Club

Quest for Quality Skills

From ABCs to Algebra

Growing Minds

Top of the Class

Team Rubrics

The Red Pen Brigade

The Glue Sticks Group

Kid Tested, Teacher Approved

Shaping Minds, Changing Lives

Synonyms and Antonyms

Teaching Is Our Super Power

Excellence Exceeders

Contemplative Reading Collective

Just-In-Time Teachers

The Student-Centered Squad

Capturing Tacit Knowledge

Going to the Board

Assignments On-Time

Core Curriculum Zone

Time Management Threads

Good Grade Trackers

Making All The Difference

Grade Books & Lesson Plans

In Our Assigned Seats

Bouquets of Sharpened Pencils

Planning for a Sub

Wisdom of Experience

Smile, Smile, Smile

Going the Extra Mile

The Impromptu Conference Crew

Lesson Plan Detours

In the Resource Room

Don't Run With Safety Scissors

Continuously Reflective Club

Study Unit Planners

Perpetually Appreciated

Teaching Champions Team

Influencing With Interest

Better Ourselves, Better Our World

Methods and Madness

Empowered by Insights

The Authentic Educators

Our Path to Accomplishments

Educational Goal Exceeders

For Teachers, By Teachers

Meeting All the Goals

The Success Facilitators

With Tenacity & Spirit

Passion for Our Purpose

Driving Forces in Education

Education Ambition Group

Great Teachers Rock!

Making Math Cool

Setting High Expectations

Classroom Collaborators

Professional Development Crew

Diligent Teachers Team

Capacity to Connect

Actionable Applications Club

Confidence Builders Brigade

The Obstacle Overcomers

Equipped to Succeed

We Reassure & Encourage

Curriculum-Aligned Collective

Deploying Classroom Strategies

Conducive to Learning

Emphasis on Education

The Flexible Seating Force

Bolstering Our Preparation

Expressions of Confidence

Assessing Our Abilities

Keep Calm & Teach On

We Make Learning Fun

Single File Lines

With Genuine Enthusiasm

Taking Time to Reflect

Raising Our Hands

Face-To-Face Time

Strengthening Our Narrative

Teacher Focus Time

Sight Words Squad

Vocabulary Builders Brigade

The Field Trip Force

Observation Conversations

The Seat Time Group

Digital Platform Experts

Time to Learn

Homework Assigned Crew

Reviewing for a Test

The Teacher's Clubhouse

Coats in Cubbies

The Formative Assessment Force

Flashcards & Rhymes

Sitting in a Circle

Inside Voices Lineup

The Snack Time Squad

Little Learners League

Fun to Brainstorm

Kinetic Sand Alliance

On a Virtual Field Trip

Finding Clear Objectives

Our Secret Is Patience

Messy Buns & Lesson Plans

Implementing the Magic

Mnemonic Strategies

The Jigsaw Technique Troop

Summative Assessments Set

First-Day Ready!

Mid-Unit Corrections Collective

Fluent in the Facts

Surrounded by Gamification

Converging on Solutions

Divergent Thinkers Squad

Reaching One Solution

The School Spirit Crowd

Experiential Learning League

The Bookworm Bunch

Online & Traditional Types

The Syllable Stressors

Deconstructing Strategies

Teacher's Points of View

Our Collective Voices

Start, Stop, & Continue

The Education Interpreters

Teacher Lingo Zone

Sometimes Fashionably Late

In Education Circles

Filling Our Cups

One-To-Many, Many-To-One

Always Timely Teachers

Don't Squash Our Spirit

The Concentric Circles

We Are Pinterest-Ready

The Over-Organized Team

The Super Teachers

Creative Analogies Collective

The Rhetorical Appeals

The Brainiacs

The Educators

The Building Blocks

The Super Scholars

The ABC-ers

Inquisitive Minds

The Futurists

Savvy Scholars

Next Gen Mentors

The Learning Leaders
Teacher Team Name Generator
How to Create a Great Teacher Team Name
The best teaching team names will reflect your passion for and dedication to your work. Your name can be either serious, professional, or funny.
Keep the following tips and sources of inspiration in mind when creating your name:
Get inspiration from your favorite parts of your job. What do you love about teaching? Is it the ability to use your creativity, the opportunity to continually learn, or the potential to change lives? Or maybe you just really love organizing your classroom and lesson planning! Jot down a list of reasons (perhaps even collectively with your team). Then, create a name like the examples "Shaping Minds, Changing Lives" and "The Over-Organized Team" from our list.
Use creativity and positivity! Teaching can be a stressful job — but it can also be gratifying. Focus on the positive to remind your group of why they're teaching and the good they can do by engaging with the group. Clever, cheerful names will also lend an air of excitement and fun to your group.
Put the spotlight on learning and knowledge. Take inspiration from classroom methods like the jigsaw technique or experiential learning (as seen in our list), or just use words like "learning" and "knowledge" in your team name. This will keep the focus on your group's purpose and remind all of the group's members of the function of your field.