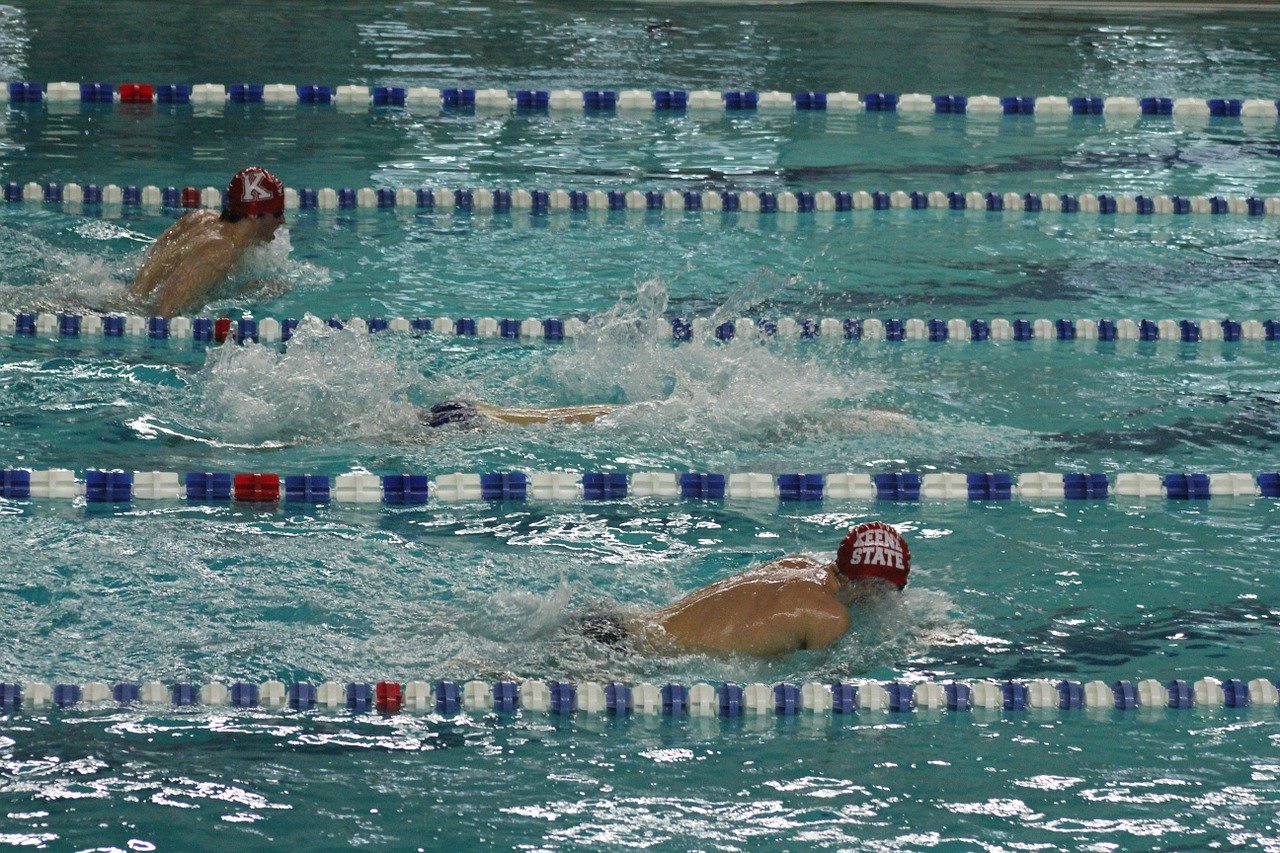 Swimming is not only a great way to stay fit, but also a key method of physical therapy and a competitive, multi-event sport![1]
The historical record shows that swimming may have been popular as early as 2500 BCE. Archaeologists have found evidence of swimming practices in Egyptian, Assyrian, Greek, Roman, and Japanese civilizations.[1]
Swimming is also a staple of the Olympics, where it's been a medaled event since the first modern competition in 1896.[2]
Swim team names can take inspiration from any aspect of swimming, sea creatures, or underwater life. They can also be totally personal or unrelated to the water.
We have more than 60 ideas to choose from below, plus tips to help you create your own swim team names!
Dashing Dolphins[3]

The Whalers[3]

Vikings[4]

Swordfish[3]

Divers[3]

The Tritons[3]

Firefish[3]

Mighty Mantas[3]

Neptunes[5]

The Angry Piranhas[3]

Torpedos[3]

Riptides[5]

Tidal Waves[3]

Silver Fins[3]

Sea Serpents[3]

Life Aquatic[3]

Tsunamis[3]

New Wave[6]

Tarpons[7]

Sea Dogs[3]

Ragin' Rays[6]

Purple Wave[3]

GO H2O[3]

Blue Tide[6]

Penguins[5]

The Currents

Armada[4]

Manta Rays[3]

Yellowfins

Pirates[8]

Geysers[8]

Manatees[3]

Aquadillos[3]

Club Aloha[6]

Monsoon[3]

Stingray City[3]

Wave Riders[3]

Sink or Swim[3]

Sunfish[3]

Little Mermaids[8]

Sea Monkeys[3]

Dolphins[3]

Typhoons[3]

Redfish[8]

Crocodiles[3]

Otters[9]

AquaDucks[3]

Sailfish[8]

Elite Orcas[8]

Lancers[4]

Sea Hawks[9]

Snorkle[8]

Rapids[3]

Seahorses[3]

Hammerheads[8]

Black Trout[9]

Aquafina[7]

Tiger Sharks[9]

Doggy Paddle[3]

Sharks[3]

Wave Runners[3]

Flippers[7]

Backstrokes[7]

Seals[3]

Marlins[3]

Chlorine Machines[3]

Splashers[3]
Swim Team Name Generator
How to Create Your Own Awesome Swim Team Name
Keep the following tips in mind to create your own cool swim team name ideas:
Get inspiration from the sea! Swimmers, of course, spend a lot of time in the water — so what better place to get inspiration than from underwater habitats? Look into aquatic creatures, oceanic facts, and features of lakes, seas, or oceans. From fast-swimming animals to different types of tides, you can come up with a wide variety of options.
Think of your team's style and personality. Are you a high-spirited group that wants to win but places more importance on having fun, or are you serious about the sport and highly competitive? Use these and other traits of your team to inform your name, choosing something that matches your team's overall tone and style.
Make it personal. The names on our list are primarily inspired by swimming, sea creatures, and underwater habitats. If you'd prefer a more exclusive option, you can use your team leader's name, your city or county name, the name of your school, or some other personal identifier. For example, you might choose [Your City] Swim Club, [County] Divers, or [School Name] Aquatic Crew.