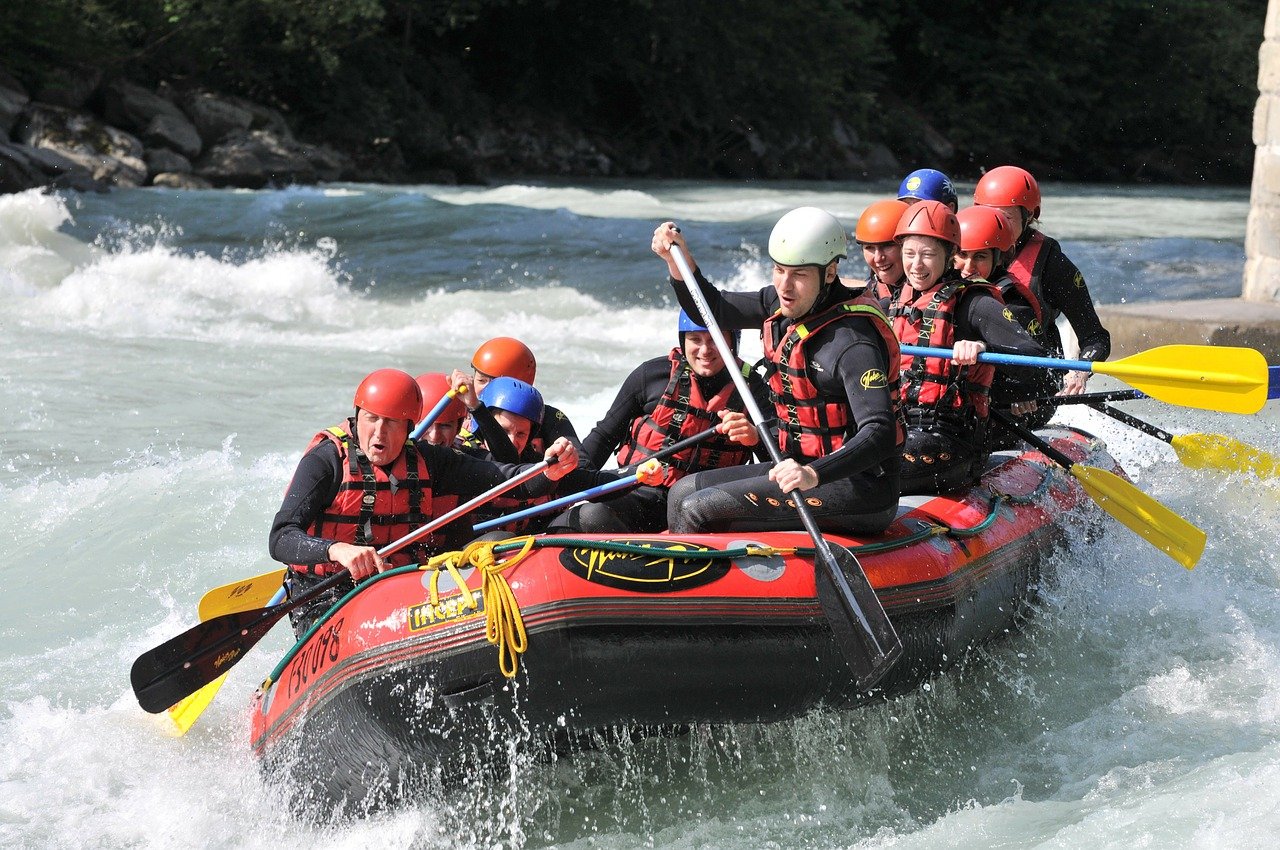 When you think of white water rafting, you probably have a very distinct picture in your mind of people floating down a wild river with brightly-colored helmets and puffy lifevests.
However, river rafting's origins predate the latest rafts and safety gear by a longshot! The first planned and recorded trip on the Snake River — which is still known for its Class III rapids — occurred all the way back in 1811.[1]
The popularity of this activity has grown so much that white water canoeing and kayaking have even been accepted as Olympic sports since 1972.[2]
White water rafting team names should reflect your team's adventure-seeking and courageous spirit!
Whether you're competing in a raft race or just want a personalized moniker for your river rafting crew, we have more than 50 options to choose from below, plus tips to help you create your own name ideas.
Team Splash

Team Rafture[3]

combination of "raft" and "adventure"

The Duckies

Blazing Paddles[4]

River Renegades[5]

Rugged Rafters[5]

Wild River Rafting[6]

Big Water Rapid Rafters[5]

River Raiders[4]

Happy Paddles Club[7]

Moon River Rivers

Rapid Rafts[3]

Dauntless Drifters

Shore Thing[4]

The Paddlers

Whitewater Bliss[7]

The Raft and the Furious[8]

Big Water[4]

River End Riders

Float On[4]

Wave Riders[9]

Breaking Waves[10]

Lost Paddle Rafting[3]

River Flight

Blue Barracudas[11]

River Function Tests[12]

Good Swimming[9]

Rapid Rafters[4]

Now Streaming[4]

Mighty Tides[6]

Big Water Crew

All Oar Nothing[4]

Blue Wave Club[6]

Offshore Daredevils

Oarfish[4]

The High Waters[10]

Cartwheeling Crew

Without a Paddle[4]

Making Waves[5]

Whitewater Radicals[7]

Wild Times Whitewater[7]

Boaty McBoat Team[4]

Whitewater Thrills[7]

Oar and Under[5]

Into the Wild[7]

Oar the River and Through the Woods[5]

Smiles and Waves[4]

Paddle Party[7]

Friends of the River[6]

[City] White Water Club

Wave Wallopers[5]

Spin Cycle Rafting[7]

Rafting Joy[7]

Pontoon Platoon[5]

With the Flow[7]

[City] River Rafting

Wet Oar Dry[5]
White Water Rafting Team Name Generator
How to Create Cool White Water Rafting Team Names
If you'd prefer to create your own unique rafting team name, keep the following tips in mind and brainstorm ideas along with your team:
Choose adventurous, energetic words. Rafting takes a lot of courage and skill! An adventurous name will reflect your team's daring nature and bold spirit. Choose a word like "rugged," "renegades," "daredevils," or "dauntless," and build your team name around it.
Use the names of people and places. You can use your team leader's first or last name, the city you live in, or the name of the river where you most enjoy rafting. Combine the name with a phrase like "Whitewater Club," "Rafting Club," or "Crew" for an easy-to-create, personal, and catchy team name.
Reference your rafting equipment or other rafting terminology. Words like "oar," "paddle," or "drysuit" — types of gear used in rafting — can be an excellent start for your team name. You can also use other rafting terminology, such as "breaking wave," "big water," "cartwheeling," or "flotilla." Choose a word that most rafters are familiar with, or pick something more obscure for a unique and exciting team name.