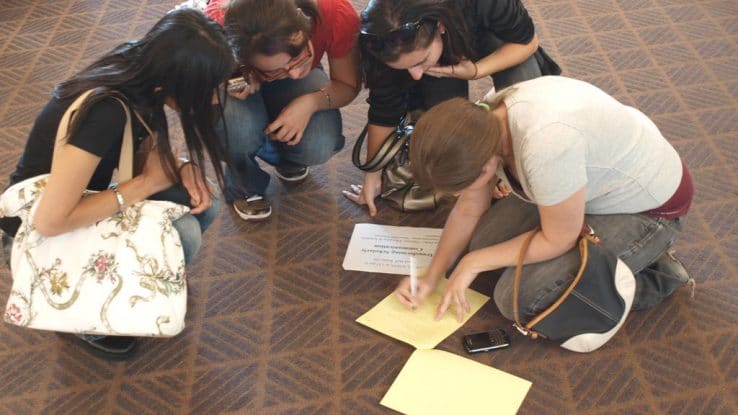 Scavenger hunts are inspired by the treasure hunts of old but really took off in popularity in the 1930s, when columnist Elsa Maxwell began designing wild midnight hunts for New York's rich and famous.[1]
Scavenger hunts remain popular today. There's even a National Scavenger Hunt Day, celebrated on May 24![2]
Scavenger hunt team names can generally reflect your team's skill or be specific to the scavenger hunt event you're attending — for example, an art-related name for a hunt at an art museum.
Our list includes more widely applicable scavenger hunt team names; if you want an event-specific name, our tips below the list will help you create your own team name.
The Foragers
Mayhem Driven
At a Fast Pace
Hunters for Hire
Gatherers Guild
Treasure Seekers
Paper Chasers
On the Hunt
Hunters & Gatherers
Acquire Alliance
The Collectors
Scavenger Society
Discovery Derelicts
Snoop Sisters
The Silt Sifters
Unearthers
The Finding Fathers
Rogue Reveals
Condor Community
King Vultures
Been Scavenging?
Griffon Guild
The Hawk Eyes
Osprey Tactics
The Smarties
Here We Go Again!
Go Get 'Em!
Finding Nemo
The Inquiry Agents
Investigatory Services
Track, Trail, & Tail
Rookies of the Year
Jabba the Hunt
Ready to Rumble
Masked Bandits
On the Trail
The Private Eyes
Secret Shadowing
The Scavenger PIs
Recovery Rebels
Clueminati: a play on the word "illuminati"
Slytherin Scavengers
Ravenclaw Rogues
Set to Scavenge
Ready, Set, Scavenge
Scouring Around
Looking High & Low
The Rummagers
Just Scratching Around
Scavengers of the Year
Mudlark Alliance
We Won't Quidditch
Hey Hey We're the Mudlarks: reference to river mud hunting
Snape's Searchers
Gumshoe Greats
Hawkshaw Heroes
In Pursuit
How to Create a Scavenger Hunt Team Name
To create a great scavenger hunt team name, consider the following tips:
Consider the venue. Create a team name using the name of the venue or the type of venue where the scavenger hunt will be held. For example, if you're attending a scavenger hunt at a natural history museum, create a play on words originating from the venue name or based on one of the exhibits.
Keep your team name age-appropriate. Family-friendly scavenger hunt names should be kept "G"-rated. If you're attending an adults-only event, you may be a bit more risqué with your team name — but keep in mind who else will attend the event and whether your name suits the environment.
Get creative! Scavenger hunting doesn't have a list of terms or rules to research and get inspiration from, as other team-related activities do. Instead, you have total creative freedom over your team name. For a start, you might want to look up animals that are scavengers and synonyms for words like "scavenger" or "search." If you use a favorite movie or book character for inspiration, just add a scavenger-related word or phrase to it to tie it in with the scavenger hunt theme (like we did with some of the Harry Potter-inspired names above).