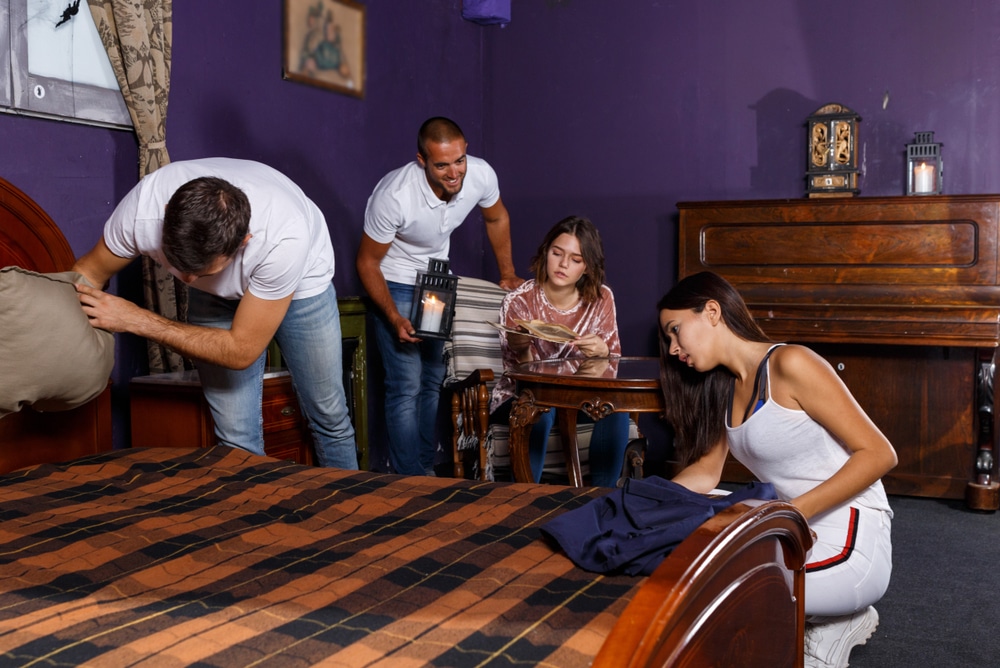 Escape rooms first appeared in 2007 in Japan.[1] Today, there are more than 2,000 of them in the United States alone![2]
Popular themes include prison escapes, zombie apocalypses, Sherlock Holmes, treasure hunts, and bank robberies,[1][3] but there's a massive variety of escape room games.
Depending on which escape room you visit, you'll likely have a choice of several story options.
Escape room team names can be generally adventurous or specific to the story you're playing. Either way, they're typically comical!
We have a variety of punny and cool escape room team names below; if you don't find one you like, we also offer a team name generator and tips to help you create your own.
The Escape Peas[4]

a play on "escapees"

Clueless & Confused[5]

Mission Possible[5]

Escapegoats[5]

Locked & Loaded[4]

Jar Jar Thinks[6]

a play on the Star Wars character Jar Jar Binks

Who-dinis[4]

a play on the famous illusionist Houdini

Skeleton Key[7]

Sher-unlock[8]

a play on the character Sherlock Holmes

Unlocked & Unleashed

Skedaddlers

All Locked Up

Quick Exits

Jeepers Keypers[4]

Without a Trace

CryptIQ[8]

Bye Bye Brigade

The Way Out

E-scapegoats[4]

Baffled Beyond Belief

Sherlock Stay-at-Homes[9]

for a virtual escape room

The Exodus

The Puzzlers

The Vault Artists[5]

The Keypers[4]

Au Revoir Agency

Escape Masters[5]

Making Ourselves Scarce

Low Key ComplEXITy

Cryptic Caper Crew

Code Warriors

Mind Benders[5]

Encryptonites[10]

Flying the Coop

Early Discharge

medical-themed escape room

Out of Sight

Circulation Desk Derelicts

library-themed escape room

Breakout!

Lock Box Bunch

A Hasty Exit

Run For It!

Fleeing Forces

Make a Getaway

Code Breakers[5]

Dr. No Chance[4]

a play on the James Bond film Dr. No

Getting Out of Jail

prison- or cell-themed escape room

The Vanishing Act

Take Wing

Escape Enthusiasts

On Our Way Out

Wisecrackers[5]

Prison Breakers[5]

Finding Freedom

Toodle-oo

The Ciao Club

Puzzling Professors

Garage Door Openers

garage escape room

The Renegade Team[7]

The Escape-ades[4]

a play on "escapades"

Ready to Bolt

Riddle Researchers

Never Bewildered

Taking Off

Not Playing Games

Running Along

A Disappearing Act

Locksmiths[10]

Setting Sail

Cut & Run

Cryptic Escapes

Breakout Radio Stars

1980s-themed escape room

Into Thin Air

Red Herrings[10]

Absconding Detainees

Adieu to You

Sneaking Away

Avoiding Detection

Rescue Me!

Hurriedly Leaving

Leaving Secretly

Vamoose!

Riddled With Riddles[7]

Busting the Bunker

doomsday bunker escape room

The Taskforce[5]

Hitting the Road

Taking a Powder

Magic Word[7]

Decamped

Making Tracks

The Quickly Departed

Access & Egress

Adios Amigos

The Farewell Force

Sayonara Society

Solve and Succeed[7]

So Long Farewell

We've Got the Key[4]

Catch You Later!

Lacking PerplEXITy

The Brainiacs

Mystery Masters

Clue Crusaders

Lockdown Legends

Maze Mavericks

Breakout Buddies

Code Crackers

Breakthrough Crew

Lockdown Heroes

Clue Trackers
Escape Room Team Name Generator
How to Create Your Own Escape Room Team Name
The perfect escape room team name will depend on what type of escape room you're doing and the preferences of your team members.
Create your own escape room team name with the following tips:
Consider whether you want a general team name or one specific to your escape room experience. Escape rooms have themes, and you may choose a group name that matches the theme of the room you're visiting. For example, if you're visiting a one-hour, space-themed escape, you might want a name that references "60 minutes" or one that uses terms related to astronomy and space travel. Many of the escape room team names on our list are mainly general, but they can be made more precise with the addition or change of a descriptive word.
Use humor. Escape rooms are challenging but fun, allowing you to work together with your team to solve a complex puzzle. What's a better morale booster for your team than laughter? Use puns and comedy when coming up with your perfect escape room team name.
Keep synonyms in mind. An easy way to build an escape room team name is to think of terms similar to "exit," "escape," and "leave" and use them as your inspiration.