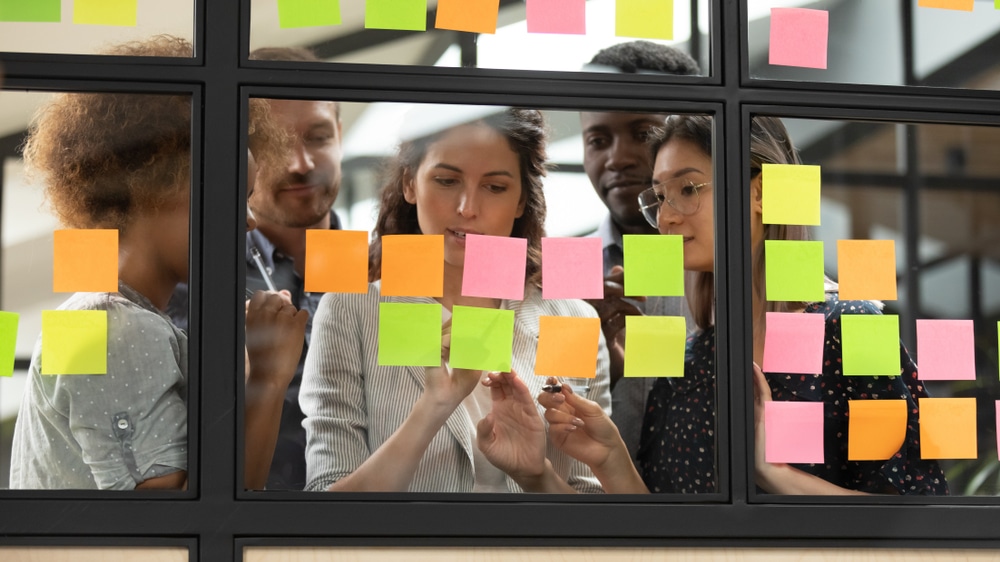 The Scrum framework was first shared by authors Jeff Sutherland and Ken Schwaber in 1995.
Following years worth of experimentation and frustration, the men created what they hoped would be a better way for people to work successfully in teams.[1]
Scrum Teams offer quick feedback, adaptation, innovation, and product/service delivery, as well as continual opportunities for improvement.
Scrum can help your team deal with changes more easily and have stronger communication through focused collaboration.[2]
Creating a great Scrum Team name can give your team a sense of camaraderie and make for easier reminders/schedule-keeping for those who have a lot of projects happening concurrently.
Below, we list our one-word Scrum Team name ideas — plus a name generator and tips if you want to create your own Scrum Team name.
Essentials[3]

Fixers[4]

Outstanding

Streamliners

Dominators[4]

Integrated

Wired

Array

Sprinters[5]

Everest[6]

Agile

Refined

Codes

Lineup

Alliance

Alpha[6]

Enlivened

Sapient

Scrumbledores[7]

Harry Potter reference

One

Titans

Perspicacious

Optimizers[4]

Elite[4]

Solvers

Velocity

Sustainable

Incisive

Empowered[4]

Extraordinary

Phenoms

Byte[3]

Impressive

Enterprisers

SCRUMptious[3]

Talent

Efficient

Adaptive

Unlimited[4]

Priority

Maximizers

Wireless

Bruisers[5]

Visionaries

Goalkeepers

Collective[4]

Blueprints

United

Allied

Coordinated

Machinations[3]

Parallel

Strikers[4]

Unpredictable

Foundations[4]

Complex

Focused

Chargers[4]

Committed

Structured

Logical

Vigilantes[4]

Shrewd

Clever

Sharp

Hive[4]

Perceptive

Intuition

Avengers[8]

Formation

Tribe[4]

Skillful

Polished

Troupe

Knights[8]

Accomplished

Diplomats[4]

Ingenious

Masterful

Adroit

Kingpins[4]

Inventive

Advanced

Brogrammers[3]

Trailblazers

Keen

Advocates[4]

Forecasters

Strategists

Awesome[5]

Preeminent

Undefined[8]

Assemblage
One-Word Scrum Team Name Generator
How to Create a Good One-Word Scrum Team Name
Scrum Teams don't necessarily require team names, but creating a team name can serve as a bonding activity and start your project off on the right foot.
Your team will have fun brainstorming and, if any team members haven't worked with each other directly before, they'll get to know one another's personalities a bit before the project formally begins.
Keep the following tips in mind to find the best one-word Scrum Team name:
Think of what excites you about the project. Are you super excited to theorize, organize, or troubleshoot? Use that as the basis for your team name (for example, theorize could become "Theorists").
Pick a theme. Have everyone on the team jot down a favorite animal, color, mononymous movie character, or another specific thing. This will create a themed list of easy one-word names to choose from.
Think about the function of your team. Are you the innovators, problem-solvers, or blueprint-makers of your company? Choose a word that describes your team's function amongst the larger project or division.
Of course, Scrum Teams are all about cooperation, so ask for input from your teammates. Have everyone write their ideas on an anonymous notecard, or take a vote. The best team name will be one that every member agrees on!