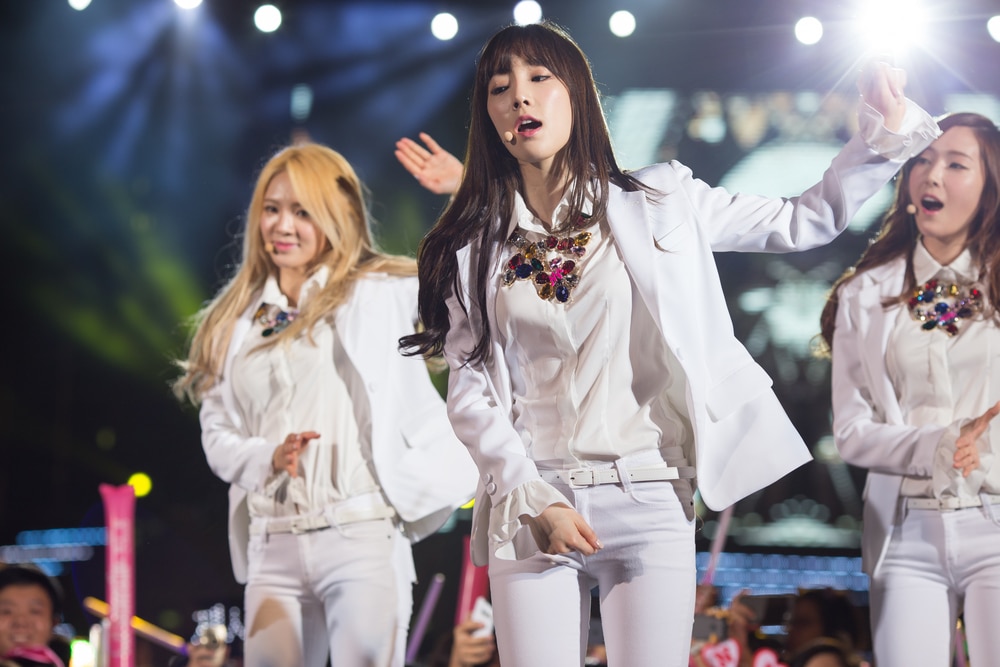 K-pop — short for Korean pop — is a genre of music taking the world by storm.
While popular music in Korea has been around much longer, the foundations of K-pop as we know it today — with its focus on well-trained, multi-talented artists — first emerged in the late 1980s and early 1990s with the boy groups SoBangCha and Seo Taiji and Boys.[1]
In the decades since K-pop has grown into an internationally famous style of music and massively influential industry, contributing over $9 billion to the Korean economy each year.[2]
With groups like BTS and Blackpink topping worldwide charts and breaking YouTube records, you might be inspired to make your own group… or just write a story about one!
Below, we have K-pop group name ideas for boy groups, girl groups, and coed groups.
Note that you don't necessarily need to choose a name based on your group's gender; we've separated the list this way for groups looking for gender-specific names, but feel free to choose whichever name suits your group best!
You can also scroll past the list for tips on creating your own K-pop group names.
Coed Groups
V5[3]

short for "five voices"

UNA1[3]

short for "united as one"

Aces

MIX5

for a five-member group

9ine[4]

Nth Level

Destiny[5]

In The Zone

Unit 99

99 is a lucky number in numerology

Hallyu Dreams

"Hallyu" refers to the growth/popularity of Korean culture

Soul2Seoul

Retrograde

KWL

Korean Wave League

Haeng-Syo

peace out

K. Thx.[4]

Youth Fountain[5]

2 LAND[6]

Lucky 13

Hwaiting

support/encouragement

Superstitious

Dance Theory

Vibe[7]

KCC

Korean Culture Crew

Um-Yang

Korean term for Yin-Yang

Never Random

Standard Variance

Go-Stop!

Double Happiness

Friendship Squad

Aegyo Society

cuteness
Girl Groups
NOVA

H4RMONY

"harmony"; for a four-member group

MYSTIC

RO5EY[8]

pronounced "rosie"; for a group with five members

Cherish

X-POSURE

Shimmer

Prism

BL15S

"bliss"

Bloom[7]

Tomorrow Moon[6]

Girls Next Door

Aurora[8]

Vixenne[8]

Galax-E

"galaxy"

Krush[8]

XOX[7]

5tyle[6]

Flutterby[9]

Neon Hearts

st*rdust

Pastel X[6]

Midnight[8]

Honey

Girls Evolution[8]

AKG[7]

short for "Any Kinda Girls"

DNG[8]

Dynamic New Girls

Soliel

WONDER

Ever Gems[6]

Metamorphosis

Yellow Bloom[8]

Pink Berets

Sister Status

Sugarr

Kiki

Shades of Pink

Pastel Milieu

pastel environment

Rebel Girls

Ladybug[5]

First Memory[10]

Crop Top Collective

Vogue Approach

Wild Cats[3]

Catwalk Style

Ladies Ten[11]

Style Collage

Sequin Squad

Daebak Girls

Awesome!

Beh Peuh Brigade

BFFs
Boy Groups
Chain Reaction[5]

ILLUSION

PHOEN.X.

for a 10-member group

X-Change[5]

MIRAGE

DO:ZEN[9]

SHADOW

Riddle[10]

1-UP

TBB

Throwback Boys

quest

Synergy[3]

1More[7]

Cosmic Blue

Timeline

Supersonic[12]

Axis

Torchback[11]

OTE

On The Edge

NDS

Natural Defiance System

A-Gamers

No Limits

Nth P.M[6]

5OAK:[3]

REF

Red-Eye Flight

B3ST

best

Late Notice

Escaping Velocity

Code Name Z

6-Con[12]

short for "five of a kind"

Reaction Mode

Equilibrium[13]

Rage Mania

Namu Jjang

too cool

300[12]

HHU

Hip Hop Underground

Seems Legit

Level 10,000

One Union[12]

Shock Waves

Knights
K-Pop Group Name Generator
How to Create a K-Pop Group Name
K-pop group names can seem very quirky and unique, but there are often real logic and meaning behind them!
For example, Seventeen stands for the 13 members, who make up three units and one team — 13 + 3 + 1 = 17. The girl group Twice got its name because its goal is to touch people's hearts twice (through their ears and their eyes).
K-pop groups have powerful marketing teams behind them, but you don't need help from professionals to find the perfect name for your group.
You also don't necessarily need a deeper meaning behind your name — you can choose anything that sounds good to you!
However, brainstorming different meanings can help you come up with the perfect name more easily.
You can make your name as obvious or cryptic as you want, but keep the following tips in mind while creating it:
Use acronyms. Acronyms are very common in K-pop group names; if there's a phrase that you like, just take the first letter of each word to create your group name. You can even choose an acronym with multiple meanings to give your group a sense of mystery and depth.
Use English words. Most popular K-pop groups have names that either include English or translate well into English, such as Stray Kids, Twice, Red Velvet, and Dreamcatcher. You can name your group after random objects, foods, mythical creatures — anything you like. Make the name more unique by slightly altering the spelling of the word, combining words, or putting some numbers in place of letters.
Choose your concept. As you're probably already aware if you're a K-pop fan, groups tend to follow particular "concepts," such as retro, futuristic, or supernatural. Though some groups do change concepts over time while keeping the same name, the group's songs, music videos, and public image usually stick closely to the concept. Decide on a cool concept with your group and choose a name that reflects the concept you want to portray.