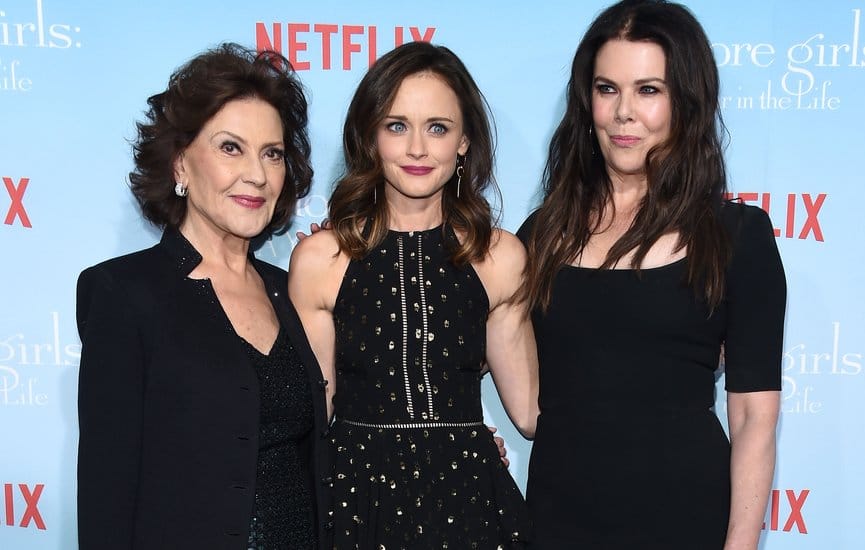 "Gilmore Girls" premiered in 2000[1] and quickly became known for its fast-talking characters and big heart.
With the small screen dominated by reality shows like "Survivor," sitcoms like "Malcolm in the Middle," and adventure stories like "Andromeda"[2] "Gilmore Girls" offered something different: a story of a bookish girl being raised by her young, single mother in a small, quirky east coast town.
While the 2016 follow-up miniseries "Gilmore Girls: A Year in the Life" met with mixed reviews,[3] "Gilmore Girls" remains one of the most cherished TV series of the early 2000s.
Fans of the show have even held Stars Hollow-themed festivals[4] and compiled reading lists based on Rory's personal library![5]
"Gilmore Girls" trivia night requires the perfect name for your team. Our list features a great range of choices.
If you want to create your own unique "Gilmore Girls" trivia team name, we have some tips below the list.
The Kirkettes[6]

We Smell Snow!

You've Been Gilmored[7]

Team Logan

The Reigning Loreleis[7]

Emily's Elite Club

Coffee Coffee Coffee[8]

Cotillion Collective

Team Jess

The Hep Aliens

Life & Death Brigade

Team Dean

Women of Questionable Morals[7]

The Vicious Trollops[7]

90% Water, 10% Caffeine[7]

The Chilton Crew

Lorelai's Fast Talkers

Rory's Rebels

Stars Hollow Heroes

Donna Reed Fans

The Bangles Bunch

No Cell Phones[8]

Love, War, & Snow

Oy With the Poodles![8]

The Haunted Legs[7]

If Eating Cake is Wrong, We Don't Want to Be Right[7]

Off to Harvard

Dragonflies

Secret Loan Legacy

The Troubadours

The Inns & Outs

Yale Sisterhood

The Prodigal Daughters

Super Cool Party People[7]

How About That Schnitzel?[7]

In Omnia Paratus[7]

Call Us an Ooo-ber[7]

Jumbo Coffee Generation

Cat Kirk Association

Pop Tarts & Pizza

The Paris Effect

More Coffee Please!

Friday Night Nation

Luke's Flannel Force

Sookie's Squad

Bookworms United

Ice Cream Queens

The Ballroom Dancers

Rory's Dormmates

Movie Night Club

The Living Pictures

Chez Gilmore Gang

Firelight Fellowship

Plagiarism Patrol

Freelance Journalists

The Sofa Surfers

Gazebo Guild

The Wallowers

1,000 Yellow Daisies

The Backwards Caps

Independence Inc.

Stars Hollow Kropogs

Starchy Fingers Clan

Innkeepers

Lane's Legends

Dance Marathon Contestants

Jeep Jammers
"Gilmore Girls" Trivia Team Name Generator
How to Create an Awesome "Gilmore Girls" Trivia Team Name
Create an excellent "Gilmore Girls" trivia team name using the following tips:
Name your team after your favorite character. Pick a character to name your team after, then choose a descriptive word or phrase to complete your unique name.
Think about places and events featured in "Gilmore Girls." If you and your team have a favorite event or place from "Gilmore Girls" you can incorporate it into your team name. Add your own descriptive word or phrase to a place or event from the show to make your name special.
Create an acronym that refers to the show. You can use an existing word that perhaps was used on the show, or create your own. One option is to use the first letter of the names of your team members. Make it as simple or complex as you like. Get creative!
Reference pop culture or quotes from the show. "Gilmore Girls" is known for its pop culture references and funny quotes. If you have a favorite, create a team name with it. There are so many great ones to choose from!