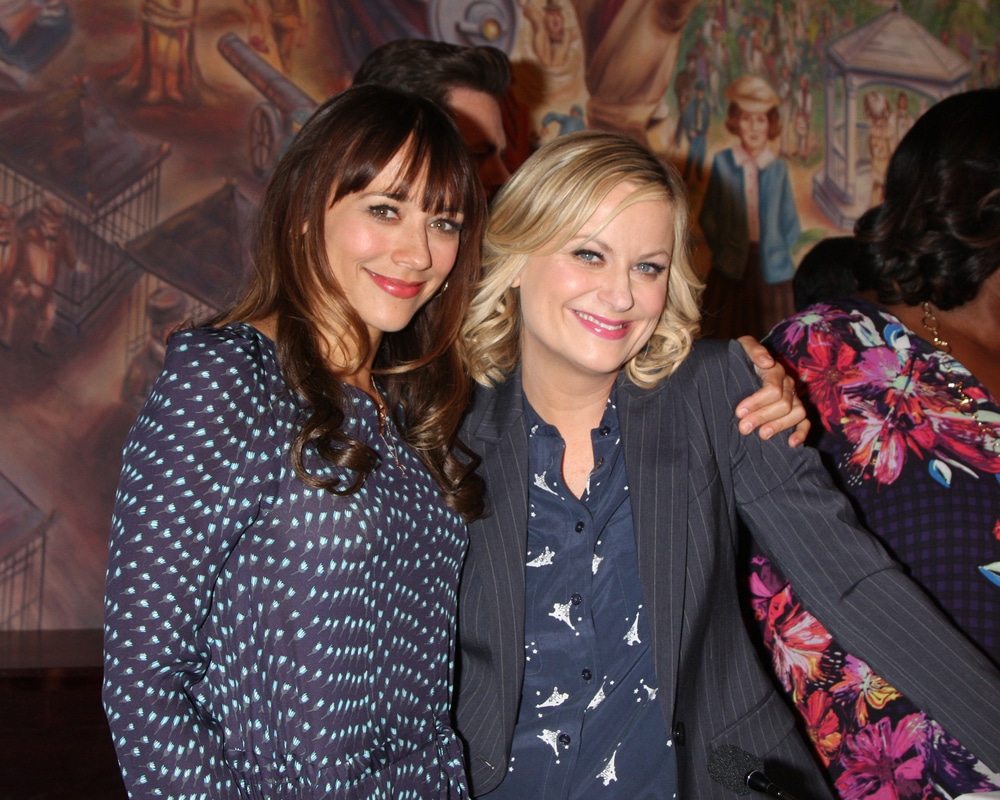 Originally titled "Public Service," the TV comedy "Parks and Recreation" was supposed to be a spin-off of "The Office."[1]
The writers decided to keep the mockumentary format but let the show stand on its own[1] — with great success!
During its seven seasons, "Parks and Recreation" received 14 Emmy nominations[2] and a Peabody Award,[3] among others.
"Parks and Recreation" is one of the best-loved TV comedies of all time, and whether you're attending a specific "Parks and Rec" trivia night or just wanted a Pawnee-themed name for your trivia team, everyone is sure to love your team name!
Find 50+ options on our list below, then scroll past the list for tips to help you brainstorm your own team names.
Pawnee Library Association[4]

Quiz Yo' Self[4]

You Got Jammed![4]

Bye Bye Li'l Sebastian

The Wamapoke Curse

We Have a Permit[4]

The Galentines

I'm Perd Hapley, and This Is Our Trivia Team[4]

The Fairway Franks[5]

Li'l Sebastian's Tribute Team[4]

Duke Silver Trio[4]

Ovaries Before Brovaries

Jerry Larry Garry Terry[4]

The Perdverts[5]

Meat Tornado[6]

Friends, Waffles, Work[4]

The Pawnee Rangers[4]

Entertainment 720[4]

Mean, Conniving, Rude, & Extremely Well-Read

The Human Disasters[5]

The Very Good Building & Development Co.[4]

The Beautiful, Talented, Brilliant, Powerful Musk-Oxen[4]

The Pawnee Goddesses[4]

Jamm Orthodontia[4]

The Reasonablists[5]

Time Is Money, Money Is Power, Power Is Pizza, Pizza Is Knowledge

Minimum Champions[5]

Everybody Pants Now[4]

Work a Little, Ball a Lot

Citizen Knope

Low Cal Calzone Zone[7]

The Crown Clowns of Ice Town[5]

Classy on a Budget

5,000 Candles in the Wind[7]

Andy's Coffee Pot Ramen

Team Bababooey

Inspired by Ourselves

Ya Heard With Perd[6]

Women in Garbage

Eagleton Sucks[4]

Club a Dub Dub

Christmas Scandal

A Series of Words That Have Meaning

Horizons Are Dumb

The Swansons[4]

Everything Hurts and We're Dying

The Several Terrible Options

Fellow Japanophiles[7]

Sister City

We Like People. Places. And things.

The Meagle Mottos

Freddy Spaghetti

The Beautiful Tropical Fish

Just Give Me All the Bacon and Eggs You Have[4]

The Perd-verts[4]

The Cones of Dunshire[4]

Literally Chris Traeger's Favorite Team[7]
"Parks and Rec" Trivia Name Generator
How to Create Your Own "Parks and Rec" Trivia Team Names
Create your own great "Parks and Recreation" trivia team names using the following tips:
Get inspiration from your favorite quotes. "Parks and Rec" is packed full of hilarious and iconic quotes. Get together with your team, collect your favorites, and then see which ones work best as team names or could be easily adapted into team names.
Reference your team's favorite character. Do you look up to Leslie Knope, Pawnee's favorite waffle-loving bureaucrat, or do you relate more to the cynical April Ludgate? Have your team vote to decide on a favorite character (if you don't already share the same favorite), then use some element of that character's personality or plot lines to create a team name.
Look at "Parks and Rec" episode titles. While not as instantly recognizable as the show's iconic quotes, "Parks and Rec" episodes have great titles that can be used to create team names. Examples from our list include "Sister City," "Christmas Scandal," and "Freddy Spaghetti." Choose a favorite episode, or just scroll through a complete list of episodes online and see which titles catch your eye.