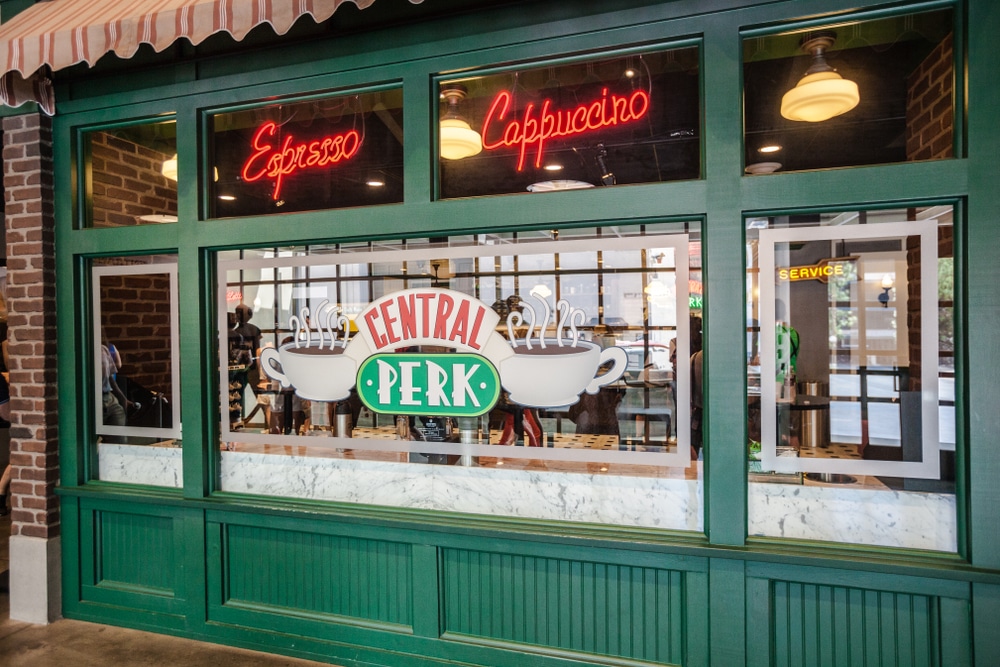 "Friends" is one of the most iconic shows to ever air on TV and is loved worldwide, even decades after its original release.
A great "Friends" team name for trivia night will motivate your team with humor and fond memories of your favorite '90s TV series!
Did you know that alternate titles for the show before it aired included "Insomnia Cafe," "Friends Like Us," and "Six of One?"[1] Or that Courteney Cox shares her character Monica's tidiness?[2]
Along with a great team name, flexing your expertise with facts like these at your next trivia night is sure to bring your team victory!
Our list features more than 80 team name options inspired by the show's iconic quotes, characters, and scenes.
If you'd like to create your own "Friends"-inspired trivia team name, we also offer some tips below the list!
Joey Triviani[3]

The Holiday Armadillos[3]

Joey's Meat Sweats

We Don't Share Food!

We'll Be There For You

The Lobsters

PIVOT!

Transponsters[4]

The Ones With Unagi

The Left Phalanges

I Hate Rachel Green Club[4]

Phoebes and Pheebos

The Moo Points

We Bet Our Apartment On This[4]

Central Perk Peeps

Chandler's Sarcasm Society

The Thanksgiving Flashbacks

A Chick and a Duck

Could We Be Wearing Any More Clothes?

Monica's Cleaning Crew

The Pivot Patrol

Our Eyes! Our Eyes!

Phoebe's Scientist Guys

How You Doin?

Moving to Yemen

The Smelly Cats[3]

The Nubbins[5]

Stylish Like Rachel

Dr. Drake and the Ramorays[3]

Al Pacino's Butt Doubles[4]

Way, No Way[3]

Perfect Pals

Emma's Mannies

The One Where We Win Trivia

We're on a Break

Paleontologist Posse

The Central Perk Coffee Mugs

Bing's Battalion

Ultimate Fighting Champions

Bing's Besties

Gunther's Group

Chandler's Thanksgiving Toes

The Pink Bike Band

Rachel's Assistants

Miss Chanandler Bong's Allstars

We Run Like Phoebe

Hugsy's Herd

Princess Consuela's Kin

The Real Nestle Toulouse[6]

Janice's Laugh

UNGs

Drake Ramoray's Patients

The Purple Doors

We KNOW!

Could We Be Any More Trivial?[4]

Ross's Wedding Guests

Green's Guild

The Buffay Brigade

Caterers for Hire

Orange Sofa Squad

Ramoray's Rebels

The London League

Ursula's Sisterhood

Mac and C.H.E.E.S.E.

Barbados Hair Crew

Yellow Frame Friends

Hand Twins Troupe

Ugly Dog Statues

Fountain Fellowship

Ross's Prehistoric History Guild

NYU Nation

We've Been Bamboozled

Tribbiani's Trifle Tribe

The Blackout Bunch

Ross's Rugby Club

Joey's Jellyfish

Ross's Thanksgiving Sandwiches

We're Rubber You're Glue!

We're Doctors Not Mathematicians

Thanksgiving Pants Alliance

The Evil Orthodontists

Marcel's Matrix

Banana Hammock People

Chandler's Pink Bunnies

Gellar Cup United

Foosball Folly

Chummy Neighbors
"Friends" Trivia Team Name Generator
How to Create Cool "Friends" Trivia Team Names
For more options — perhaps something personalized to your team — you can create your own cool "Friends" trivia team name.
Keep the following tips in mind while brainstorming with your team:
Think about your favorite episodes. You can create a humorous team name using words that describe what happened in your favorite episodes — an iconic scene, central plot point, or even the episode's title. Narrow it down to a single word or short phrase, so your team name remains catchy and easy to remember.
Use your favorite character as a starting point. Though all of the characters on "Friends" are lovable, everyone has a favorite "Friend." Maybe you love food as much as Joey or have a sarcastic sense of humor like Chandler. Use your favorite character's name or personality traits to inspire your team. "Friends" also had many guest stars and memorable side characters through the years — you can consider names beyond the core group of friends.
Get inspired by the show's locations. Think about the places the characters worked, lived, and visited. You can incorporate names like Central Perk (the group's favorite coffee shop/hangout) or Bloomingdale's (where Rachel worked) into your team name.