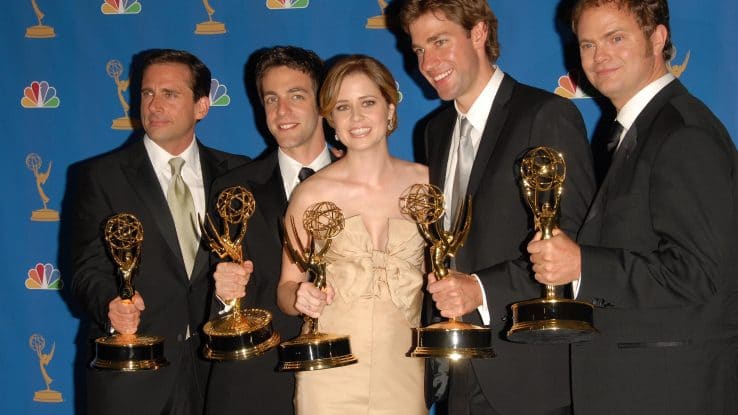 "The Office" is commonly cited as one of the best TV comedies of all time, and for a good reason — not a single episode goes by without belly laughs and some iconic quote or joke!
It was based on a BBC TV series of the same name, but ran seven seasons longer than the British version[1][2] and is often regarded as the better of the two shows.[3]
Though the show ended in 2013,[1] it remains a staple on many of our screens and has given way to events like trivia nights, bar crawls, and fan conventions.[4]
There are even not one, but several "The Office" fan groups on Facebook with over 80,000 members![5]
Whether your own office reminds you of the Dunder Mifflin Paper Company or you're simply a huge fan of the show, we have more than 60 "The Office" trivia team names to choose from below!
Just past the list, we also share our tips for creating your own unique "The Office"-themed team names.
A Little Stitious
Scrantonicity
Dunder Mifflin Derelicts
Regional Shenanigans
Schrute's Squad
Dwight's Disciples
How the Turn Tables
Sabre Society
Ryan Started the Fire!
Happy Hour Heroes
Scott Paper Posse
Lackawanna Legacy
Bears. Beets. Battlestar Gallactica.
Conflict Resolution
The Dundie Winners
World's Best Bosses
WE DECLARE BANKRUPTCY!
The Mediocre Mergers
Beesly's Battalion
Deedle-Dee Dudes: a reference to Deedle-Dee productions, which made "The Office"
Angela's Accountants
Temps Like Ryan
Promoted To Sales
The Scranton Temps
Kapoor's CSRs
The Q.A. Creed
The Soup Snakes
Downsize Denial
It's Stairmageddon!
Dummies, Morons, and Idiots
Livin' the Dream
We Feel God in This Chili's Tonight
On the Work Bus
Diversity Allstars
No More Conflicts
Casino Madness
Secret Keepers
Performance Patrol
Convention Coup
Massive Mergers
Philbin's League
Negotiation Coalition
Beach Game Bingo
Safety Training Circus
Fun Run Rebels
Business School Dropouts
The Survey Squad
New Boss Blues
Casual Friday Gang
Dream Team Society
Surplus of Stress
The Whistleblowers
Office Gossip Guild
Michael's Dundies
Acting Manager's Club
Threat Level Midnight
Nepotism Nation
After Hours Army
The Special Projects
Halpert's Nice Guys
The Flannery Force
Hudson's Heroes
Oscar's Order
Phyllis' Fellowship
Scranton Society
Poor Performance Inc.
The Faulty Printers
How to Create "The Office"-Inspired Team Names
If you're an avid watcher of "The Office," it should be easy to think of quotes and other favorite things about the series to inspire a list full of fun team names.
Keep the following tips in mind to create your own "The Office" team name:
Look up episode titles for inspiration. Each episode of "The Office" has a creative title. Browse through the list and find one that would be perfect for your team. You can use part of the title or use it for inspiration and create your own word or phrase that relates to a title.
Think of your favorite scenes and quotes. "The Office" is full of memorable lines and scenes. Make a list of those that make you laugh no matter how many times you watch them and use them as inspiration for your team names, as we did with options like "How the Turn Tables" and "We Feel God in This Chili's Tonight."
Turn your favorite character's name into an acronym. Take your character's first name or nickname, and assign a descriptive word to each letter. For example, P.A.M. could be Pam's Assistant Managers. This is just a simple example — you and your team can be as creative and unique as you wish!
Name your team after your favorite character. If your team doesn't share the same favorite character, take a vote to find the most popular. You can then add a descriptive word to go along with the character's name (such as Angela's Accountants). You can also take suggestions from team members for the accompanying word.