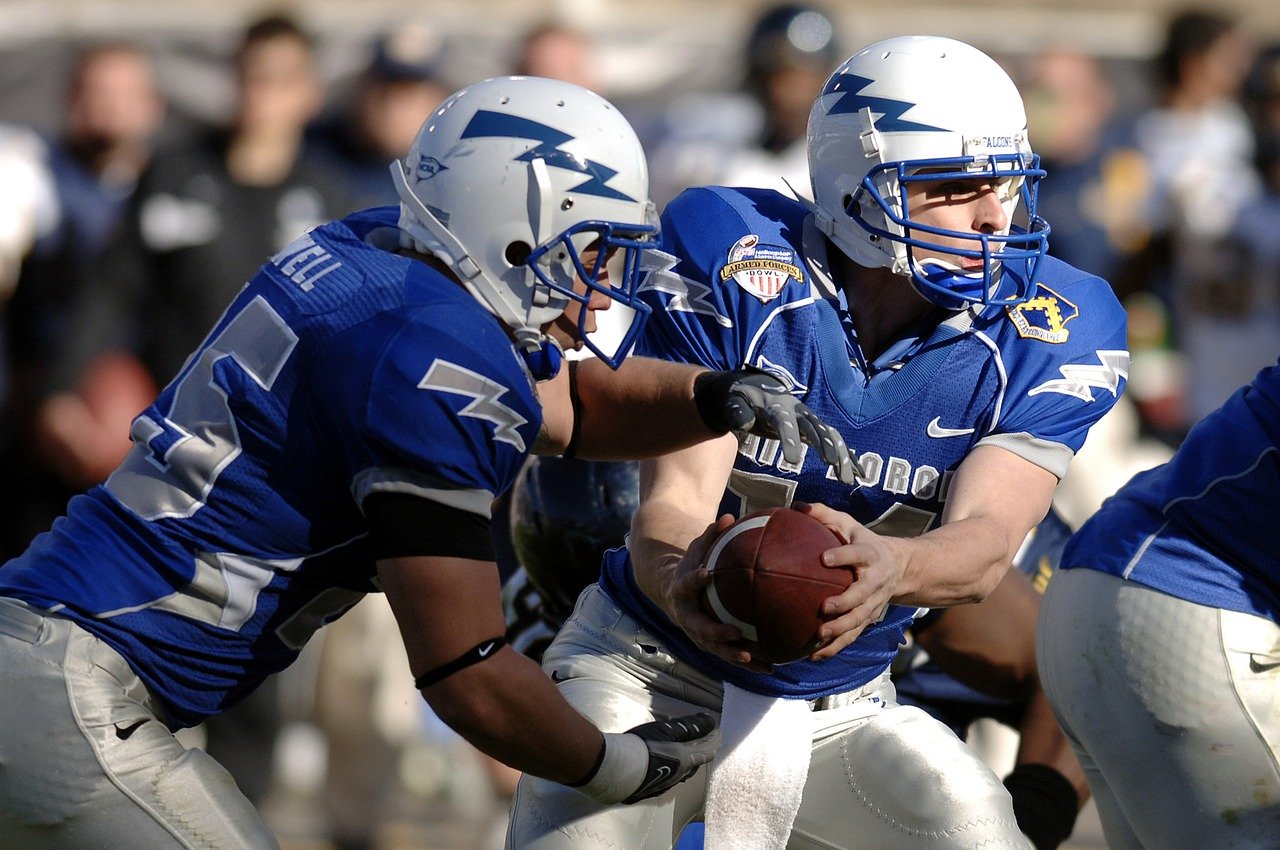 American football has only been around since the 1860s,[1] which makes it a relatively young sport, but despite its relatively recent history, it's one of the most-loved and most-played games!
Football team names can be cool, funny, creative, or serious. Our list features a range of options to suit any football team from corny-but-hilarious puns to intimidating mascots.
A mascot-based name may be the way to go if you want your team to be around for a long time — the Arizona Cardinals, named after the bird, are the oldest continuously-playing team, competing since 1898![2]
If you don't find the perfect option on our list or just want to create your own football team name, we also share some tips to help your creativity flow.
Masterminds

Thunder

Conquerors

The Fight Force

Gladiators[3]

Guardians

The Clippers

Shenanigans

Black Mambas[4]

Gipper's Winners

reference to George Gipp, Notre Dame's first Walter Camp All-American player

Mayhem

Watchdogs

Commandos

Defenders

On Offense

Risk Takers

Rogue Rookies

No Punt Intended[3]

Rough Rebels

Gridirony

a play on the word "gridiron"

Madd Dogs[4]

No Rules

Fire Zone

The Brut Brigade

Goal Getters

Comeback Crew

Grid of Iron

a play on the word "gridiron"

Slaughter Squad

The Field Gulls

Punts Intended

a play on the phrase "pun intended"

Invincibles

The Victors

Firecrackers[3]

Wildthings[3]

Audible Alliance

Wildcat Blitz

Pigskin Posse

Lineup League

Scrimmage Squad

Penalty Patrol

Back-Up Battalion

The Pass Rushers

Blitz Zone

Red Dog Diablos

Mobile Forces

Snap Decisions

Phenomenon

Trouble

The North Forty

Rabid Squirrels[4]

Best Effort

The Lethal Goalers[3]

Drop Kick Kids

Endzone Angels

Dark Horse Legacy

The Tail Greats

Fullback Influence

Gridiron Guild

Fumble Bees

Big Punts Bunch

Case in Punt

a play on the phrase "case in point"

Humble Fumbles

Kick Keepers

Grit & Gusto

Freedom

Severe Threat

Menace Matrix
Football Team Name Generator
How to Create a Good Football Team Name
Creating the perfect football team name can be a challenge; you'll want to find something that reflects your team's vibe and sounds good when pitted against competing teams.
If none of the options on our list above are exactly right for you, keep the following tips in mind and brainstorm more ideas with your team:
Get inspiration from your favorite professional teams. You won't want to create a team name identical to your favorite pro team, but you can look up synonyms for your favorite team's name, choose something that shares a similar meaning, or pick something that sounds similar. For example, if you like the Patriots, you might choose a similar word like "Commandos," "Guardians," or "Defenders."
Get inspiration from your favorite professional player. If there's a pro football player that your entire team admires, you can use their first name, last name, nickname, or number to influence your team name. Use the player's actual name in your team name (for example, Payton's Bears, a nod to Chicago Bears hall-of-famer Walter Payton) or choose something more abstract like "The 34s."
Choose a team name completely unrelated to football, and perhaps add a football-related word to it. There's no rule stating that your team name must be directly related to the sport. Choose a name that has nothing to do with football, like a favorite animal mascot, or combine a non-football word with a game term. For example, if your team loves beer, you can add a football term like "blitz" to it, and your new team name will be Beer Blitz. Think outside the box, and you'll soon have an inventive and unique football team name like no other!