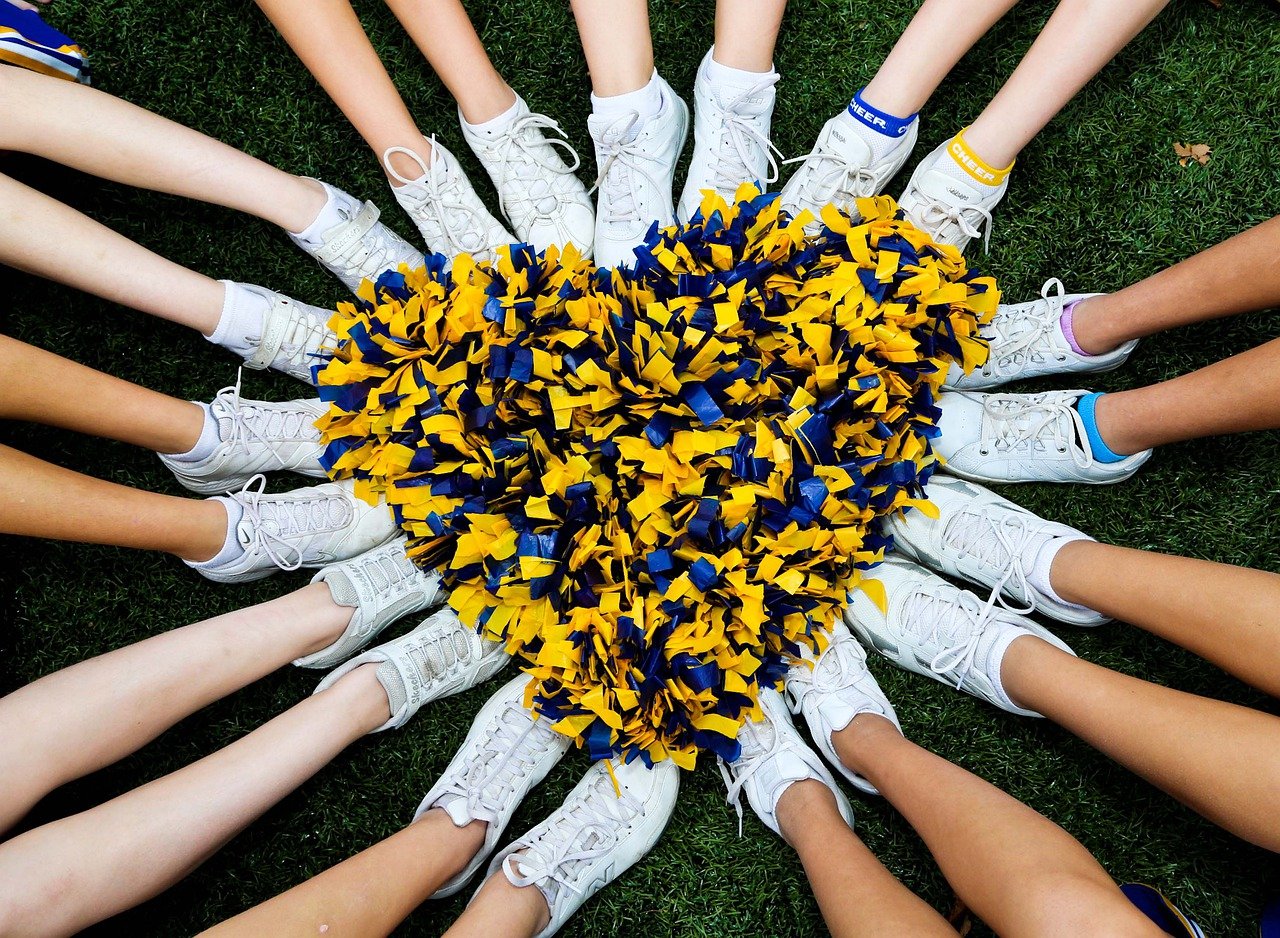 Cheerleading's roots date back to 1898 when University of Minnesota med student Johnny Campbell assembled a team to cheer on the school's football team from the sidelines during a losing streak.
Talking the group through an organized cheer with a megaphone, Johnny Campbell is often considered the very first cheerleader.[1]
By the mid-1920s, cheerleading was a co-ed sport and began incorporating elements of acrobatics, gymnastics, dance, and tumbling.[1][2]
Cheer squad names can boost your team's confidence — and convey that confidence to your competition. You've practiced hard and perfected your skills, so use your cheer team name to show them what you've got!
Our list has a variety of name ideas, or you can use our generator and tips below the list to create more cheerleading names.
Titan Elite[3]

Royal All-Stars[3]

Eclipse Elites

Gold Rush[4]

Storm Cheer[4]

Galaxy Girls

The Dynamite Girls[5]

Fab Force Allstars

Synthesis Sisterhood

Fusion All-Stars[5]

Supernova[3]

Cheer Extreme[5]

Top-Notch Nation

Elite Eclipse

Poise Patrol

Upper Class

Superior Sisters

Glam Girls

Ultimate Magic

Cosmic Level

Spirit Elite[4]

The Fearless

Ultimate Power

Cheer Power

Divine Division

Effectual Power

Elysian Elite

First Class Club

The All-Star Force

Elite to Infinity

Falling Stars

Credence Crew

Assurance Alliance

Sparks Fly

Illustrious, Inc.

Vast Influence

The Prestigious

Clear Advantage

Lightning Bolts[5]

Dominant Influence

Leading Advantage

Dominion Status

The Jet Set

Celestial Collective

Aligned Academy

Cosmic Sources

Sublime Sisters

Just Smashing

Elevated Nation

Uplifting Optimism

Cheerful Advantage

Team Efficacious

Imposing Influences

Foremost Force

On the Map

Allstars Renowned

Invincible

Upbeat Union

Elevated Elite
Cheer Squad Name Generator
How to Create Your Own Cheer Squad Name
Cheerleading isn't just waving pom-poms around — it's a sport that takes a lot of discipline and skill. Your cheer team name should be bold and powerful.
Create your own cheer squad name using the following tips:
Use words that have uplifting meanings. Consider positive and uplifting words like "elite" and "fearless" to project a great vibe for your cheer squad. Start by making a list of words that your team finds motivating and inspiring; you can look up synonyms to create an even wider range of possibilities.
Pick a word that describes your cheer team collectively. Think about your team members' strengths and talents. Build a team name off of a word that reflects your team as a whole. You might even want to take suggestions from the team or take a vote on which words are most reflective of your aura.
Adapt some of the choices on our list. If you don't find your perfect cheer squad name above, you can use our names as a jumping-off point for inspiration. Pick out particular words that stand out to you, add or remove words, add numbers, or change up the spelling to create a name that's unique and personal.