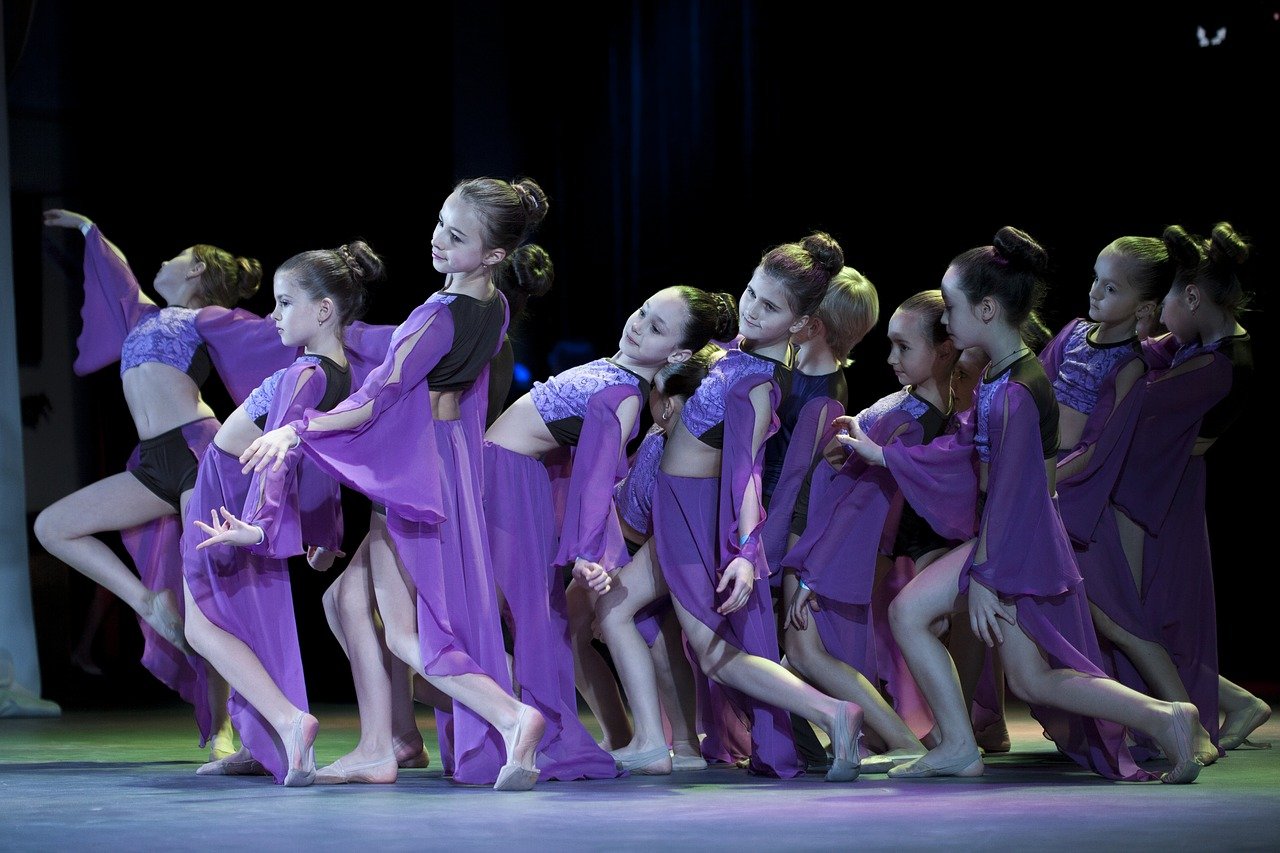 The history of dance goes back nearly as far as the history of humankind. It even predates written language!
Now and in the past, dance has been a valued ritual and ceremonial practice. As our cultures have developed, it's also become an art form and means of self-expression.[1]
Dance is not just a mesmerizing-to-watch cultural practice but also great for the dancer's health! It provides a fun way to stay fit and is shown to reduce stress and prevent heart disease.[2]
Dance team names can be motivational and fun while keeping with the spirit of healthy competition.
Choose one of the 80+ dance team/crew or majorette team names from our list below, or if you want to create your own team name, we offer some tips beneath the list.
Rhythm Rebels

Movement Matrix

With Attitude

Dancing Free[3]

Elevated Steps

Shuffle Squad

Spin Sisters

suitable for a majorette team

Bliss

F8

a play on the figure eight majorette move that sounds like "fate"

Style Influence

Dance & Drill[4]

Unity

Figure8

suitable for a majorette team

Synergy

Off the Ground

Rocket Steps[3]

Tigerettes[4]

Boogie Down[4]

The Twirls

suitable for a majorette team

The Sideline Society

Pure Dance

With the Band

suitable for a majorette team

The Tempo Troupe

Backflip Battalion

Rhythm Alliance

Divine Dancers[4]

Energetic Movements

Theory of Step[3]

Exhilaration

Freedom Twirlers[4]

The Dudettes

suitable for a majorette team

Two Left Feet

Ignited Spirits[3]

Euphoria

Wicked Limbs[3]

On Cloud Nine

Rug Cutters[3]

Twirly Girlz Baton Corps[4]

Without Hesitation

Lady Shufflers[3]

Abstract Ideas

Tempo Masters[3]

The Strutters

suitable for a majorette team

Defining Moves

Spontaneous Interpretations

Extravagant Styles

Whirligig Gang

suitable for a majorette team

Dance Evolution

Rhythm Rivals

Whirly Girls

suitable for a majorette team

Ignited

Up Tempo

Pattern of Rhythm

Starettes

a combination of "stars" and "majorettes"

Let's Dance!

In Harmony

Transported

Infin8y

a play on "infinity" that incorporates the majorette move of figure eight

Over the Moon

Competitive Edge

Prestige Posse

SALUTE!

suitable for a majorette team

Our Niche

In a Frenzy

Revolution

The Dazzlers

suitable for a majorette team

Step by Step

Overjoyed

Storm Force

Lethal Energy

Super Groovers

The Dance Makers

Rhythm Routine

On Parade

suitable for a majorette team

Velocity

Acceleration

With Momentum

Movement Elite

Evolution

The High Steps

suitable for a majorette team

The Sync Squad

Toe Tappers

Groovin'

Inertial Forces

Celestial Spirits

The [Team]ettes

add "ettes" to the name of your accompanying band or team for a majorette team name, e.g., "The Bearettes" if you accompany a team called The Bears

Generation Dance
Dance Team Name Generator
How to Create a Great Dance Team Name
If you haven't found the perfect name for your dance team or crew on our list, you may want to create your own name — something that's more personal and unique to your team.
To create a great dance team name, consider the following tips:
Use dance terms and their synonyms. Think of all of the dance terms related to your specific area of expertise — particular steps and movements, dance styles, or costumes and props. These can be great inspiration for a team name that really reflects your passion for dance. You can also find inspiration from movies and songs. Any word or phrase that is unique, describes your dance team, and keeps you motivated to do your best will make a great dance team name.
Combine several words for a phrase of your own. Come up with a short descriptive phrase that describes your dance team perfectly. Perhaps each team member would like to create a name to submit and then put the final choice to a vote. You can also have a brainstorming session with your whole team, creating a list of words, then deciding how many you want to combine and which are most popular with the group.
Consider your group demographics. Are you a high school dance team, a professional dance team, or a group of beginners just looking to have fun? Whatever the case, it's important to choose a name that's both appropriate for your group and reflects your personalities.

Consider the competition. To make sure your name isn't too common, look into the names of past teams, as well as current teams you'll compete with.