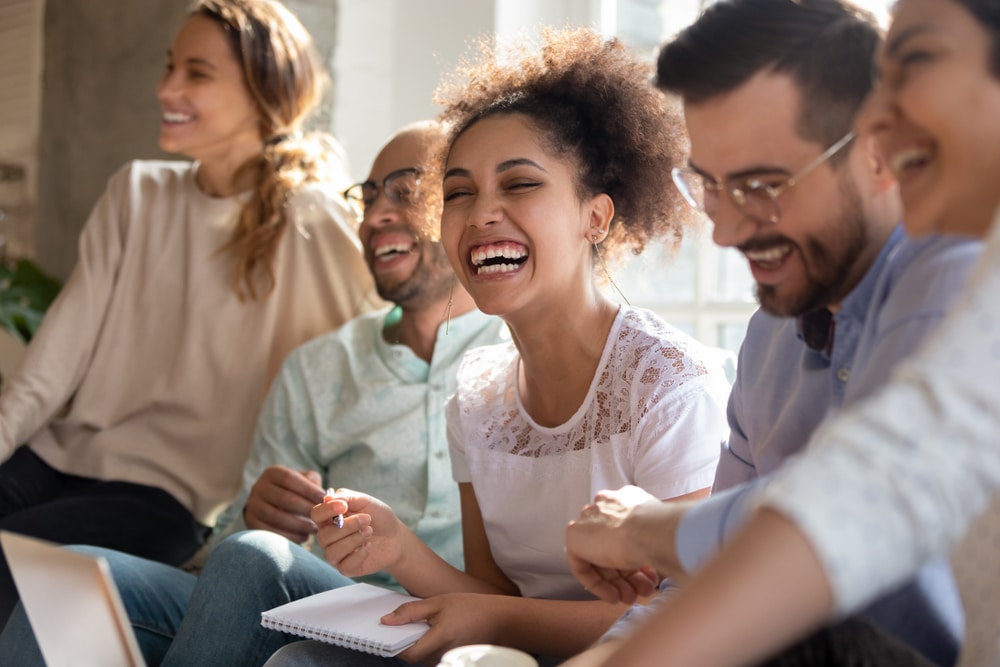 To be witty is to have a talent for coming up with clever, insightful, and amusing statements at the drop of a hat.[1]
Since it's a difficult skill to master, it's often seen as a sign of intelligence and a sharp mind.[2]
There are various types of wit. You may have heard the phrase, "sarcasm is the lowest form of wit"[3] — banter, wordplay, puns, wisecracks, and deadpan humor are also types of wit.[4][5]
Witty team names can be appropriate for a variety of work and leisure teams. If your team is seeking an inventive and humorous name, you might consider a witty team name.
Of course, if your team is professional, you'll need to create a name that's tasteful as well as witty.
Choose one of the 60+ options on our list below, or check out our tips for creating your own witty team name after the list.
Tongue Twisters

Shimmy Shakers

Ketchup If You Can[6]

Sidewalk Prophet Squad

Goal Diggers

Occupational Hazards

Educated Guesses

Profound Nuances

Free Foulin'[6]

Clever Shadows

Number Crunchers

accountants

Team Oxford Comma

Gone With the Win[6]

Kicking Assets

Adept Inhabitants

Rusty Halos

Droll Derelicts

Big Time Winners

Skilled Mortals

Primary Colors

The Underdogs

Ties and Tiaras

Making the Grade

Barefoot Executives

Nothing Is Everything

minimal

Catch Us If You Can

Blood Bath and Beyond[6]

Dream Catchers

Dynamic Energy

Control Freaks

Creative Comics

Creative Punishment

Attention Deficit[7]

Dream Crushers

Flying Sparks

The Germophobes

Invisible Wizards

Magnetic Fields

The Plaid Pantsuits

Sand Dollar Millionaires

The Most Piquant

exciting

Techie Tribe

Variations of Wit

Witty Wanderers

The Chucklesome Ones

Ever Clever

Comical Misunderstandings

Sidesplitting Anecdotes

The Mullet Mafia[7]

Dribblers[7]

Risky Quizness[7]

Public Scratchers[7]

Pavement Princesses[7]

Out of the Cubicle[7]

The Crybabies[7]

Twisted Blisters[6]

Running on Empty[6]

Also-Rans[6]

The Turf Burns[6]

We Got the Runs[6]

Bag of Chips[6]
How to Create Your Own Witty Team Names
Try the following tips to create your own witty team names:
Turn to the masters. You can get inspiration for witty team names from people known for their skilled wordplay, such as writer/filmmaker Nora Ephron, rapper/songwriter Jay-Z, or writer Dorothy Parker. Look up quotes and quips from these writers to help generate ideas of your own.

Use fun facts about your team. The secret to a witty team name is quick humor and uniqueness. Create a witty team name by choosing a descriptive word or phrase about your team or one that can be tweaked to form a quick-witted name.
Think of witty words or phrases you already know or use. A witty team name may be right in front of you once you consider some of the humor you use on a day-to-day basis.
Vote on your favorite. If your team is on the creative side, have each member submit a witty team name and put the winner to a team vote. If you have several great options, try combining them in a unique or unusual way. Get creative!