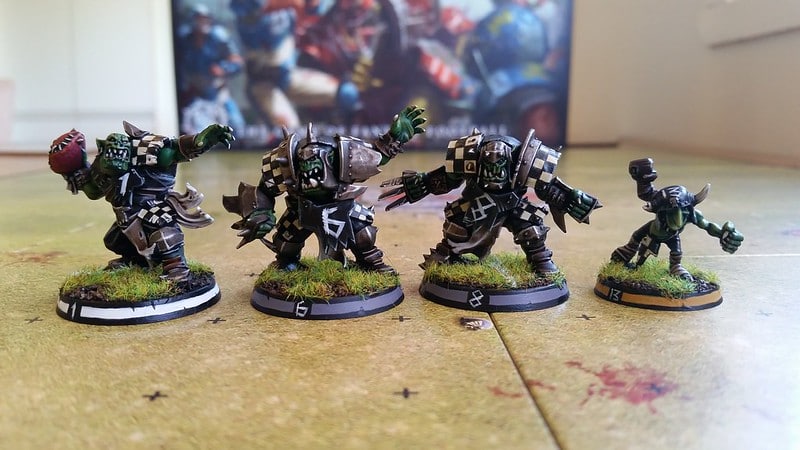 Blood Bowl was first released in 1986 and places fantasy football within a fantastical world full of orcs, dwarves, and other mythical creatures.[1]
Goofier than most games, it plays on American sports culture while throwing in twists. For example, there are linemen like in regular football… but they're zombies.[2]
Blood Bowl team names typically reflect the fantastical and exciting vibe of the game.
While competitions take place worldwide — including Italy, Germany, France, Spain, Poland, and Sweden[3] — team names are usually in English.
Our list has a range of options to choose from (over 50!), but if you'd rather create your own Blood Bowl team name, we also share some brainstorming tips below the list.
Gratuitous Violence

Legacy of Doom

Ravage Rebels

Bribe Battalion

Perilous Posse

Orcidas Orcs

Catastrophic Crew

In Shambles

The Lizardmen

Infinite Darkness

The Grudge

Slayer Contract

Agile Elves

Greenskins Guild

Ransack Remedy

Intimidators

The Big Guys

Troll Trouble

Cyanide

Surly Society

Wreck & Ruin

Carnage Causers

Slayer Squad

Annihilation Alliance

Raw Talent

Dwarf Derelicts

Zombies Pass

Chaos Edition

Gridiron Grind

Mess Exodus

Orc Ogres

The Blitzers

Guardian Goblins

Warhammers Inc.

Fight Or Flight

Hazardous

Gladiator Mayhem

Gnarly Massacre

Devastation

Desolate Dudes

Wasteland

Wreaking Havoc

Chaos United

Monstrous Ones

Ghoul Group

Mercenaries Matrix

Halfling Heroes

Armor Assets

Tackle Zone

Vital Blood

Chaotic Skills

Midnight Maulers

Avenging Ogres

Nightmare Nation

Chainsaw Scramble

Dungeon Dwellers

Rogue Raiders
Blood Bowl Team Name Generator
How to Create an Awesome Blood Bowl Team Name
Create a cool Blood Bowl team name using the following tips:
Make a list of words that Blood Bowl brings to mind. An excellent place to start when creating a team name is to make a simple list of words. Jot down any term that comes to mind when you think of Blood Bowl. You can use a single word or come up with a short phrase to effectively represent your team.
Get inspiration from the team itself. Is your team comprised of Halflings, Ogres, or Humans? Base your team name on the type of fantasy teammates you have. You can use physical features, strengths, or general descriptive words to create an individualistic name for your one-of-a-kind team.
Create a name referencing a real-life person or company. There are many references to real people, companies, and products in Blood Bowl. You can do the same by altering your favorite people's or companies' names to create a team name. A clever parody can make for a hilarious, fun, and creative team name!