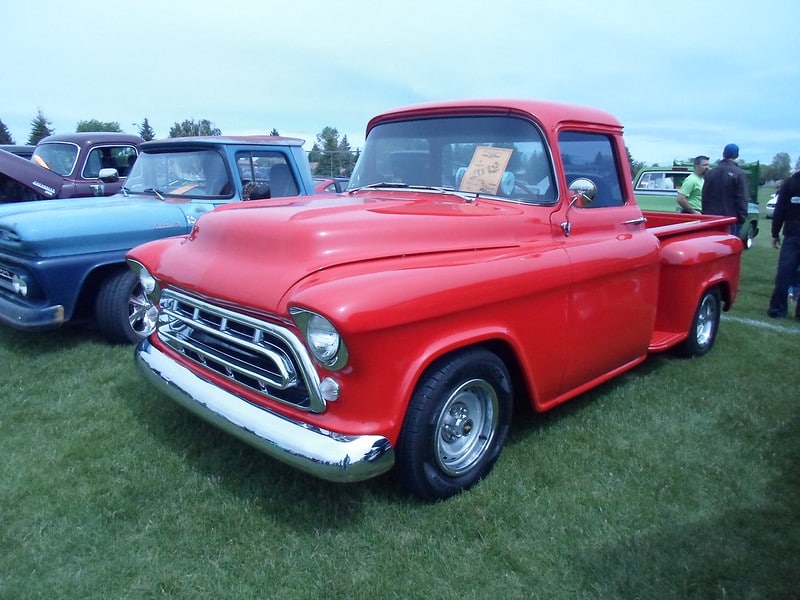 Trucks have a history almost as long as cars, with the first being introduced by Gottlieb Daimler in 1896.[1]
From customs to classics to the newest and most tech-savvy, truck clubs are a fun way to connect with fellow truck enthusiasts, talk about your favorite makes and models, and learn about truck history and modifications.
While it's hard to say precisely how many truck clubs there are in the U.S., online directories like Sportruck.com list several hundred,[2] some with specialties like mini-trucks, lifted trucks, or lowriders.
When creating a truck club, it's essential to choose a name that is catchy, clear, and will appeal to like-minded people who might want to join your group.
Below, we list our truck club name ideas, plus provide a name generator and tips for creating your own group name.
Sky High Truck Group[3]

Rock Crawlers

Team Throttle

Rough Road Riders

Truckverse[3]

Mud Pit Rovers

Boggers in Exile

Maximum Amps

The Bro Dozers

All About Traction

The Mud Slingers

The Coal Rollers

Coal Crew

Limited Slips

Heavy Haulers Club[3]

Mud Boggers

Where's the Mud?

High Ground Cruisers[3]

On the Rocks

Angel Rust[4]

Fully Engaged

Real Truckers Club[3]

Zero Obstacles

Road Titans[4]

Mudders at Large

All Jacked Up[3]

Drag Links

Speed Equalizers

Axles at Angles

Sidewall Squad

Club & Chassis Crew

Death Wobblers

Roll Bar Brigade

Born Truckerz[3]

The Shock Boots

Lug Nuts Nation

Freedom Drivers[3]

Socket Key Krew

Unpaved Ground

Path Planners

Always Unpredictable

Modification Matrix

Terrain Traversers

Dune Bashers

In the Green Lane

Out of the Ditch

Precise Maneuvers

All-Terrain Approved

In Low Gear

Descending in Control

Aftermarket Suspension

Gnarly Trail Victors

Locking Differentials

Off-Road Desperados

Accepting the Challenge

Obstacle Conquerors

G-Force Group

The Gumbo Bunch

Directional Tread

Custom Grooves

On Rough Ground
Truck Club Name Generator
How to Create a Great Truck Club Name
As long as your name is truck-related, it can be anything you want it to be, from a joke about muddy tires to a name that targets drivers of a particular truck model.
To create your truck group name, you should consider the following:
Specificity: Will your club focus on one specific make or model? If so, be sure to include a reference to that in your group name. This will make it easier for people to find your group and decide whether it's fit for them to join.
Tone: Do you want a name that will make people laugh or seem tough and cool? The focus of your group might impact this — for example, if you're an off-road truck group, you might lean toward something that sounds adventurous.
Members: Who is already in or will join your truck club? Would you prefer to restrict membership to people of a certain age or gender? Or, perhaps your group is for residents of a particular city. Consider mentioning these demographics in your group name. If your group is open to anyone, choose an inclusive name so potential members immediately know they're welcome.
With these tips in mind, you can get inspiration from many places: truck parts, driving terminology, pop culture that references trucks, and more!