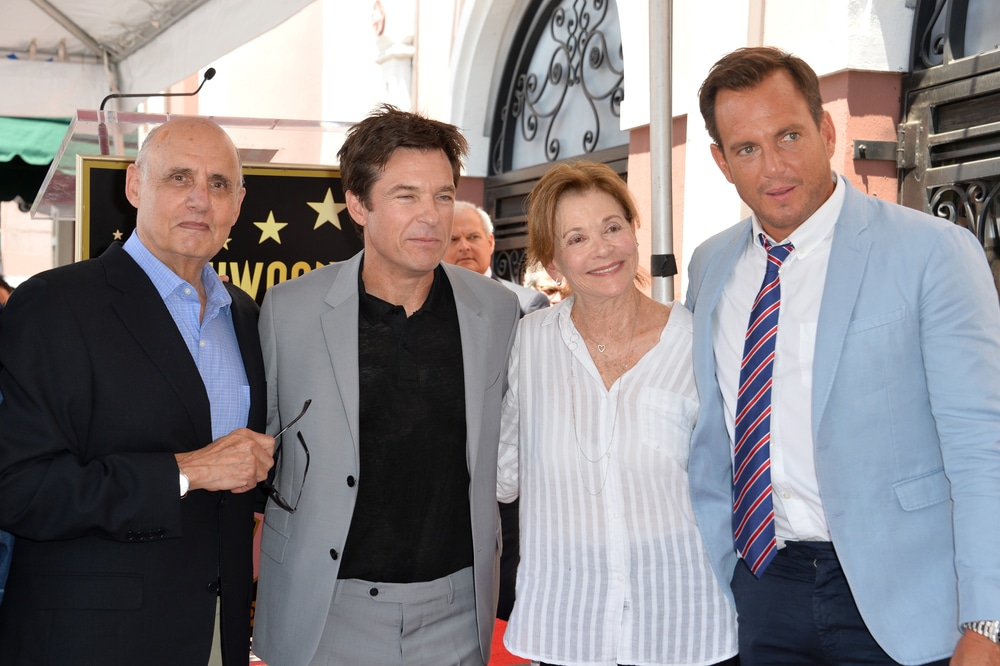 Now, the story of a wealthy family who lost everything… and the one team who had no choice but to choose a name inspired by them. It's "Arrested Development" team names!
First airing in 2003, "Arrested Development" originally ran for just three seasons but managed to gain a cult following and was revived for additional seasons in 2013.[1]
Packed with iconic quotes, complicated family matters, and flawed characters, "Arrested Development" is the type of show you can watch over and over, gaining new insight each time.
In fact, network executives found the show too complicated, asking creator Mitch Hurwitz to sign a contract agreeing to make it easier to understand![2]
Luckily for us (the viewers), he didn't comply.
Whether you're playing fantasy sports, participating in a trivia night, or naming a group chat, we can help you find the perfect name.
Choose one of the 70+ options from our list below or scroll past the list for tips to help you create your own ideas.
Light Treason

Neither Seen Nor Heard

We've Made a Huge Mistake

Dead in California > Alive in Arizona

The Mayoneggs[3]

Bob Loblaw's Law Blog[4]

Hot Cops[3]

The Never Nudes[4]

Her?[4]

STEVE HOLT!

Les Cousins Dangereux[3]

Caged Wisdom[5]

Unlimited Juice

And That's Why You Always Leave a Note!

The Milford Men[4]

Dr. Funke's 100% Natural Good-Time Family Band Solution[4]

Mom Says It's Too Windy

For British Eyes Only[3]

Mr. Manager

Taste the Happy

The Christian Music Bonfires

Gene Parmesan's Investigations

Maybe Tonight

Bridges and Hop-Ons

TEAMocil[6]

J. Walter Weatherman's Life Lessons

Go See a Star War

The Law Offices of Barry Zuckerkorn

You Got a Stew Going!

Chicken Dance[4]

My Uncle Is My Father

The Fire Sales

We Don't Care for Gob

The Loose Seals

The Bananagrabbers

Pop Pop in the Attic

Return From Whence You Came!

Lucille 2's Vertigo

Illusions, Michael[6]

There's Always Money in the Banana Stand[4]

Stair Car Basics

Say Goodbye to THESE!

The Alliance of Magicians ft. Tony Wonder[3]

Annyong!

Dirty Ears Bill

Operation Hot Mother

MR. F

Hey, Brother![4]

COME ON!

The $10 Bananas

Sitwell, Standpoor

Buster's Cartographers

Franklin Comes Alive

The Featherbottoms[3]

Marry Me!

Buy-Curious[6]

Narrated by Ron Howard

Surely Funke's Fundraisers

Dead Dove, Do Not Eat

Hot Ham Water

Motherboy XXX

Justice Is Blind

Sea of Waiters

Won't Hear It, Won't Respond to It

Awards From Army[6]

Family Love Michael[3]

The Bluth Company

The Model Home Squatters

El Amor Prohibido

Afternoon Delight

I'M A MONSTER!

The Ice Cream Sandwich Love Affairs

The Stay-in-Bed Moms

No Touching[4]

Soy Loco Por Los Cornballs

Looking For Hermano

Blue Man Understudies[4]
"Arrested Development" Team Name Generator
How to Create Your Own "Arrested Development" Team Names
Use the following tips to brainstorm your own "Arrested Development" trivia team names:
Use iconic quotes from the show. "Arrested Development" is best remembered for its clever writing and iconic quotes. There are hundreds of fan favorites! Have each person on your team contribute a favorite, then take a vote to narrow it down to one perfect team name.

Make a play on your favorite character's name. From the Bluth family themselves to memorable side characters like Barry Zuckerkorn and Cindi Lightballoon, note your favorite characters and see if you can think of any puns or jokes related to their names. You can also use personality or character traits to create your team name.

Get inspiration from the show's locations. The Bluth family lives in California, but some more specific locations in the series might inspire your team name. For example, you could create a name inspired by the Milford School, the Sudden Valley housing development, Balboa Towers, and Wee Britain.

Re-watch the show. "Arrested Development" is one of those shows where even if you only have time to watch one episode, you're guaranteed to laugh many times. Every episode is full of iconic quotes and jokes. Watch an episode (or binge a season) with your team and jot down your favorite parts for team name inspiration!