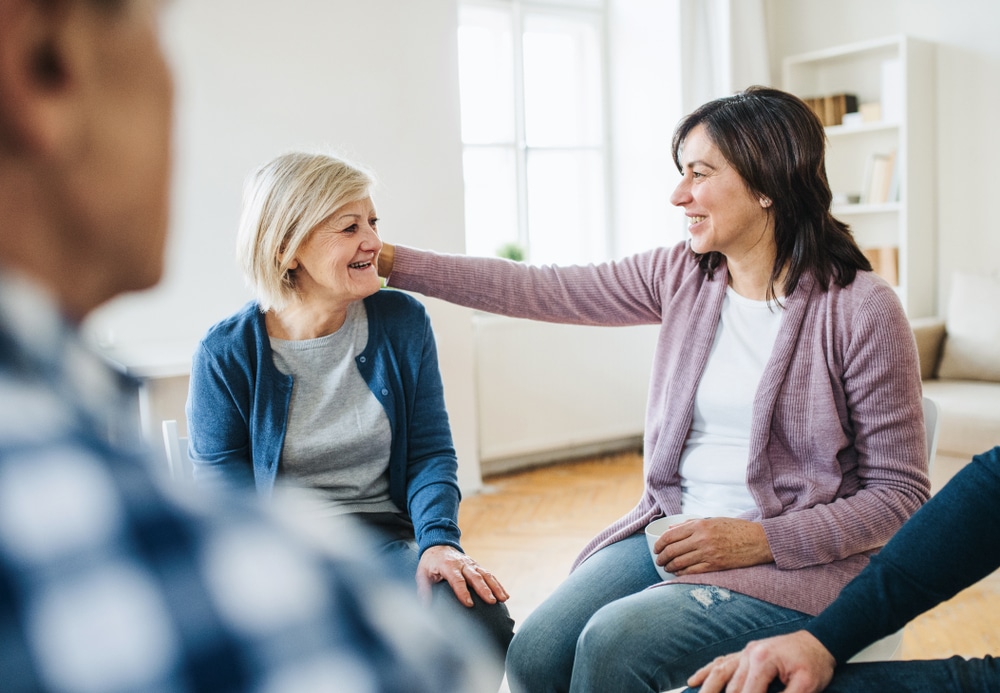 Support groups serve many purposes, allowing members the opportunity to share their common experiences, find coping strategies, and learn together.
They can reduce stress and anxiety, decrease feelings of isolation, and provide empowerment and hope.[1]
Common support group types include chronic illness, crisis, personal growth, family, and grief support groups.[2] However, you can create a support group for any purpose you think would benefit from meeting in a group, such as educational support.
The best support group names should have an inspiring tone to reflect the group's purpose.
Below, we have more than 180 support group name ideas. Scroll below the list for tips on creating even more name options for your group.
Real Talk, Real Support

Walk a Mile with Me

Growing Together

CARE

community, acceptance, respect, and empathy

HEAL

hope, empathy, acceptance, and love

Our Common Experience

A Place to Belong

Walking Beside You

Positive Measures

Circle of Caring Souls

SOAR

support, optimism, acceptance, and resilience

HOPE

healing, optimism, perseverance, and empowerment

Minds Over Matter[3]

Circle of Support

Hopeful Hearts

Making Life Bearable

The Beacon

Support Squad

Stronger Together

Coping Strategies

Sharing the Burden

Rising Above It All

Making Connections

Seeing You Through

Connect, Share, and Chat

Accepting Our Imperfections

Never Alone

Forward Motion

SOUL

support, optimism, understanding, and love

Accepted Just as We Are

Embracing the Struggles Together

Letting Our Worries Go

A Place We Can Thrive

Empathy Network[3]

Today's Struggle, Tomorrow's Strength

Supported and Secure

Shared Support

Empathetic Listeners[3]

Guidepost at the Crossroads

Giving Grace

Tethered to a Lifeline

Committed to Hope

Supportive Expressions

Reinventing Ourselves

Mending Our Hearts

We Are Enough

Just Being There

STEPS

support, trust, empathy, perseverance, strength

Moving Forward

Forming Supportive Bonds

We're Not Walking Alone

Maintaining a Rapport

Offering a Shoulder

No Invitation Required

Committed to Empowering You

Staying Through the Storm

The Rock in the Storm

The Caring and Cohesive Circle

The Dedicated Support Network

Courage to Change

The Stronger Path

Pathways to Healing

Good Listeners

Life Is Beautiful[3]

Finding the Answers

Finding Help & Healing

The Significant Support Team

A Hope & Healing Journey

Circle of Care

The First Step Brigade

Sharing Our Strength

Interconnected in Support

Taking Twelve Steps

The Support Hub

Lean On Me

The Peer Support Brigade

Compassionate Crew[3]

Feeling Empowered

A Helping Hand

Moments of Tranquility

No Judgement, Just Support

Navigating the Crisis Together

The Solace Seekers

You Can Count On Us

You Can Do It!

Never Unsupported

We're All in This Together

Building Resiliency

Dependable Friends

How to Survive

Through the Struggles

Strength for Survival

Unconditional Acceptance Team

Shelter to Survive

Together We Succeed

Wisdom Give & Take

Together We Dare to Face It All

Getting Through It Together

With a Common Bond

Finding Beauty in the Struggle

Sharing and Caring

The Most Supportive

Putting Ourselves First

Lifting Each Other Up

We Will Survive

Keep On Carrying On

Community is Necessary

Lifting the Burden

Our Supportive Peer Network

Always Understanding

Spreading Positive Energy

Our Invaluable Meetup Community

Taking the First Step

Lifting Burdens[3]

The Coping Skills Crew

We Have Been There

We Will Thrive

Listening Together

Bracing for Change

The Bolster Up Crew

Count On Me

Standing By You

Reach Out and Call

Through Thick and Thin

Let Me Be There

Surviving Each Challenge

The Listening Bunch

Never Too Far Away

Throwing a Lifeline

Our Best is Yet to Come

The Second Chances Brigade

Just a Call Away

Don't Go It Alone

Let Us Help

One Day at a Time Together

Support Brings Courage

Extending Helping Hands

Support Resource Connections

Empowered to Achieve

Support Central Station

Navigating the Challenges

Circle of Supportive Partners

Standing With Each Other

Getting Better, Growing Stronger

Support on the Daily

Our League of Encouragement

Together We Persevere

Not Hiding From Challenges

Finding the Motivation Together

Support Makes the Difference

Getting By With My Friends

An Essential Lifeline

The Caring Cohorts

Finding Ways to Heal

Solidarity in Survival

Walking Alongside You

Going the Extra Mile

Creating a Caring Journey

The Distress Management Team

Caring Connections

The Reassurance Brigade

Circle of Mutual Support

Committed to Carrying On

Support for the Struggles

League of Essential Support

Support Fosters Resilience

Sharing Wisdom, Helping Others

Turn Trying Times to Thriving Times

On a Mission to Support

Critical Motivation Network

Committed to Compassion

Feeling Heard and Respected

All-Encompassing Supportive Solutions

Filling Hearts With Hope

Together We Can

A Safe Haven

A Place to Grow

The Supportive Circle

Strength Within

RISE

resilience, inspiration, support, empowerment

Place of Peace

Bright Side Collective

Together We Thrive

Strength in Unity

Hope in Action

Beacon of Hope

Community of Care

Connect and Heal

A Safe Place
Support Group Name Generator
How to Create a Good Support Group Name
As noted above, the best support group names are inspiring and hopeful, giving long-time and new members they sense that they are welcome and that the group will help them.
We created our list by considering the general purpose of support groups and how they benefit their members.
If you'd like to create your own unique name rather than use one on our list, keep the following tips in mind:
Choose your words carefully.
Support groups often exist to help people through times of crisis and loss.
While some of your group's members might have a morbid sense of humor and the ability to find dark comedy in their situation, you usually won't want to use a snarky or sarcastic name for your support group.
It's better to choose words like "grace," "hope," "strength," "courage," and "healing" for your group name.
Be careful with your selections, and maybe run your ideas past a few friends or group members to be sure they won't seem off-putting or unwelcoming.
Consider the group's focus.
Does your support group focus on grief, caregivers, habit-changing accountability, or another specific type of support? You might want to refer to this in your group name.
This will make the purpose of your group clear to members, and make it easier for new members to find.
However, be sure that the name remains positive in tone in order to uplift the group's members.