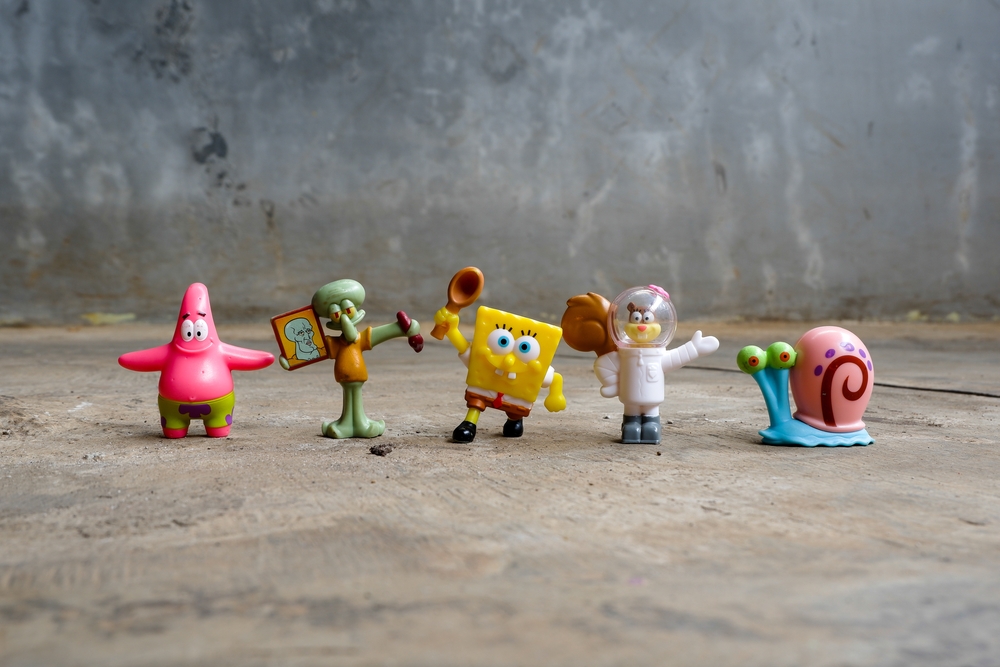 Premiering in 1999,[1] "SpongeBob SquarePants" is one of the most well-known and beloved animated TV shows ever made.
The series is famous worldwide, ranking 18th among the most in-demand shows globally in 2021.[2]
Like many animated programs, "SpongeBob SquarePants" isn't just popular among kids. Estimates show that around 25% of the show's fans are adults without children.[3]
It has even spawned several successful films, a variety of popular merchandise like clothing, dozens of video games, and a Broadway musical![2]
SpongeBob-inspired team names can be a fun and nostalgic way to make people laugh. We have more than 80 options to choose from below, plus tips to help you create your own name ideas!
The Hash Slinging Slashers[4]

Bikini Bottom Bad Boys

I Wumbo, You Wumbo, We Wumbo

inspired by a Patrick Star quote

Krusty Krew

Boys Who Cry

Plankton and the Patty Stealers

The Chum Bucket[4]

Ugly & Proud

inspired by SpongeBob's quote, "I'm ugly and I'm proud!"

Bubble Buddies

Handsome Squidwards[4]

Holographic Meatloaf

inspired by a Plankton quote

Naughty Nautical Neighbors

Chimps Ahoy

F is for Friends

from "F is for friends who do stuff together […]"

Bikini Bottom Symphony Orchestra

Squids On Strike

The Jellyspotters

The Ugly Barnacles

inspired by Patrick Star's quote, "Once upon a time there was an ugly barnacle […]"

Employees of the Month

The Krabby Patties

Bikini Bottom Barnacles

Plankton's Interns

T.U.O.O.F.A.T.T.A.F.A.D.

short for "The United Organization of Fish Against Things That Are Fun and Delicious"

Bikini Bottom Super Band

The Flying Sponges

inspired by the episode "The Sponge Who Could Fly"

Greasy Buffoons

World's Greatest Fry Cooks

inspired by a Mr. Krabs quote

C.H.U.M.S.

Fine Dining & Breathing

inspired by SpongeBob's quote, "All I know is fine dining and breathing."

One Coarse Meal

Mid-Life Crustaceans

The Squirrel Jokes

Pests of the West

Gold Team Rules!

The Bad Guy Club for Villains

Mini DoodleBobs

International Justice League of Super Acquaintances

Plankton's Army

SquidBob TentaclePants

The Smelly Smells That Smell Smelly

inspired by a Mr. Krabs quote

Three Hours Later

Team Sleepy Time

Squidward and the Unfriendly Ghosts

Milkshake Academy Cadets

AquaDaubers

reference to voice actor Bill Fagerbakke's nickname for Patrick Star[1]

Mermaid Men and Barnacle Boys

The Sea Stars

APARP

named after the show's Acting Players of Atlantis Regional Partnership, an Atlantean theater troop

Goofy Scoopers

League of Cheapskate Crabs

Lighthouse Louie's Babies

Stingray 5000

Imitation Krabs

Empty Head Society

The Mayonnaise Instruments

inspired by Patrick Star's quote, "Is mayonnaise an instrument?"

Born Again Krabs

Aquatic Adventurers

Plankton's Cellmates

Patrick's Stars

Home Sweet Pineapple

Spy Buddies

No Weenies Allowed

Neptune's Spatulas

The Jelly Buzz-Saws

Dunces and Dragons

Kracked Krabs

Team Chum Bucket Supreme

Model Sponges

Ghoul Fools

Squidtastic Voyagers

inspired by the episode "Squidtastic Voyage"

Teenage Garys

Tall, Tan, and Handsome[4]

Claire St. Claire and the Low Tides

Karate Choppers

Chocolate-Eating Scallops

MuscleBob BuffPants

The Anchovies

The Na. Chos.

inspired by Patrick Star's quote, "Two words, SpongeBob. Na. Chos."

Ravioli Formuoli

inspired by the quote, "Ravioli, ravioli. Give me the formuoli."

Atlantean Citizens

The Jewel Triplets Gang

Sweetie Scouts

Secret Royal Order of the Good Neighbor Lodge

Karate Island's Best Fighters

Ned and the Needlefish

The Sea Bears

Beach Band

The Spongemen

Sandy Cheeks
"SpongeBob SquarePants" Team Name Generator
How to Create Your Own "SpongeBob SquarePants" Team Names
Use the following tips to create your own "SpongeBob SquarePants" team names:
Get inspiration from your favorite character. From our main characters, SpongeBob and Patrick Star, to quirky side-characters like Mr. Krabs, Mrs. Puff, and Larry the Lobster, you can use your favorite character to generate a team name. For example, if you love Patrick Star, you can choose something like "Patrick's Stars," "The Sea Stars," or "AquaDaubers."
Make use of iconic quotes and scenes from the show. You have over 10 seasons of material to call upon here! Re-watch your favorite episodes or look up compilations of funny moments to find quotes or scenes you can use. Two examples from our list are "F is for Friends" and "Ugly & Proud," both inspired by quotes from SpongeBob himself!
Go for an "under the sea" theme. Even someone who hasn't seen "SpongeBob SquarePants" can probably tell you that he lives in a pineapple under the sea. Get inspiration from SpongeBob's environment for your team name, choosing a particular sea creature or one of Bikini Bottom's defining features as a team name.